We are so excited!!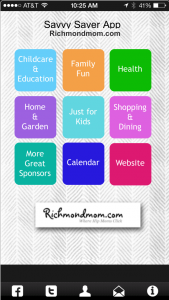 The 2014 Savvy Saver Card is going mobile with the new Savvy Saver App! The new app hasn't been released yet, but it will be available free to download on iTunes and Google Play and will work for apple and android phones.
With one click, you'll be able to access all the great deals from our sponsors as well as check our calendar, see what we're up to on Facebook, follow our Twitter feed, visit our site, and sign up for our weekly eNewsletters!
Don't have a smartphone?  That's alright.  Our Savvy Saver program can still work for you.  You can print your discount right off the computer on our Savvy Saver Page and use it at all these great locations!
Keep your eye on Richmondmom.com for the release date!