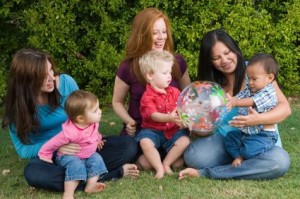 Looking for a mom's or dad's group for playdates, support, or good ol' fashioned we're-in-this-together camaraderie?  Check out Richmondmom.com's comprehensive list of area groups.  Each entry in this list has a brief description, but click on the group name to visit their website or contact page for more information.
If you have a group you'd like to submit for our list, please let us know by emailing Christa@Richmondmom.com.
30's/40's (plus) Richmond Singles - Meet other 30s/40s singles near you! Come to a Singles Meetup for fun, friendship and maybe more through a wide variety of indoor and outdoor events!
CHADD (Children and Adults with ADHD) – Central Virginia Chapter - The group meets at Bon Air Presbyterian Church, generally on third Tuesdays at 7:30 p.m.  Meetings are an open format where we encourage discussion.  Call 804-385-3139 for more information about meetings and/or questions regarding the local group.
Dad's Club of Richmond - The Dads and Kids Club was formed back in '95 with only a few Stay at Home Dads. It now has a web base of 80 members with 20 active members.  This Dads group is very relaxed, non-committal and there are no dues.
Elementary Explorers of Greater Richmond - Elementary Explorers of Greater Richmond is a group of parents and others interested in enhancing the elementary age school experience of their children.
Free Women's Fitness Bootcamp - We promise you have never experienced a workout like this before! Come on out- workouts accommodate women from novice to ex-athletes!
Fresh Start for Single Mothers and Their Children - Fresh Start for Single Mothers and Their Children is a unique faith-based 8+ week program designed to provide an environment of positive support for single mothers and their children in which they will find encouragement, education, inspiration, growth, hope for daily living and the future.
Ft. Lee Mommy Playgroup - The group is designed for all military moms who are currently stationed at Ft. Lee.  Meet and get to know other military moms who understand the military life.
Glen Allen Working Moms of Toddlers - This group is tailored for the working moms of Glen Allen with kids under 5 years old, but anyone is welcome to join!
The Heartlink Network of Richmond - The Richmond chapter of the international networking group known as the Heart Link Network. The Heart Link Network has monthly networking events for professional women.
Imma/Abba and Me - For mom/ dad and their young ones ages 3 months – 2 years.  Meets on Tuesdays from 9:15 – 11:15 am, for five 6-week sessions.  For more details and for a registration form, please contact the office at 740-200 ext. 3.    
Midlothian Area Moms Group - We welcome any mother who has the time and desire to attend an active playgroup.  Our membership consists of moms with infants to pre-school age children.  This group is for moms that reside in Midlothian, or neighboring Midlothian zip codes: 23112, 23113, 23114, 23235, 23236, 23832, 23838, or 23120.
Mothers of Multiples – This group offers support for expectant mothers of multiples and for those mothers who have already delivered their multiples.  Two local chapters:  Southside (SAMOM) and Richmond Area (RAMOM) 
Mommy & Me and Daddies Too at the Shops at Willow Lawn - Join The Shops at Willow Lawn outside on the second Wednesday of each month, April through October from 10 a.m. – 11:30am, as we host a FREE morning out with crafts, games, storytelling, dancing, and educational programs designed to enhance parent's interaction with their children.
Mocha Moms of Richmond - Mocha Moms is a support group for mothers of color who have chosen not to work full-time outside of the home in order to devote more time to their families and communities. While many of our members have eliminated employment altogether, others work part-time, flex-time, night shifts, have home-based businesses, consult or freelance from home.
Moms Treehouse - In addition to fitness and enrichment classes, Mom's Treehouse also offers a playgroup for moms with children ages 0-5 on Fridays fron 10:30-11:30am.  The playgroup provides an opportunity for moms and babies to bond, relax, and play focusing on different weekly themes. Guest speakers, crafts, ice breakers, and more will be scheduled.  Located in the West End at 2292 John Rolfe Pkwy.  (Mom's Treehouse is a Richmondmom.com advertiser.)
MOMS club of Louisa - We are the first support group specifically for at-home mothers and some Work at-home mothers located in the County of Louisa serving the areas of Bumpass, Gordonsville, Louisa, Lake Anna, Mineral and Zion Crossroads. We meet during the day, when moms most need support. Mothers of any age children are welcome.
MOMS Clubs (Moms Offering Moms Support) - We are a support group designed just for you, the at-home mother of today! You are interested in the world around you, want a variety of activities for you and your children, and are proud of your choice of at-home mothering for your families! We know, because we're at-home mothers, too!  There are many area locations, listed below:
MOMS Club of Chester - Membership area is Chesterfield (south of 288), Chester, & Colonial Heights.
MOMS club of Midlothian, South - We serve the 23112, 23120, and 23832 (west of Hensley Rd) zip codes.
MOMS club of Mechanicsville, Cool Spring - The MOMS Club® of Mechanicsville, Virginia, Cool Spring Chapter welcomes moms and children living in the Cool Spring Elementary School district to join our group of friendship and support.
MOMS Club of Midlothian, North - We serve all mothers in Midlothian zip codes 23113 and 23114 and Richmond zip codes 23235 and 23236.
MOMS Club of Richmond, Innsbrook - The Richmond-Innsbrook Club covers the Richmond area zip codes that are north of I-64: Glen Allen 23058 & 23060, 23059 Glen Allen, that part west of Rte. 33; Richmond 23228 & 23294; and Henrico County addresses in 23227.
MOMS Club of Richmond, West End - Our chapter is open to residents in the following zip codes: 23103, 23220, 23221, 23225, 23226, 23229, 22030, 23233, 23238.
Mommy and Me of Greater Richmond - We're not your average mom's group!  We are very organized and love to have fun  – with your little ones and without!
Mothers and More, Southside Richmond - We focus on you – as a mother and a woman – in all the different stages of your life. Our community–based chapters and virtual networks help you focus on your identity, make meaningful connections with others, and support you as you face motherhood's challenges. We welcome all mothers!
MOPS (Mothers Of Preschoolers) - A place to find friendship, community, resources and support for you as a woman and mother so you're not alone.  Multiple area groups and meetings, click on the link above for details.
"Mothers and Children in Christ Growing Together," MC2 at Mount Vernon Baptist Church. A program for Mothers of Children Birth through College Age, MC2 is called to lead, inspire and encourage mothers through fellowship and education. Together they seek a close personal relationship with Jesus Christ, as they experience the joys and challenges of motherhood.
No Nuts Moms- Moms' group and playgroup for all ages of kids diagnosed with a peanut and/or tree nut allergy (non-food allergic siblings welcome). Monthly get-togethers. We rotate the playgroup location throughout the Richmond area.
Our Families-Gay, Lesbian, Bisexual and Transgender Parents & Kids Social Group in Richmond- Our Families – for GLBT parents and kids in the Richmond area – Meetings around town the First Sunday of the Month.
The Powhatan Playgroup - Our group is made up of wonderful women and children mostly from the Powhatan area.  We share in play dates, mom's nights out, and other activities. We support both the stay at home mom as well as mothers who work outside of the home.
Richmond Area Homebirth Meetup - If you are you interested in learning more about home birth, this group gathers on the second Tuesday of each month to "Meet & Greet".
Richmond Asperger's Syndrome Meetup Group - The goal of this group is to create a place where people diagnosed with Asperger's Syndrome and their families can connect, network, and bond.
Richmond Mommies - Richmond mothers of all walks of life gain camaraderie and support through an online forum that is available 24 hours a day and at play dates, mom-only and family events around the area.
Richmond Moms and Kids - This is a parenting group that is designed for Richmond area moms and kids. Our goal is to get together for playdates in a variety of locations: at parks, indoor play-areas at malls, museums, libraries, the zoo, etc. This group is designed not only for the kids, but for the moms who are probably in need of a little adult interaction once in a while!
Richmond Separation and Divorce Support Group - This group is open to everyone of all faiths, ages, genders, sexual preferences.  It does not matter what stage of separation or divorce that you find yourself in. This group provides an outlet for people experiencing this journey to talk to each other.
Richmond/Hanover Moms and More - Working/career moms or stay-at-home moms in the Glen Allen, Mechanicsville, and surrounding areas who want to interact with other moms, with and without your kids.
Richmond Ways to Save - Richmond has great deals, you just need to know the little tricks.  If you want to save money, then this is the group for you! I will show you how, when, and where to save money in Richmond. Let's all make our financial dreams come true, one coupon at a time!
See Mommy Run - A free site for Virginia Moms to locate running groups or start their own running or walking group!
Single Parents Around Richmond - Online, local, and national organizations supporting single parents.
Short Pump/Glen Allen Moms Group - This is a group for stay at home moms in Short Pump and Glen Allen who want to make friends for themselves and their children. The group is geared towards moms with kids ages 0-5.