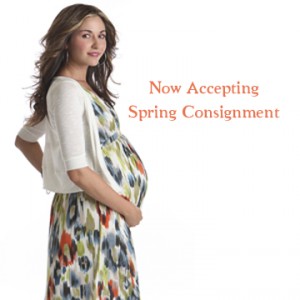 Something about January always makes me want to purge myself of all the old stuff (let's be honest, Christmas actually has a lot to do with that).  But before you donate or giveaway all your old maternity clothes, consider consigning them at Hip to be Round.
Hip to be Round is accepting gently used tops, bottoms, dresses, and diaper bags for consignment.
Here's how the process works:
1. Sort through all your stuff:
Hip to be Round accepts tops, bottoms, dresses and diaper bags purchased from their store , Gap, Pea in the Pod, Loft, and any brands carried in their store (Japanese Weekend, Ripe, Lilac, Maternal America, Olian, etc.).
2. Call for an appointment:
Appointments generally take place between 10:30am and 5pm Tuesdays, Wednesdays and Thursdays and 12:30pm and 4pm on Sundays and Mondays.  Call 804-340-1700 for your appointment time.
3. Have all your clothes freshly laundered:
Your clothes don't have to be pressed, but Hip to be Round does ask that all clothing is laundered within 7 days of your appointment date, even if you've washed them before.   (Freshly laundered clothing sells faster than their attic-y friends.)
4. Go about your life, with nothing else to do, ever.
After your drop your clothing off at your appointment,  your work is done!
That's right, no calls for pick up, no need to check in.  Hip to be Round knows you're busy, that's why they will send out checks to your home quarterly and in batches after the items have been sold, so there is no need to come by to pick it up.  At the end of the season, all left over clothing will be donated to women-centered causes, so there's no need to run by just to pick up an old tank top.
So get that bin out of your attic (or garage, or  still taking up space in the back of your closet) and make a few extra bucks!
3124 W. Cary Street
804- 340- 1700
Hip to be Round is a sponsor of Richmondmom.com