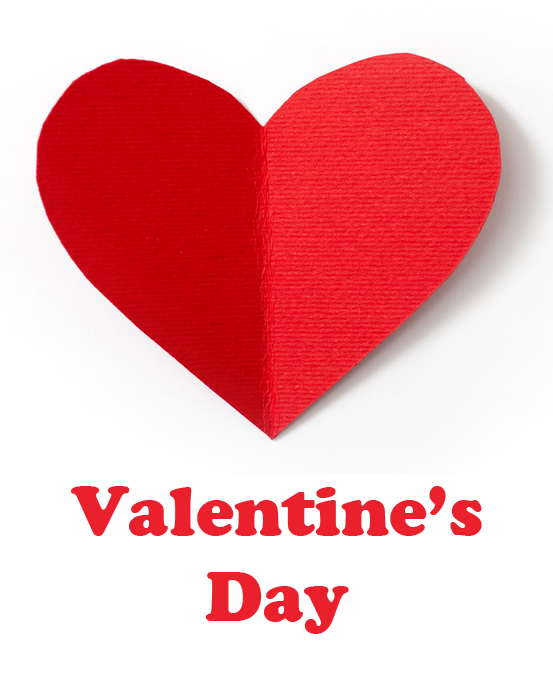 Ah, Valentine's Day. That special day that comes each year when you express your love for that special someone with flowers, chocolates, and a romantic dinner.
Or, when you decide that pizza and a kids movie at home is just as romantic, because the hassle of finding a babysitter and changing into clothes not covered in sticky hand prints is just not worth it.
No matter what you have in mind for Valentine's Day, we have some great ideas on how to make it the perfect occasion for everyone in your family. There's even some great babysitting options to make that dinner out a real possibility!
Start your day by taking in the beauty of Lewis Ginter Botanical Gardens. For a limited time, garden admission is discounted to $5 for adults and $4 for seniors and children. Don't miss this winter special!
Bring out your wild side and Be The Dinosaur at the Science Museum of Virginia. Travel back in time to discover the land of dinosaurs and even see an animatronic triceratops!
Explore your love for your pets and see ADORABLE pet photography at the Library of Virginia.
Entrance yourself in a romantic fairy tale and go see The Richmond Ballet's presentation of Cinderella. This magnificent production features The Richmond Symphony and runs through Valentine's weekend.
Enjoy a special morning story time at Cartwheels and Coffee in Carytown.
In the afternoon, take The Love Tour at Maymont Mansion and learn the royal love stories of the Victorian era.
Jump your jitters out at CORE open gym. This safe environment is a great way for children to burn off some energy while you enjoy an afternoon together.
Are you ready for that special night out? We've got four awesome options on what to do with the little ones.
Let your children run and play at Romp n' Roll Kids Valentine's Night Out. From 6 pm to 9 pm children ages 2-5 can get their wiggles out and enjoy a pizza dinner for only $20! Sibling discounts available.
Enjoy a night out while Mad Science Valentines' Party entertains your kids. The night will include pizza, a science show, and even pink glowing slime! Available from 6 to 10 pm for grades K-5. $30 per child.
For ages 5 and up, CORE is offering a special Valentine's Day Friday Flip Fest. This is a great opportunity for kids to practice gymnastics skills while you have some time to yourselves. Offered from 6:30 to 8:30 pm, $10 per child.
Also for ages 5 and up, Martial Arts World of West End is offering a Valentine's Day Parents Night Out/Kids Night IN! Children will enjoy a pizza dinner, a martial arts class, games, a movie, and snacks. Offered from 6:30-10:30 pm, $20 per child.
End your evening with a special performance by Gladys Knight at the Landmark Theater. This seven time Grammy award winner will end your day on a soothing, musical note.
I am getting excited already! There are so many amazing choices in Richmond to make this Valentine's Day your best one yet.
We'd love to know; what Valentine's events will you be taking advantage of?