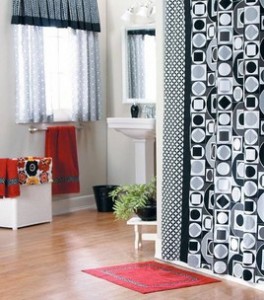 It's almost Spring and what better time to give your home a lift. Sewinit', owned by Karen Curcio who creates customized window treatments of every type, also creates incredibly beautiful and functional customized shower curtains. As she says, "Curtains are not just for windows anymore!"
Karen recommends giving a lift to a bathroom as we spring into the new warmer season. Pairing a customized shower curtain with an existing or new window treatment is one way to go. Offsetting and contrasting color and pattern of floors, rugs, and other accessories can breathe new life into your bath. And adding a new customized shower curtain to a bathroom to emphasize ornate tiles, sparkling black granite countertops, or other surfaces can bring a room to life.
Be sure to use your Savvy Saver card to get savings at Sewinit'. We'd love to feature your creations here on our website, so be sure and send us photos when you update your look.
Contact Karen Curcio at 804.874.4008 for a free consultation and measurement. Be sure to "like" her Facebook page and you could win a gift certificate for $100 towards your purchases at Sewinit'.
Sewinit' is an advertiser on Richmondmom.com