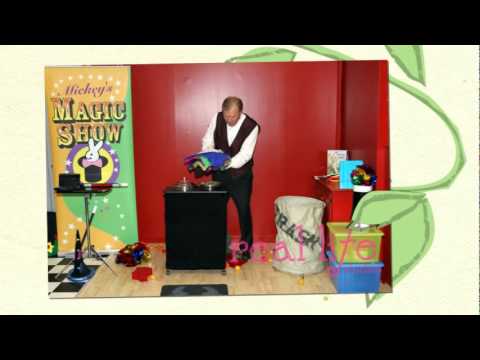 My son had his sixth birthday at Real Life Studios, and when we were looking at the pictures of his "Rock Star" party my little girl said
"Please please can I have my party there?" But of course. I've been working with Real Life both professionally and personally for four years now with great success, so was happy to work with friends to create an amazing party!
We started with a photo shoot for the invitations, during which our photographer, Jessie Arnest, needed to provide little direction for our darling diva.
She had a blast posing for her invitations, and just as much fun giving them to her friends! We prepared with a blast of pink for this little princess, including a pretty dress to match and cupcakes from Frostings with little chocolate hearts on top to match.
When the big day came, we were surprised by a special guest–Mickey the Magicianwho thrilled our party guests including allowing my little gal to pop out of box at the beginning of the show! Needless to
say, we did none of the entertaining at this party and the Real Life team was busy taking photos of each of our guests throughout the party so that they could take one home as a party favor, complete in a frame they decorated themselves.
After the gifts were unwrapped and we said our thank-you's and good-byes, we hugged the Real Life team for another job well done, especially the portraits of our five-year-old princess signed with a sweet note by each of her friends.
"I want to do this again next year!" she begged. We made amazing memories and knocked our our annual portrait all at once, and put a smile on her face, so a repeat is not out of the question
If you're interested in a Real Life Birthday Party you'll receive $150 off using your Savvy Saver card, free at your request at this link.
Real Life Studios and sister company Hayes and Fisk are site sponsors of Richmondmom.com, and we're  proud to work with them. They work with many charitable organizations, currently they are offering a $24 photo deal to benefit Operation Smile as well.