9-month-old feeding schedule for Moms looking to move the baby's eating to the next milestone. As this is the turning point in a baby's life, some babies may start to stand, and indeed, they will try their meals from this period.
This is the best time for trying finger food, so you need to be more mindful with the meal preparation by not including any small hard foods like popcorn, grapes, or raisins.
The babies in 9 months are ready to try all the solid foods. Technically, they are not only going to eat more solids; they will have to eat more meals than before. This is because of the growth phase during this period; the appetite has also increased.
You need to schedule a balanced meal if you are still using breast milk or formula. The schedule has to be propositioned equally to give the required nutritional values.
Let us guide you through this sample Schedule to have a clear idea of how to schedule your baby's meal time!
Milk Requirement for a 9 Month-Old Baby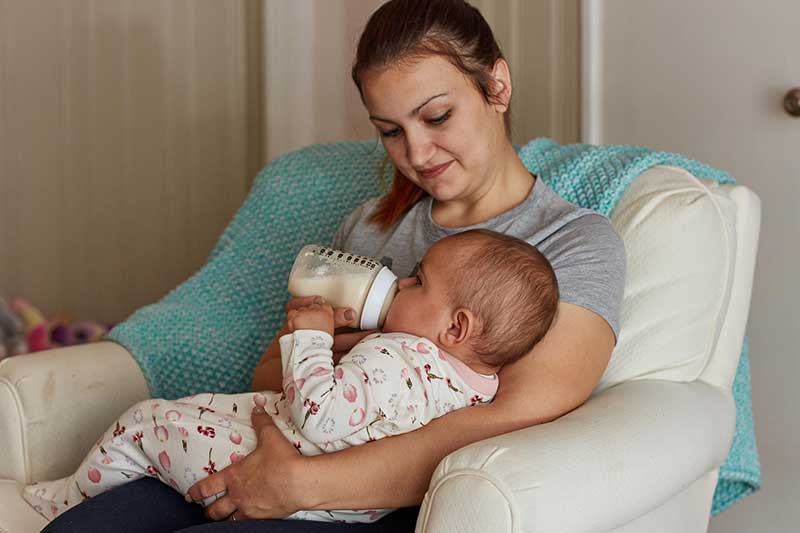 Meal planning for babies always revolves around milk. The baby milk, whether breast milk or formula, is deemed the most important in their diet chart.
Breast milk may not supply all the nutrients it needs, yet it has most of the nutrients the baby might need. You shouldn't forget the fact this primary meal has to be a part of their meal until their first birthday.
When it comes to the quantity of milk, you don't need to worry. It is totally dependable on the baby; they may take less sometimes or more a few days, particularly when they fall sick.
This is the savior to hydrate them well. And, finally, you don't need to worry about the amount of milk intake anymore as your baby is going to the solid eating phase.
Planning the Meal For 9-Month-Old Feeding Schedule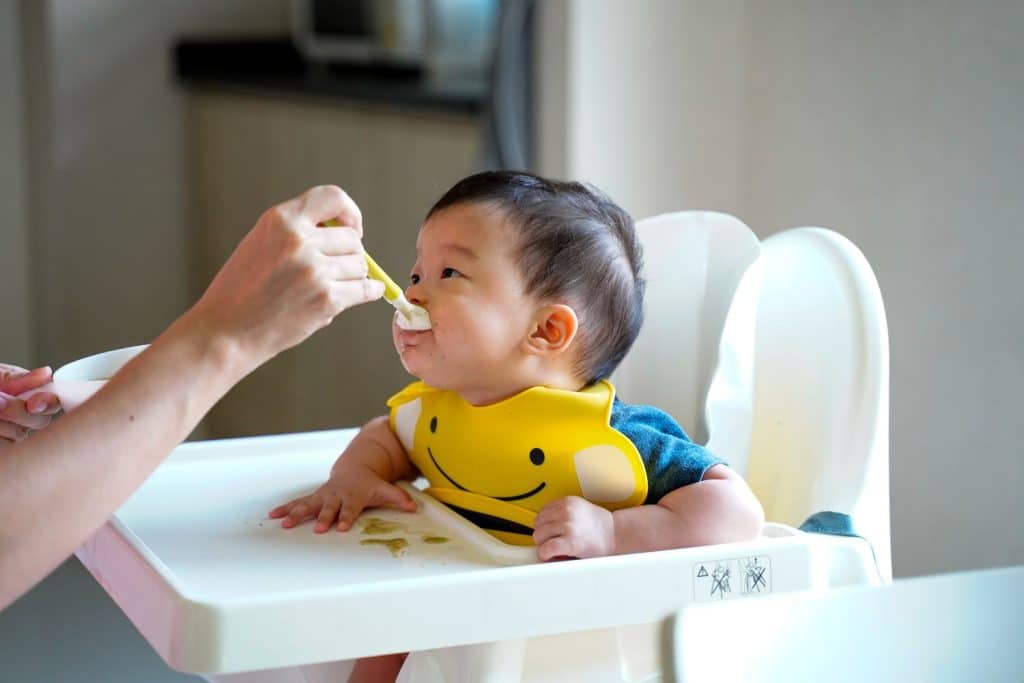 Meal planning is to get you to achieve your goals of giving valuable nutrition and teaching your baby the art of feeding by themselves. During 9 months, the babies will have three main meals a day. If you are breastfeeding or giving formulas, there won't be any necessary other snacks.
They can be the best source of all the nutrients in between meals. You can try giving your baby the choice of picking up the food. The size of the food is meaningful in these meals for easy access by the baby.
To prevent food allergies, you must focus on continuous exposure to common allergens in babies like eggs, peanut butter, or fish. There is a need to be aware of choking hazards in this period. As the babies are more comfortable eating themselves, we as a parent shouldn't be off guard. Be more cautious with these adventurous cuties!
Example Of 9-Month-Old Feeding Schedule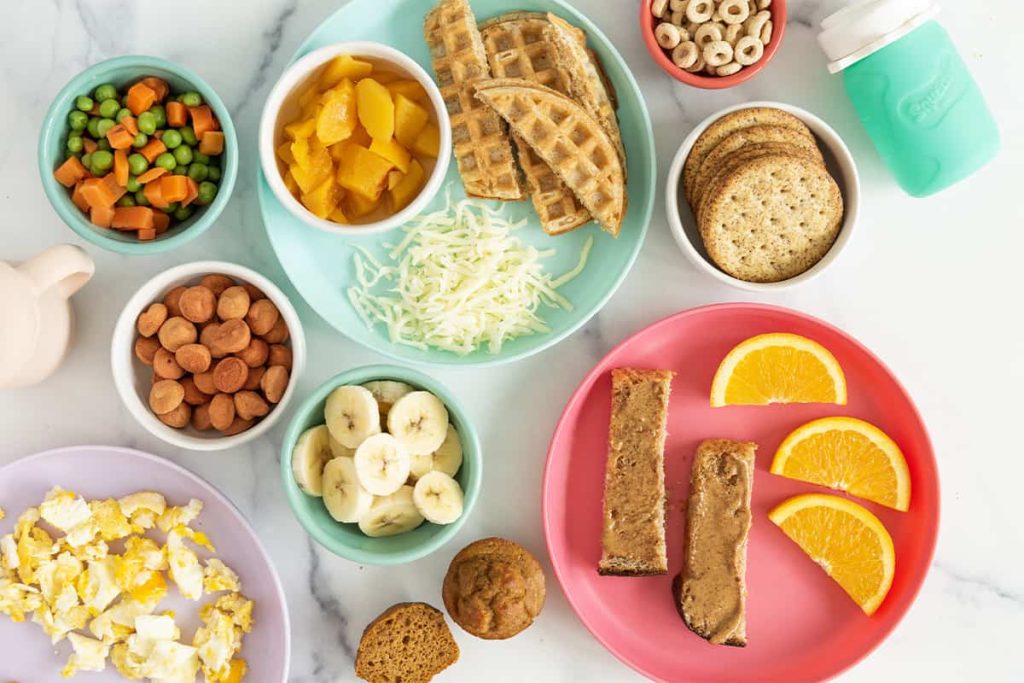 The feeding schedule for the babies can be flexible to suit your daily routine and your baby's nap times. There is no need to maintain the schedule in a prim and proper manner.
You can fix your baby's schedule with the help of this example 9-month-old feeding schedule. This is just an idea to give a vision for planning yours.
Generally, there is no particular best time to feed your baby. This is totally dependable on you and your baby. You can find the duration between waking up in the morning to going for a nap and arranging the next meal plan from after waking up from nap to bedtime.
Giving a solid meal is an important role in this age, but a good sleep is also as important as a meal. They will explore and enjoy the food only when they are in a good mood with a well-rested body and mind.
You can get a helping hand in planning your baby's meal from your pediatrician or a dietician for personalized care for your baby's nutritional needs. We are giving you two 9-month-old feeding schedules with different sleeping patterns.
Schedule for Baby Having Two Naps
7 a.m. – Give the baby breast milk for 15 -20 minutes or give 4 -6 ounces of formula.
8.30 a.m. – Breakfast – scrambled egg platter/ O-shaped cereal/ fruit or vegetable flavored oatmeal/ roasted sweet potato/ fruit with Greek yogurt.
10.30 a.m. – Nap time – give 2 – 4 ounces of formula to nurse your baby for 5- 15 minutes.
12 p.m. – After waking up, nurse for about 15-20 minutes or give 2 -4 ounces of formula.
1 p.m. – Lunch – steamed green peas/ mashed Pinto beans/ strips of avocado / steamed carrots/ pieces of whole grain toast/chicken meal soup.
2.30 p.m. – Nap time – give 2 – 4 ounces of formula to nurse your baby for 5- 15 minutes.
5 p.m. – After waking up, nurse for about 15-20 minutes or give 2 -4 ounces of formula. And additionally, you can give a few spoons of fruit purees or diced fruits.
6 p.m. – Dinner – pureed poultry or tofu / mashed green vegetables/ pasta / mashed potato.
7.30 p.m. – Bedtime- 4-6 ounces of formula or nurse your baby for about 15-20 minutes.
Schedule for Baby Having One Nap
7 a.m. – 4-6 ounces of formula or nurse the baby for 15- 20 minutes.
8.30 a.m. – Breakfast – Cereal/ mashed potato or fruit / scrambled egg/oatmeal
10 a.m. – Snacks – either breast milk or formula/pieces of fruits/ yogurt/ homemade muffins/ whole grain crackers.
12 p.m. – Lunch – steamed vegetables/ mashed potato or fruits/yogurt with fruits/pasta/chicken noodle soup.
1 p.m. – Nap time – give 2 – 4 ounces of formula to nurse your baby for 5- 15 minutes.
4 p.m. – After waking up, nurse for about 15-20 minutes or give 2 -4 ounces of formula along with a fruit smoothie or mashed veggies.
6 p.m. – Dinner – ground beef, turkey, chicken / whole grain bread pieces with any nut butter/ tofu/ mashed sweet potato/ soft pasta.
7.30 p.m. – Bedtime- 4-6 ounces of formula or nurse your baby for about 15-20 minutes.
Healthy Food for a 9- Month-Old
For the rapid growth of the body and complex development of the brain, the 9-month-old feeding schedule should have a well-balanced diet with all the essential nutrients to fill their little tummy.
The American Academy of Pediatrics suggests giving a wide variety of food to the 9-month-old baby. The cereal should be fortified for giving to your growing baby.
This must be a great time to give the rainbow foods to the baby. The main purpose is to make the food fresh, colorful, and more tantalizing. Let them try their tummy with fruits, veggies, meat, and whole grains.
Avoid giving honey to the baby till one year, as it may have some bacteria that cause botulism. Likewise, avoid giving unpasteurized food or drink that may contain E. Coli, the cause of the worst intestinal problems.
Solid Food Items for 9-Month-Old Baby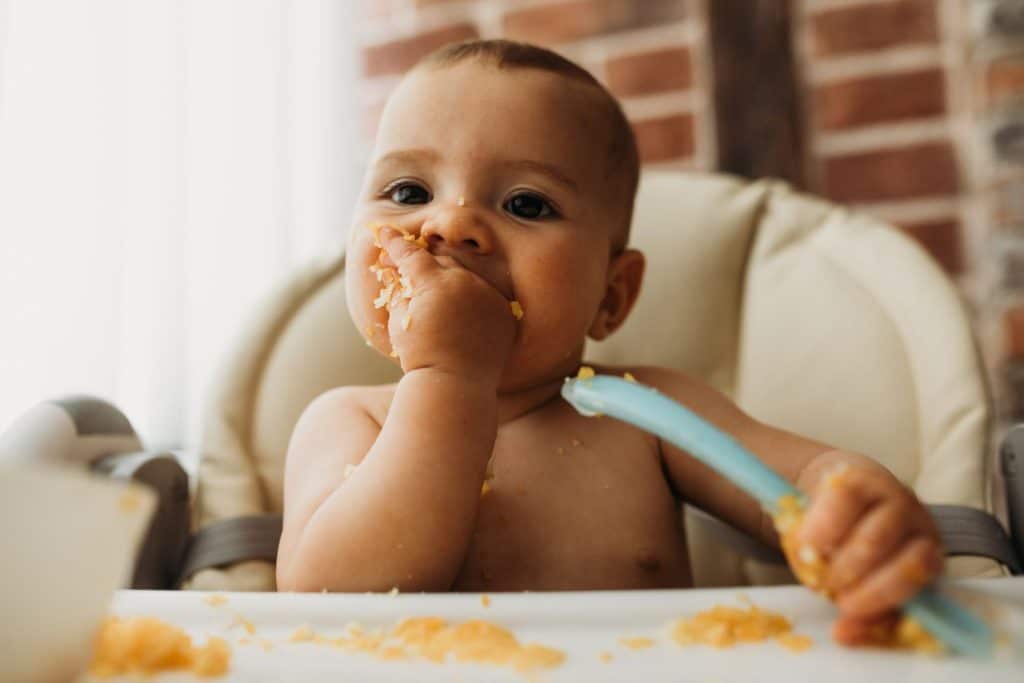 This is the most tricky part of feeding time. As many of the babies want to try eating with their own hands, you need to start giving small, soft finger foods that are enough to pick up by themselves.
The babies at this age are mostly using their tongues to chew their food, as they don't always chew with their teeth. So you need to choose the safe picks for the baby's 9-month-old feeding schedule. A few of our hand picks are,
Bread without crusts
Dry cereal
Avocado
Tofu
Peas
Soft fruits
Green beans or cooked beans
Fish and meat
Pasta
Sweet potato
When introducing the finger food, be more cautious with the size of your finger food options. It should be big enough to hold by the baby and small enough not to cause any choking. The ideal size option is one-third of an inch. This is also a tentative option to take. This will come around a bigger size of peas, that's all.
How To Know the Right Quantity of Food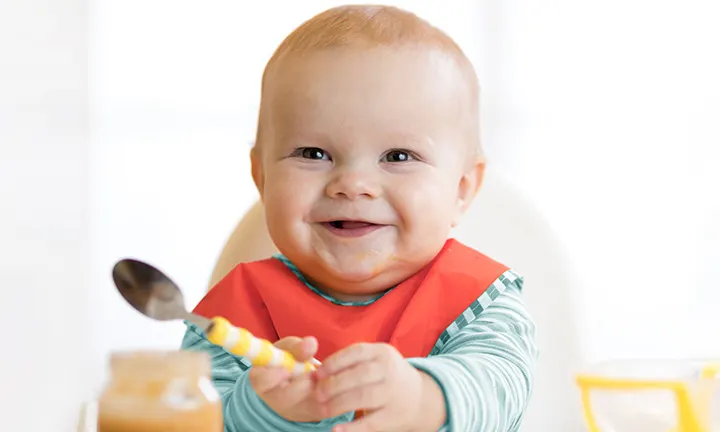 The eating quantity and schedule are always like before. It is fed on demand every time. You need to give food to your baby whenever they are ok to eat. If the baby is not eating, then don't. Let them decide about the quantity. Trust me, it works all the time.
At 9 months, a baby can easily let you know whether he is hungry or needs a little more in their tummy. You can still feed your baby with breast milk or formula intermittently with solid food. But make sure you are accepting your baby's decision to take the meal. It is more important.
Continuously follow up with your baby's weight gain and development, and have a consultation with the pediatrician. They might guide you in addressing any nutritional importance to your baby's meal schedule. It is often said if your baby wets and dirties the diaper, everything is going well with the meal. You don't need to worry about it any longer.
The first year of a baby's life is not only dedicated to weaning or feeding them; it's the positive relationship they are getting with the food.
The mealtime is meant to be family time. Every time when you are at the table to eat, establish a habit of including the baby in it. This lets mealtime be more fun with less stress, which helps the babies connect eating with more positive feelings, which can create a wonderful childhood.
Tips for Best Feeding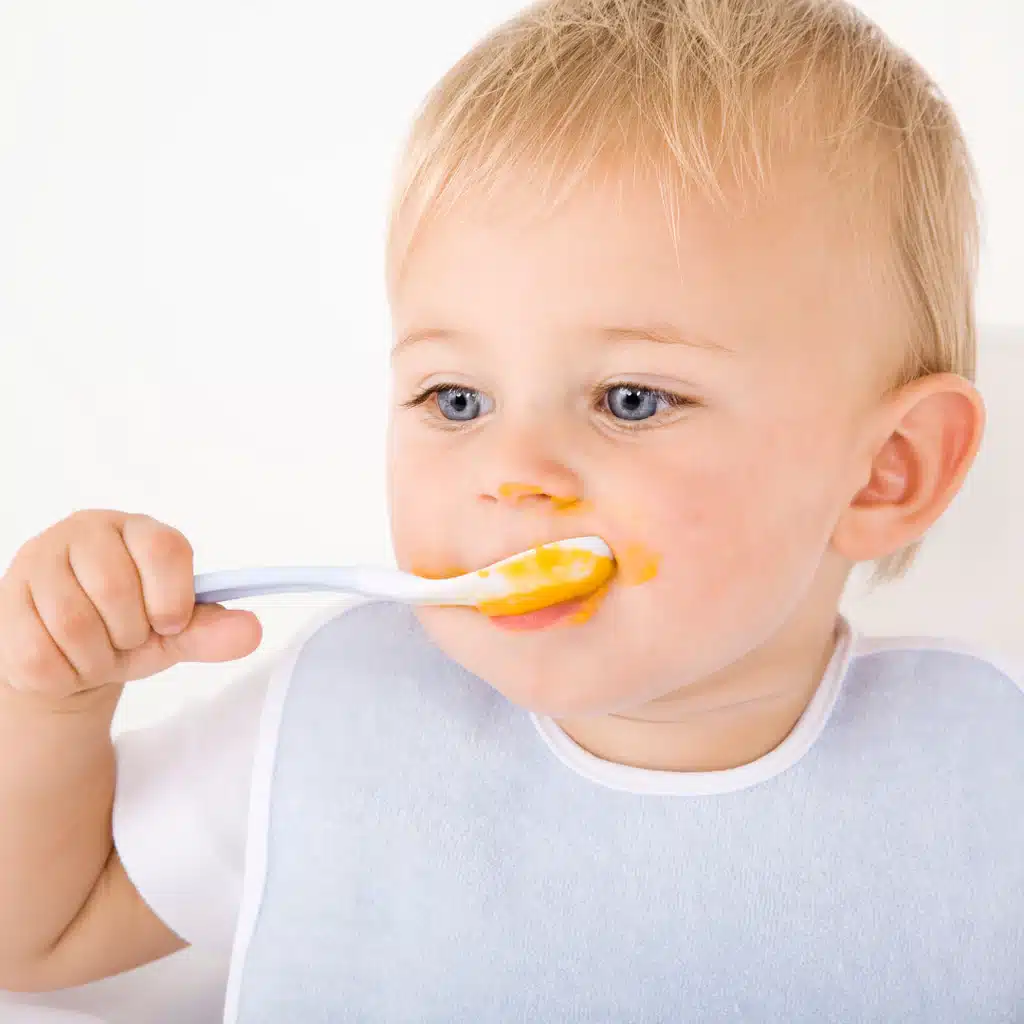 At the age of 9 months, you may need to focus on giving the baby a wide range of food. To get it started, new food for new growing babies, every time. You can start displaying everything on the table to increase the baby's interest and appetite. This window of opportunity to introduce many different foods will cause only a positive reflection.
The first is that you need to add those foods to your family meal and let the child watch and observe you. When the time comes, you can ask them whether they want to try it and introduce it without any hustle. They will surely eat it, as it might be their long-awaited wish granted.
The most important tip is to mash the food properly or give the finger food always in a soft and tiny size to pick up by the baby to avoid any choking hazards. It should be in the size of self-feeding for the baby.
Consider giving small and frequent meals to the baby. This will let you give one more option to include in your 9-month-old feeding schedule. You can try offering the baby a preloaded spoon with purees.
You can try giving them the utensils for playing to get practice for handling them while eating. Try giving them a bowl and spoon to serve and play. You can add some ingredients to that bowl, too, to let them try eating. Give them an ounce of water in a cup to practice may be.
Different textured foods have different responses from the babies. This makes the baby experience a different type frequently. Finally, look for the stools for a better understanding of your baby's digestion.
Conclusion
Baby meal planning and preparing a 9-month-old feeding schedule can be a little bit tough. This is the important period of transition in a baby's feeding. They are getting introduced to solids now; this makes it look like you have more responsibility to take on your hands.
Continue with giving breast milk or formula; this is a crucial part of their nutritional supply. Consistency in preparing the meal with enough nutrients and the proper texture are the key factors in the solid introduction to a baby.
The two schedule plans can give you an elaborate idea for planning your baby's mealtime. Which sleeping pattern is your baby in? Single or double nap? It's not an issue. You can customize these two schedules. And let us know about the changes you have made in this schedule for your baby!