Sleep regression is one of the common features of childhood development. It occurs at multiple stages, i.e., when a child turns two months old, six months old, around the age of eleven months, and then around 14 or 15 months when the baby starts gaining height and starts walking.
Thai transient stage of sleep deprivation lasts for a week or two and is completely normal because of the baby's physical and mental development. Babies usually put off obtaining enough sleep because he or she is trying to acclimatize to a new environment and adjust properly for psychological and physical growth.
Read on to learn more about 15-month sleep regression and how to tackle it to make your tot's as well as your life easy.
What Do You Mean by Sleep Regression?
Sleep Regression is a phenomenon in the life of a toddler which he or she experiences till he does not reach the age of 2. 15-monthsleep regression is characterized by multiple wakeups in the middle of the night, increased irritability at odd hours, or even avoiding bedtime routine by those toddlers who were deep sleepers. It is basically a disruption of nighttime routines and naptime schedules that upsets the child.
What Are the Causes of 15-Month Sleep Regression?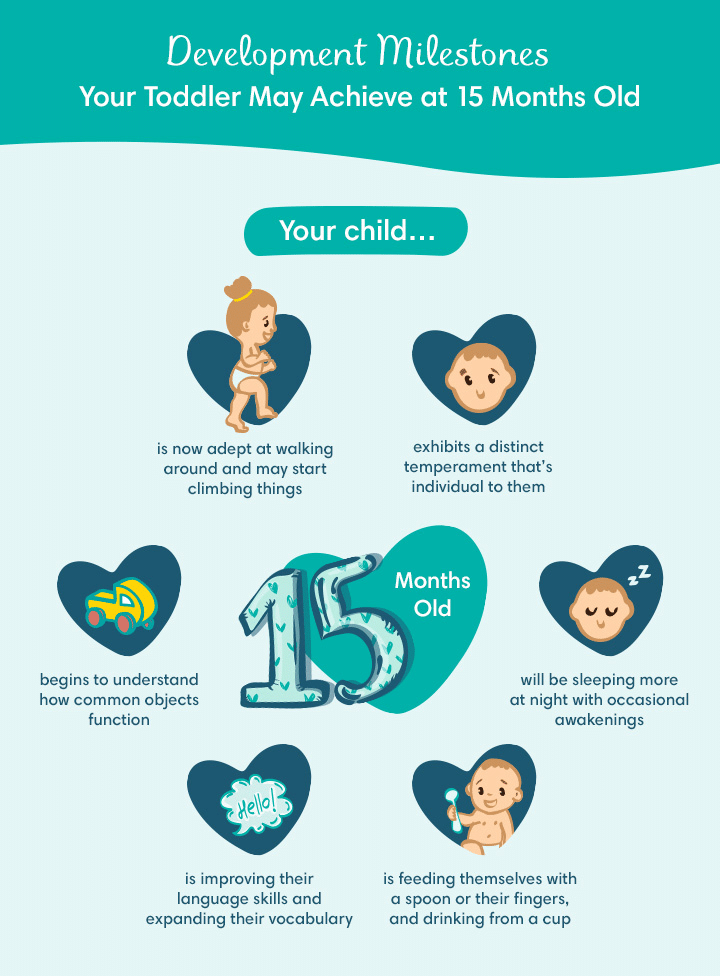 There are many factors, internal as well as external, that can cause sleep regression when your toddler reaches the age of 14 or 15 months.
Teething
Teething is one of the most painful developments and can cause sleep regression. It is the most painful right before the teeth cut through the gums. Usually, it takes 1 full week for the teeth to come out, and if there is more than one tooth protruding from the gums, the more painful it gets. If you see your toddler rubbing his or her face and tugging on their ears, check their gums, as they could be experiencing discomfort because of teething. You can make out if your tot is teething if he or she salivates more than usual or chews on the index finger.
Motor Leap
A baby discovers new motor skills like walking and crawling between the age of 12 months to 15 months. At 15 months, an average toddler is able to walk. Most often, a motor leap interrupts sleep at nighttime, causing sleep regression. The motor leap can also manifest when your baby wakes up at 5 a.m., once the baby has surfaced from his or her sleep cycle. Since the brain has now acquired a new skill, it will not allow the body to return to slumber. The baby is excited to try the new skill of walking.
Testing Boundaries
A toddler is trying to make sense of the world around him or her once he or she is 15 months old. They are trying to be independent but are still dependent on you for the fulfillment of basic needs. However, once they start walking or crawling, they realize that staying awake is more fun than falling asleep. To avoid going to bed, they try all sorts of things like throwing tantrums, using the washroom repeatedly, listening to multiple bedtime stories repeatedly to push the bedtime further, and so on.
Growth Spurts
Once your toddler is around 14-15 months old, he or she might start taking a few steps, begin standing with the help of support or start climbing furniture or stairs. Your baby might start imitating you, start resembling one of his or her parents more closely, and start developing habits. Since their brains are working hard to develop motor skills and mental abilities to comprehend the world around them, sleep might get affected.
Separation Anxiety
Nobody is more enthusiastic than a toddler when it comes to learning new skills and acquiring them at a fast pace. They start walking on their own, start eating small bites by themselves, and realize that they are quite independent. However, they might need some assurance from a parent that is around and is available for help. They experience separation anxiety at times which causes emotional stress and affects their sleep.
Diet Change
A shift from breastmilk or formula feed to top feed can cause changes in sleep habits. Transitioning from a bottle to a cup and moving to a new room or daycare can also disturb a child and spoil the sleep pattern. Therefore, any kind of change in external factors or the external environment of a child can lead to sleep deprivation and cause regression.
How Long Does the 15-Month Sleep Regression Last?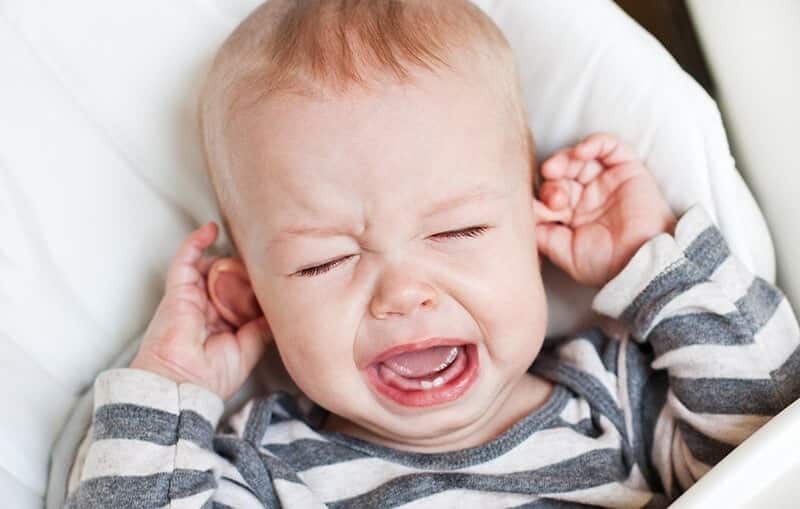 Sleep regression is not a one-time phenomenon. However, it does not last for more than 2 weeks at a stretch. Certain toddlers face this problem for just one week. However, some might have to deal with sleep regression for a period of 14 days.
It happens at various stages of a toddler's life till the baby does not turn 3 years old. You can see your child facing sleep regression at 4 months, 8-10 months, and then at 14-15 months. It lasts till the baby turns 2 and is independent enough to understand basic cues like using the washroom, walking, climbing in and out of bed, and so on.
How to Ease the 15-Month Sleep Regression?
Play Games
By playing fun games like hide-and-seek and peek-a-boo, you will end up spending more time with your toddler. Since your baby is growing at an exponential rate, physically as well as mentally, games will allow your toddler to explore all kinds of abilities that he has acquired. He will be able to run, walk, communicate, and understand that you are a permanent being in his or her life.
Spend Time with Your Toddler when Awake
Spending time with your toddler in the same room in which he or she sleeps will remind him that it is a safe place. Enjoy the safe space with your toddler and play with the same toys so that the baby feels secure and happy.
Planned Separation
Allow your toddler to spend some time with the grandmother or the nanny. While you run errands or go for a walk, leave your child in someone else's company so that the baby can learn new faces and understand the difference between you and others. Make sure you do so organically and leave the child in the company of a trusted person.
Stick to a Routine and Remain Consistent
Routine is one of the most important aspects of a child's life. By following all the pre-bedtime rituals like bathing, reading, cuddling, etc., the baby will be able to sleep better as it will read all the cues. A consistent regime ensures that the baby is in the habit of eating and sleeping at a particular time.
Allow the Child to Remain Physically Active when Awake
Allow the child to indulge in as many physical activities as possible. Running, walking, cycling, etc., will allow the baby to indulge in sports and enjoy. Physical exertion will tire the baby, help in the proper digestion of food, and allow the child to explore his abilities and even improve mobility.
Change Sleep Pattern According to The Needs
As a toddler grows older, the wake window keeps getting bigger. If your tiny tot likes to sleep less as compared to kids belonging to similar age groups, add 10-15 minutes to each wake window. However, do not make any drastic changes to and allow the child to adjust to the new routine.
Things that Must Be Avoided at The 15-Month Sleep Regression
Do not move your toddler out of the crib to resolve the issue. Certain times, parents shift the baby from the crib to the bed. The reason for this could be to take better care of the child or for the sake of their own convenience as well. However, it is not advised to do so because it can cause a sleep crutch later in life.
Avoid Ferberization during a sleep regression. Letting the child go off to sleep in times of stress can strain the child emotionally and physically. Therefore, keeping a check on your child and comforting your tot when the body is going through such physical and mental changes can be helpful. Ignoring can cause insecurity in a child at a very early stage.
Do not make any changes to the nursery. Make the sleeping environment conducive by spreading a soft bedsheet, using a soft blanket, and maintaining a proper temperature. You can play a soft lullaby and keep the lights as dim as possible to prevent hampering sleep due to any external factors.
Do not compromise on your own sleep. To take care of a child, a mother has to be as well-rested as possible. Co-parenting is vital as it is the responsibility of both parents to bring up a child. If you are a single parent, hire extra help if possible.
Do not put the baby to sleep when wide awake. It is very common for a baby to take longer naps during the day and sleep less at night. Trying to push your tot into a forceful slumber can do more harm than good. Therefore, it is best to be patient and put the baby to sleep when he or she is ready.
Do not give any pain medication without consulting the doctor. At certain times, teething can cause fever, discomfort, and slight bleeding. In case the symptoms get severe, then consult a doctor immediately instead of prescribing any medicine on one's own. A baby has very sensitive organs, and any medication can have a harmful effect on them.
Conclusion
The 15-month sleep regression is a challenging phase for the parents as well as the child. However, by recognizing the symptoms and staying patient, you can work your way around it.
Maintaining a consistent routine, creating a conducive sleep environment, and staying patient, are some of the ways by which you can navigate through this physically and mentally draining phase. If your child is going through sleep regression and you have a better way of dealing with it, share your ideas in the comment section.
Frequently Asked Questions
How to Support a Toddler During the 15-month sleep regression?
The best way to support your toddler during a 15-month sleep regressionperiod is to calm them when they are crying by being flexible with naps and not transitioning forcefully and suddenly to a routine that includes one nap a day.
What Are the First Signs of 15-Month Sleep Regression?
Increased irritability, taking short naps, waking up multiple times in the middle of the night, and change in appetite are some of the initial signs of sleeping regression that a 15-month-old baby will show.
Why Does a 15-Month-Old Regress?
Some of the reasons for sleep regression are teething, a toddler going through a growth spurt that includes physical as well as mental, and shorter as well as less frequent naps during the day.