The most hectic job of a parent is to make a child sit straight and eat properly. It is a commonly faced problem for parents with newborns and toddlers.
However, we have now found a solution to this problem! This solution will elevate the mealtime experience for you and your child.
Excited to know what are we talking about? Read the article till the end to find out! In this article, we delve into high chairs and how they are essential for nurturing your little one correctly.
This article will guide you on what is a high chair and how to select the best high chair for your tiny tot.
We will also provide you with a list of expert-recommended high chairs that will ensure your baby's comfort and safety at all times. Continue reading as we discuss the most wonderful innovation that makes your parenting journey easy!
What is a High Chair?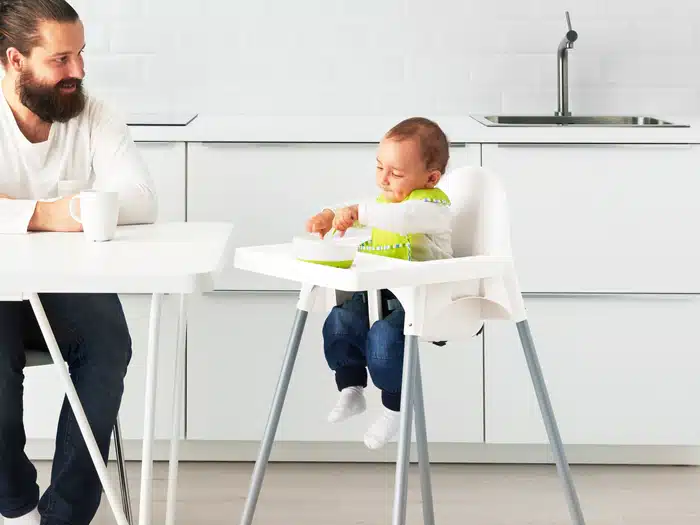 A high chair is a tiny throne for your young one that will make their mealtime journey easy and fun. It is a sturdy chair with long legs and an attached table that keeps your child securely in place. A high chair is not a mere piece of furniture; it is a second cradle to your newborn.
The sturdy frame and secure harness of a high chair act like a safety nest for the child. The best thing about a high chair is that it grows with your child! You can adjust the height and angles of a high chair as your little one grows. It is a trusted companion for the child's mealtimes.
Furthermore, it also makes a child capable of self-feeding, thus building confidence and motor skills. Most pediatricians and child nutrition specialists recommend self-feeding for toddlers. A self-feeding child will understand internal cues of hunger and fullness in a better way.
However, making a child self-feed can be one of the most troublesome tasks for a parent. This is where a high chair comes into play! It allows your child to have messy mealtime adventures freely yet safely.
You can incorporate your child into family dinners using a high chair. It also helps to make them understand the usage of cutlery. Therefore, a high chair is like a garden where your child's relationship with food blossoms. It is a piece of furniture that witnesses their first bites and messy splatters that add memorable moments to your parenting journey!
The Best High Chairs of 2023
The market is filled with multiple options for high chairs, but which one is right for you and your child? Let us help you out! Check out expert-recommended high chairs below. These recommended picks will end your quest for the best high chair for your child without hurting your pockets!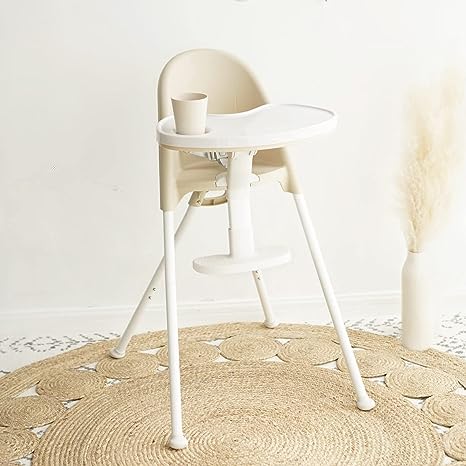 This beautiful high chair is a treat for parents who like to keep everything stylish and aesthetic! It comes in three beautiful colors: cream, grey, and green, which will blend beautifully with your interiors. This high chair is highly compact, portable, and lightweight.
It comes with double convertible trays and a cup holder. The chair is completely dishwasher safe, with zero hassle for the parents. However, the best part about this high chair is that it can be converted into a play and toddler chair as well!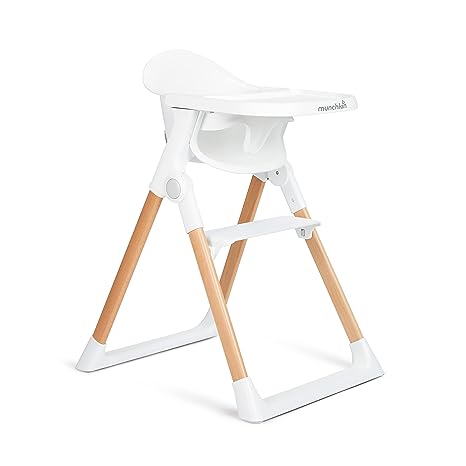 This high chair is a perfect gift for soon-to-parents or new parents, as it takes only a few minutes to assemble it! The legs of this high chair are foldable, which makes it easier to store and carry. One of its unique features is the moving tray, which can be hooked back when not in use.
Another prominent feature of this bestselling high chair is that it is extremely lightweight and easy to carry. However, the maximum weight it can support is up to 33 pounds.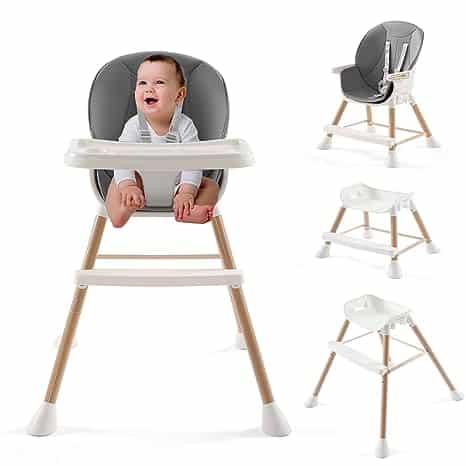 If you are looking for a versatile and functioning high chair under a budget, then this one is perfect for you! This 6-in-1 convertible high chair is suitable for 6-36-month-old babies. It has a 5-point harness system to ensure the maximum safety of your child.
This high chair has a double-layered, BPA-free tray, which is also dishwasher safe. It also has a waterproof PU cushion cover to safeguard the chair material from accidental water spills. It has a unique and sturdy pyramid structure that provides extra protection and comfort to the babies.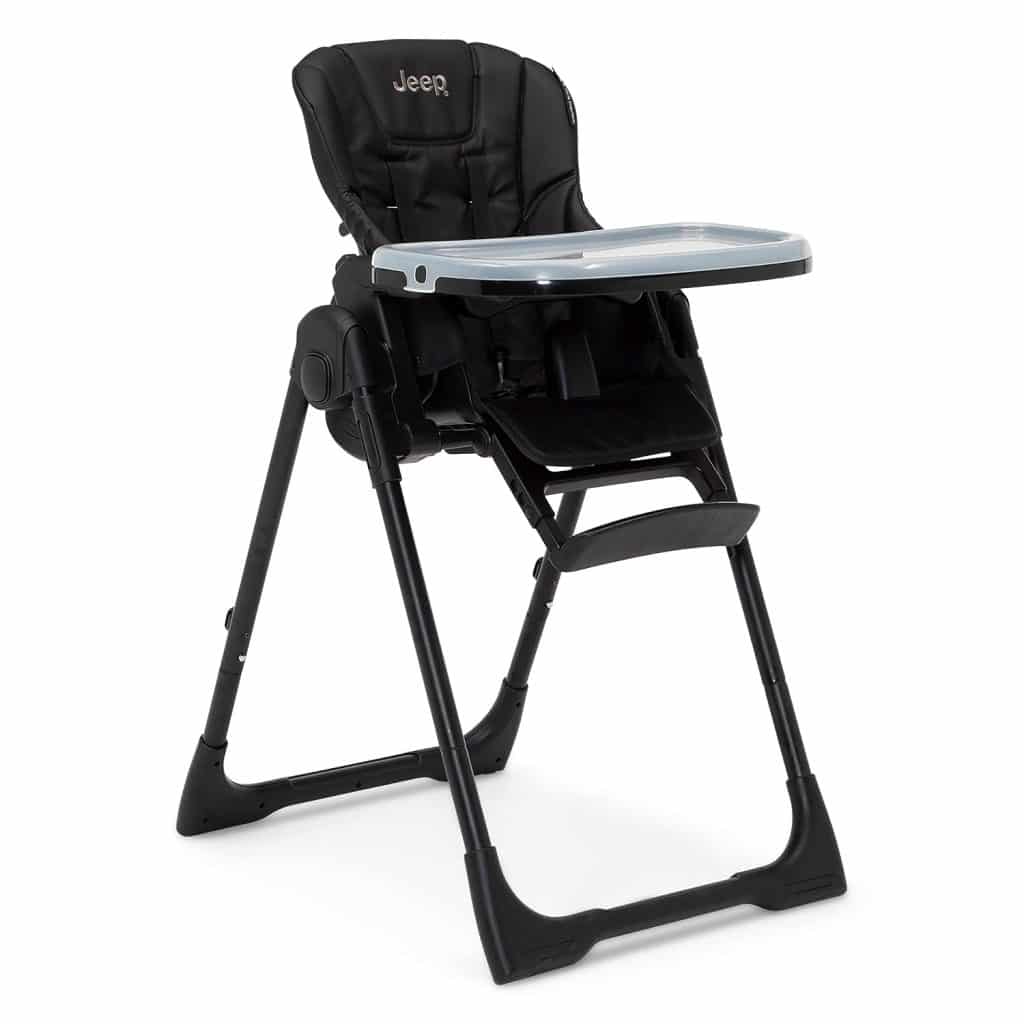 Looking for a high chair that guarantees the safety and protection of your child? Check out this one! This high chair is JPMA certified and follows necessary ASTM and CPSC standards.
It has a five-point safety harness system, which is made using PU leather fabric and a steel frame. This high chair is highly durable and easy to clean.
Furthermore, it can be adjusted up to 6 height positions and features an adjustable footrest. This product weighs around 23 pounds and can support children weighing up to 50 pounds.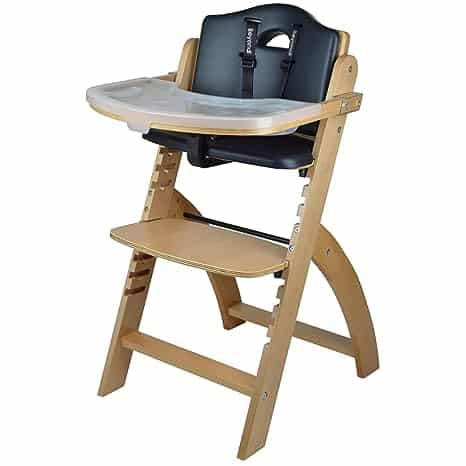 Attention all the sustainability and environment-loving parents! This wooden high chair is made just for you! This product is BPA, latex, lead, and Phthalate free, which means no safety hazard for your child.
Its safety harness can be adjusted between three to five points. This high chair has an ergonomic design that follows the 90° rule to maintain the child's posture. Even though this chair is made using wood, it is extremely lightweight than most of the plastic chairs.
Another prominent feature of this high chair is that it can be used even by adults as a dining chair! It also comes with a 3-year warranty from the manufacturer.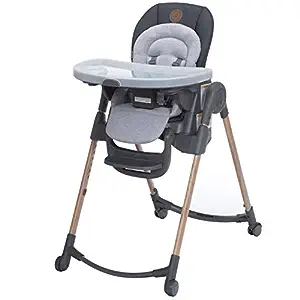 This high chair will be your child's best friend for the longest time! They can use this high chair up to 6 years of age. It comes with 5 recline positions and 9 height positions for a comfortable experience for all ages.
It doesn't require a lot of storage space as it is foldable. This high chair is made using liquid-repellent fabric and also features a dishwasher-safe tray to ensure a fast and easy cleanup after every usage.
How to Find the Best High Chair?
Now that you know the importance of a high chair to the child's growth and development, let us understand what factors to consider while buying a high chair. It is important to note that these factors will vary as per your parenting goals and the child's needs. Here are some tips to find the best high chair for your child in 2023!
1. Safety Harness
Babies never sit in one place quietly. Therefore, a high chair needs to have safety straps and harnesses. It is recommended to have a 3 to 5-point harness system to ensure the child's safety. You should opt for a high chair with a wide supporting base to prevent accidents.
The straps of the high chair should be tight enough to hold the baby securely and restrict its unnecessary movements. In case you opt for a high chair with wheels, select the one whose wheels can be locked when not in motion. It will provide stability and increase the safety of the child.
2. Child's Comfort
After safety, the child's comfort should be your top priority. You should ensure that the straps are made up of a fabric suitable for a child's sensitive skin. An ideal high chair should have an ergonomic design with padded cushions for adequate back support.
You should look for high chairs with supportive footrests, as dangling feet will hurt the child. The thumb rule to identify comfortable high chairs is 90-90-90! In easier words, the best high chair is the one that implies a 90-degree angle at the hips, ankles, and knees for the child. The child's feet should fall flat and rest comfortably on the footrest.
3. Easy Maintenance
A high chair will be your child's food playground for two years. It is going to be a canvas for food spills and nasty messes. Therefore, it is essential to buy an easy-to-maintain high chair.
Prolonged use of an unclean high chair will lead to fungus and bacterial growth, which may cause severe health issues for the child. It can also impact the child's relationship with food negatively. Thus, it is essential to ensure the sanitation and cleanliness of the high chair.
The high chair should be washable and easy to clean. It would be beneficial if the table could be separated after use for cleaning. You should opt for a high chair made of wood, plastic, or metal frame as they are easier to clean and maintain.
4. Adjustability
Babies grow faster than we realize, which is why one needs to have an adjustable high chair for their child. The chair's height should be adjustable following the child's growth. A child needs a high chair starting from six months to two years of age.
Hence, you should invest in a high chair that can accommodate and adjust to the child's growth during these years. Another thing that should be taken into consideration is ease of adjustability. You should opt for the high chairs that have a simple mechanism and can be changed with ease.
5. Portability and Storage Space
For approximately two years of your child's life, a high chair is going to be his constant companion. It will also be his travel buddy when you go on family trips and vacations. This is why we recommend buying a lightweight and portable high chair.
It would also be a wise decision to buy a compact high chair that doesn't require a lot of area and space for storage. It is also advisable to buy a high chair with wheels so that you can move the baby in his dining car with ease!
6. Additional Accessories
You should evaluate the additional accessories and attachments that your high chair offers as per the price range. Most of the high chairs come with detachable tables to make the cleaning process easier. You can also have the option of adding some toys, games, or music to keep the child entertained and engaged.
7. Durability
Ensure that the high chair is made of durable materials that can withstand the test of time for two years or longer. You should always ask your seller about the guarantee or warranty policies that might apply to your product.
8. Safety Standards and Certifications
It is highly essential for your child's safety that the materials used in the making of a high chair should be non-toxic and safe for children. No matter the design, color, or shape, the best high chair is the one that keeps your child safe, happy, and engaged. It should make mealtime for your child an enjoyable moment.
The parents should look for quality certifications to assess if the product meets the necessary safety standards set by the competent authorities. You can trust the products with certification from the Juvenile Products Manufacturers Association (JPMA) and other prominent authorities.
Conclusion
As a parent, it is your responsibility to find the best high chair for your child that caters to their developmental needs. The high chairs play a pivotal role in helping a child establish a successful relationship with food. It also improves their motor skills and posture.
However, each child has different needs and capabilities, which you need to consider while buying a high chair for them. Choose a high chair that provides them safety without restricting their freedom and adds extra giggles to their mealtimes! Happy Parenting!