Kendamil Organic Baby Formula is a British brand that sources milk from Red Tractor-accredited farms. While fresh dairy products are sourced from Lake District, a UNESCO World Heritage Site, other formula ingredients are also sourced from local places like Somerset, Kent, and Yorkshire.
A quality baby formula should primarily include essential nutrients that are vital for an infant's growth, such as proteins, fatty acids, and carbohydrates. Anything that hampers the growth of an infant must not be added to the preservative, as that can harm the body in the long run.
This article will cover Kendamil Baby Formula Review as we will discuss the nutritional benefits of feeding your child Kendamil Organic Baby Formula, ease of preparation, ingredients used, and other potential considerations to help you make an informed decision for your baby's nutrition.
Kendamil Baby Formula is Available in 3 Different Categories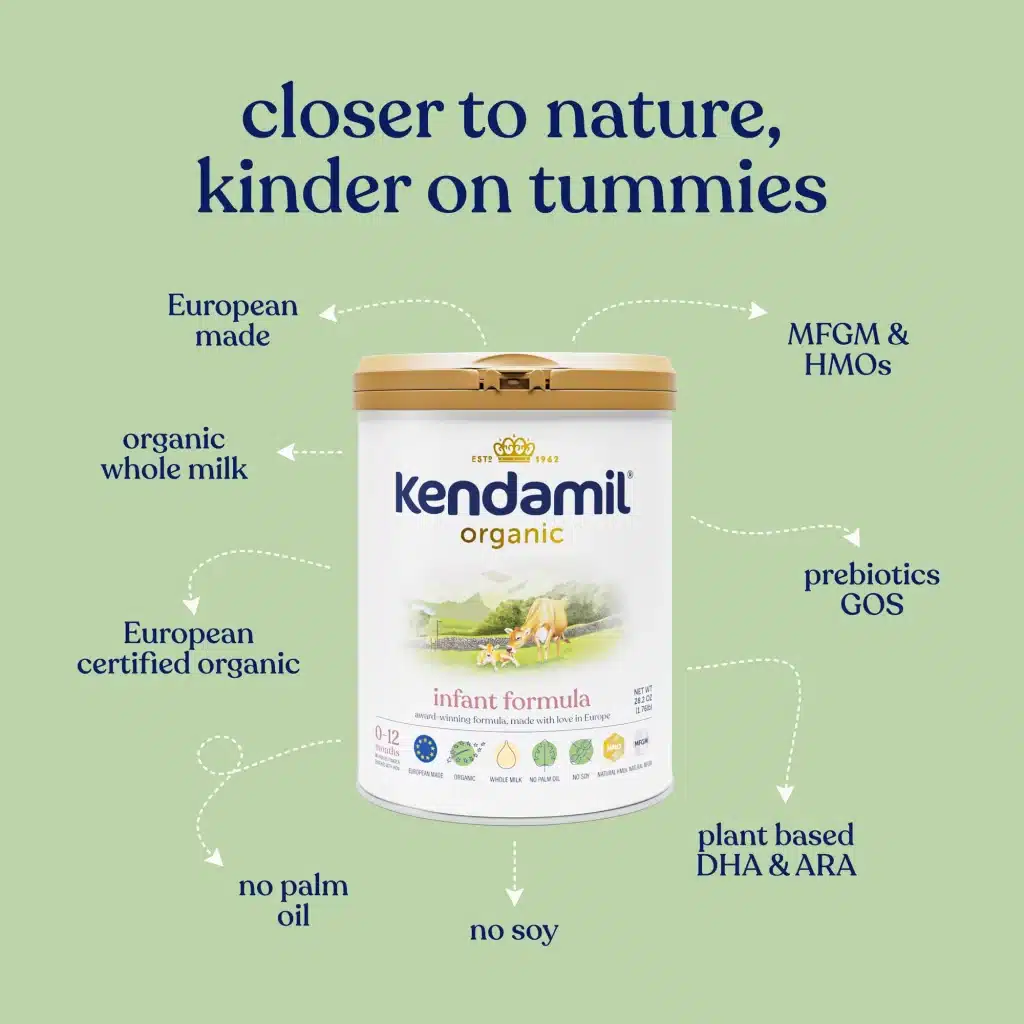 Classic Cow's Milk: This Cow milk formula does not meet the standards set by the EU for organic milk products and is, therefore, more affordable than other products.
Organic Cow's Milk: The Organic Cow's milk formula is certified by EU Organic Certification and the UK Soil Association.
Goat Milk: The Goat milk formula contains A2 casein milk protein that brings it closer to breast milk and also comprises short as well as medium fatty acids, making it easier to digest.
Comfort Blend: This formula comprises partially hydrolyzed whey protein for babies who need something that is easier on their stomach.
Kendamil Baby Formula Is for Children Belonging to Four Different Stages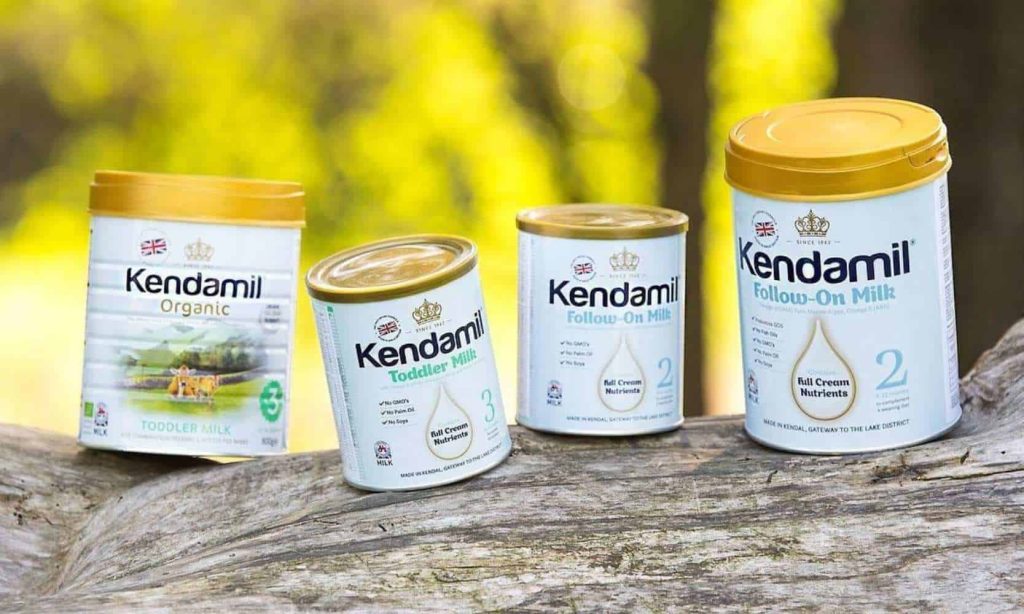 For Babies Who Are 0-6 Months Old: The ratio of whey to casein is the same as breast milk, i.e. 60/40. Therefore, it can be used as a substitute for breastmilk exclusively. The primary sources of fat in the formula are natural milk fats, sunflower oil, coconut oil, and canola oil.
For Babies Belonging Who Are 6-12 Months Old: The whey to casein ratio is 50/50. The formula is more like cow's milk, which can make the transition of a child to normal milk easier once the baby grows up. The formula is rich in phosphorus, magnesium, and calcium, i.e. nutrients that are found in abundance in cow's milk.
For Babies Above the Age of 12 Months: Also called Toddler's Milk, it is best for parents who do not want their kids to switch to normal cow's milk. The whey to casein ratio is 80/20.
Kendamil Baby Formula Review
Pros
Here are a few reasons for trusting the brand and making it an integral part of a baby's nutritional journey in his or her formative years.
1. Loaded with Age-Appropriate Vitamins
Since Kendamil Baby uses full-cream mammal milk fat rather than skimmed milk, it is loaded with all kinds of minerals and nutrients that a baby needs for proper growth. Formula meant for consumption till the age of 6 months has MFGM, Vitamin D, Vitamin A and Vitamin C, iron, iodine, Calcium, and Zinc.
2. Natural and Healthy Fats
Unlike many ordinary companies, Kendamil Baby Formula does not use skim milk with vegetable fats to increase the fat ratio in the formula. Palm oil is avoided entirely, and fat from whole milk is added to the formula that aids in calcium absorption, proper digestion, and even the right fat absorption.
3. Perfect for Vegetarians
Kendamil uses plant-based sources to increase DHA levels in their formula. The company makes sure that it does not extract any hexanes or chemicals, nor does it use fish oils as a source of DHA. It is extremely rich in Omega-3 fatty acids, which are crucial for the brain development of a child, and the source of these fatty acids is marine algae and not fish.
4. Made with Organic Grass-Fed Cows
Milk from cows that are EU-certified and grass-fed is used. Since the cows live in a stress-free environment, the milk has high levels of Vitamin E, Omega 3, CLA fatty acids, and beta-carotene. The formula is easy on the gut as the formula is also loaded with probiotics.
5. Lactose, a Source of Carbohydrates
Unlike other companies that use glucose syrup solids, corn syrup, soy, maltodextrin, brown rice syrup, and so on to increase carbohydrate content in the formula, Kendamil does not resort to such activities. They make sure that 100% naturally digestible lactose is used so that a baby's pancreas works at a natural pace.
6. All-Natural Ingredients
Most of the formulas in the market include ingredients such as faux iron, preservatives, mineral oils, and gluten. The cows are also injected with antibiotics, synthetic nutrients, and artificial hormones like melamine to increase the production of milk. Kendamil, on the other hand, has a strict policy against adding GMOs, heavily processed ingredients, and additives.
7. Environmentally Friendly
Kendamil ensures that all dairy animals are properly cared for, uses recycled containers for packaging, and protects the oceans and forests by not using fish oils extracted from fish and including palm oil in their formula. The brand aligns with all the ethical and quality standards specified by the EU.
8. Easy Preparation
To prepare a feed for one bottle, boil fresh water and cool it down to 70℃. Measure out the water and powder according to the formula instructions. Stir the mixture or gently rotate the bottle as it can get frothy, and cool it down further before you feed the baby. You can spill some on your wrist to check and make sure that it is not too hot.
Cons
While Kendamil Baby Formula offers multiple benefits ranging from convenience to high nutritional value, it is still essential to consider the following potential drawbacks:
1. Expensive Option
Kendamil Baby Formula offers organic options, which can be an expensive purchase for many parents. Since it is not as widely available as other brands, the price can go further up as well.
2. Not the Best Option for Sensitive Babies
Although Kendamil makes sure that high-quality standards are maintained at all times, babies still suffer from sensitivities and allergies to certain components of the product. These problems have not been overcome by the brand to date.
3. Frothy and Thicker Consistency
Since the company claims to use pure cow's milk for the formula, the consistency of the mixture is thick, which could be difficult for a baby to swallow. The mixture tends to get frothy as well, which makes it more difficult for the mother.
4. Confusing Product Variants
Since there are so many versions of the formula available in the market, it might get confusing for parents to select. Also, there is immense research being done on various ingredients that are added to a formula for babies, but nobody is sure if the formulation of the formula is being updated according to the latest findings.
As of August 2023, only Organic and Classic Cow's Milk have received approval from the FDA and are, therefore, available for purchase in the US. Therefore, it is a must for the parents to make sure that they are aware of the latest findings and consult with their pediatrician before selecting a formula for their infant.
Comparison of Kendamil with Competitor Brands
Kendamil vs. Similac: Kendamil offers no alternatives for babies who are lactose intolerant; Similac manufactures soy-based formulas for those who are incapable of digesting cow milk and even skim milk formulas. However, Kendamil relies on the natural sweetness of whole milk; Similac adds artificial sugar to the formula. Kendamil does not add any synthetic ingredients like maltodextrin, palm oil, and modified rice starch, whereas Similac does.
Kendamil vs. Apatmil: Regarding Kendamil Organic and Apatmil Gold, both the formulas have the same whey vs. casein ratio, i.e. 60/40, and have the same carbohydrate content as they use lactose. However, Kendamil uses all-natural full cream Cow's milk for fat and sources Omega 3 from marine algae, but Apatmil Gold, on the other hand, uses Palm Oil, which is not an eco-friendly practice.
Kendamil vs. Holle:The primary distinction between the two formulations is that Holleuses palm oil or maltodextrin, but Kendamil does not. There is organic whole milk as the base ingredient and prebiotics in the Kendamil formula; meanwhile, Holle uses Biodynamic Milk powder as the base ingredient, and neither has prebiotics or probiotics in the formulation of the formula. Holle can be a bit heavy on the baby's gut because the formula contains starch as a source of carbohydrates, but Kendamil uses cow milk for lactose.
Kendamil vs. HiPP: Since the British Soil Association does not allow companies to add probiotics in baby formulas, Kendamil baby formula only has prebiotics, whereas HiPP is rich in both prebiotics and probiotics. While certain formulas by HiPP have artificial ingredients like maltodextrin, palm oil, and fish oil, Kendamil does not include any. Another drawback associated with HiPP formulas is that they are not rich in palmitic acid, which aids fat and calcium absorption in the intestines. Still, Kendamil formulas are a rich source of palmitic acid, making it a better option for babies.
Kendamil Formula Review: Final Analysis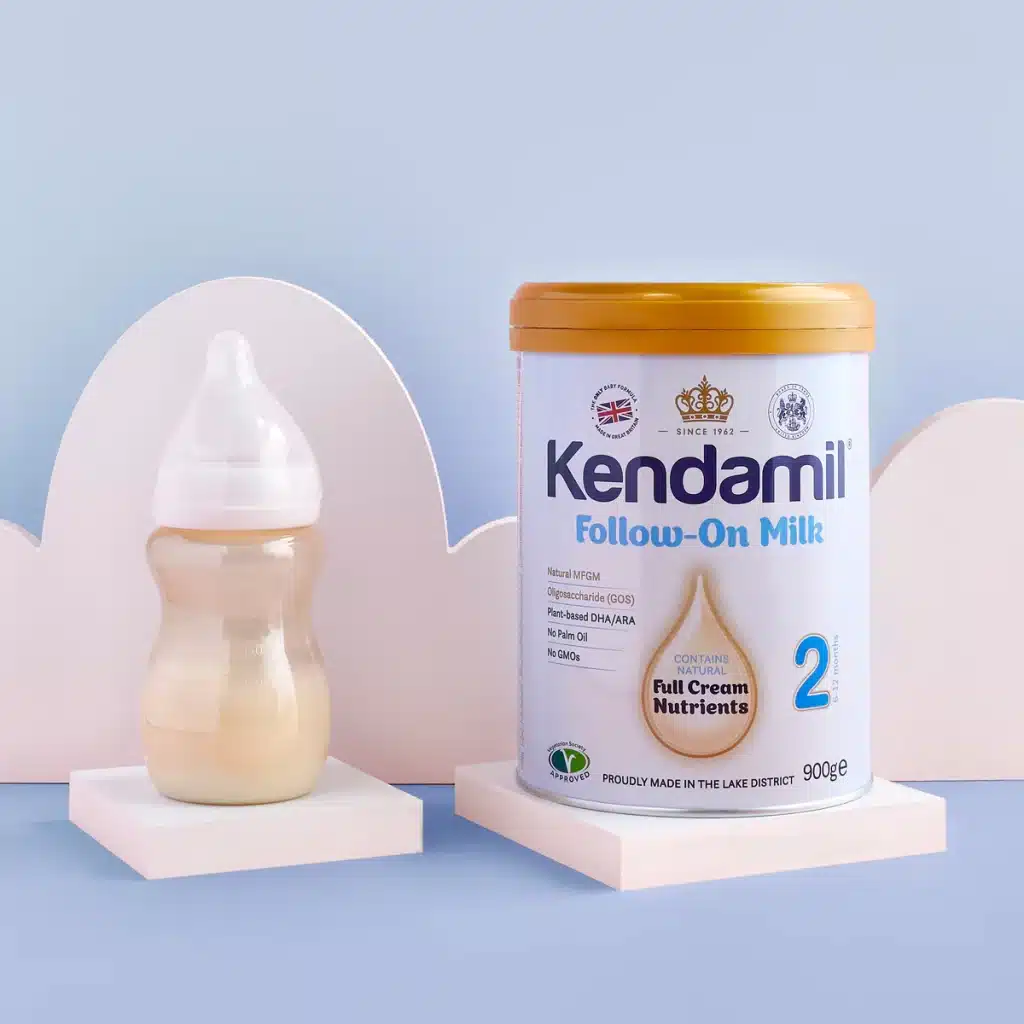 If you are looking for an EU-certified formula for your infant and are not facing any budget constraints, Kendamil is the perfect option for you. The formula is manufactured by maintaining high sustainable standards, good hygiene standards, and high nutritional value. A parent who cannot provide breast milk to the baby for any reason can confidently give the formula to her baby for the best growth and development.
Conclusion
Kendamil Organic Baby Formula is a good option for mothers who are looking for a healthy alternative to breastmilk as it is loaded with ingredients that are imperative for infant nutrition.
Maintenance of high-quality standards, organic and balanced nutrition content, ease of preparation, and other potential benefits for a baby's growth add to the product's appeal.
However, it is always advisable to consult a doctor before shifting to formula feed instead of breast milk. Share your ideas with us in the comments section, and let us know which other formulas you think are equally good.
Frequently Asked Questions
What Are the Other Kendamil Alternatives Available in The Market?
Holle, Bobbie, Nestle, Mead Johnson, and Danone are some of the best Kendamil alternatives available in the market. However, Kendamil is the most famous brand because the ingredients do not include palm oil or any other synthetic chemical or preservative.
What is the Closest Kendamil Baby Formula Closest to Breastmilk?
Kendamil offers a formula with a 60/40 whey-to-casein ratio. The formula is made with all-natural and organic ingredients, and the ratio of ingredients changes according to the product and the child's age.