Is your 9-month-old baby being cranky lately? Babies younger than a year generally experience a hard time getting a night of proper sleep. If your baby gets up between a sound sleep, starts crying, or just sits in the crib, tries to sleep but is unable to fall asleep, just remember he is not the only one.
Seeing them uncomfortable and unable to get a good nap is definitely frustrating for you as a mother. But the good news is this phase is temporary, and your child will soon learn to sleep on time with your little help.
So, if you are also experiencing that your little baby has become a late sleeper or remains awake for prolonged hours during the night, don't worry, as it is a fairly common issue among 7-10-month-old babies. In this article, we will learn all about the 9-month-old sleep schedule and understand their sleep-related issues more closely.
9-Month Sleep Regression and The Causes Behind It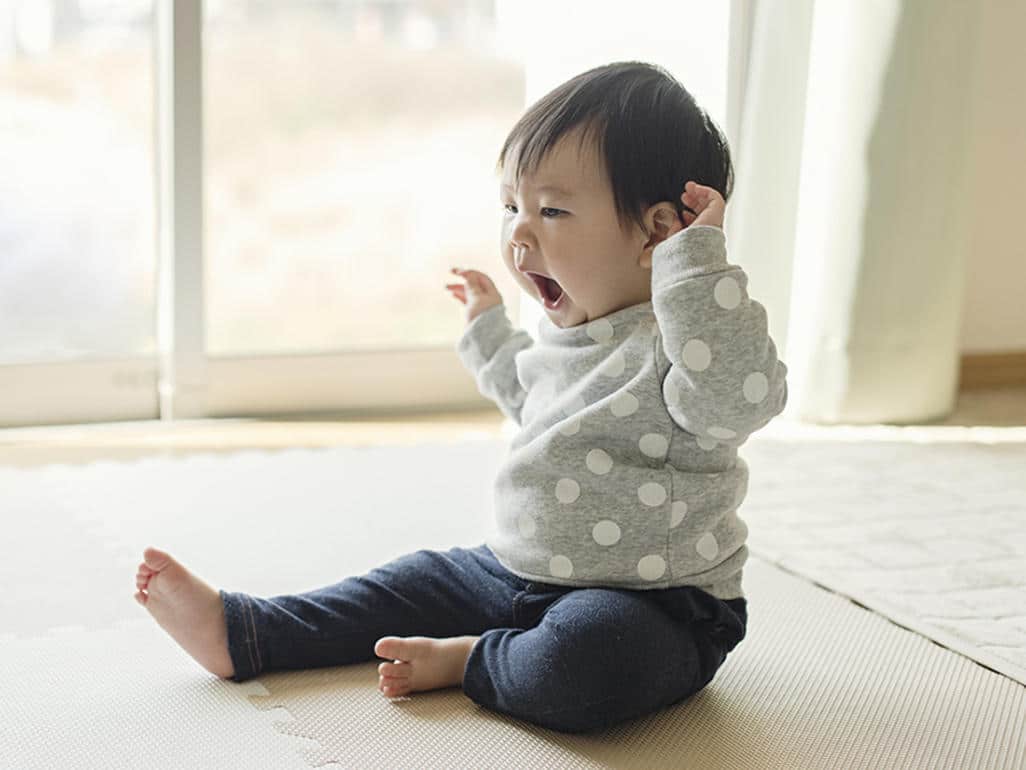 9-month sleep regression, as the name suggests, is a difficulty in the sleep experienced by toddlers, typically 7 to 10 months old. It is also known as 8-month sleep regression and is characterized by an increased waking time during the night. There's a change in sleeping patterns during this period, and new parents usually have a hard time understanding this. It is a phase in which the toddler who used to sleep for straight 6-7 hours has difficulty falling asleep even for 1-2 hours straight.
There are various reasons for 9-month sleep regression, some of them are as listed:
1. Increased Mobility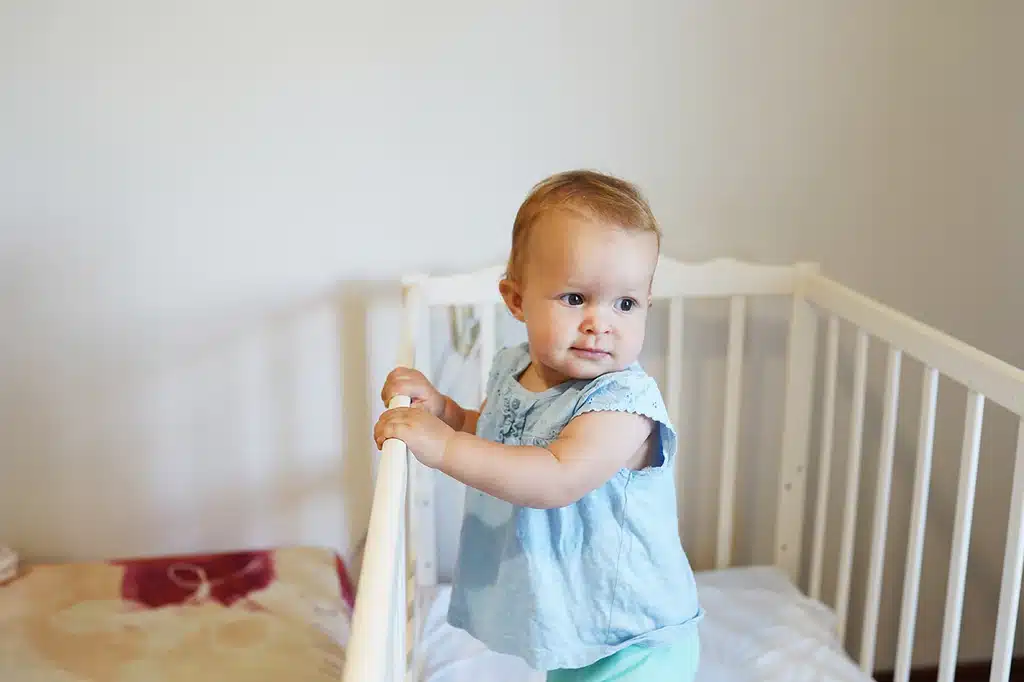 A 9-month-old baby can easily sit up and wants to stand on its own. He may want to grab the crib and get out of it. By this age, they have grown, and their curiosity to hold and try new things is increasing. These newly learned activities are quite fascinating for kids of this age, so instead of wanting to sleep, they may want to explore the world around them during this time.
2. Teething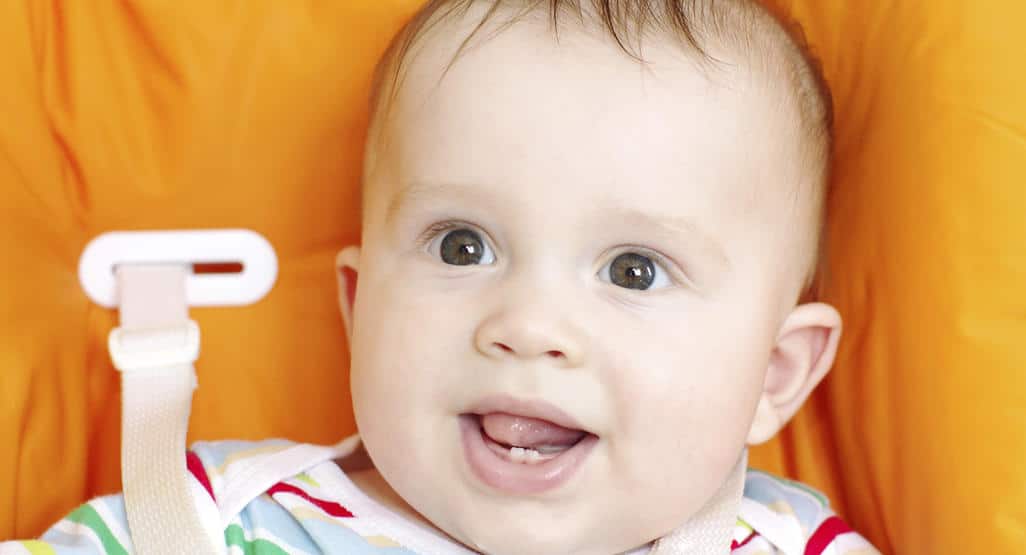 Teething is quite a hard phase for kids of this age. It may cause pain, swollen gums, and discomfort due to teething. During this time, it's natural for the kid to have less sleep. During teething, even your otherwise calm and composed kid may become cranky. Pediatricians advise various medications to help the baby grow out of this phase easily, but it is a period where kids require your undivided attention and extensive support.
3. Separation Anxiety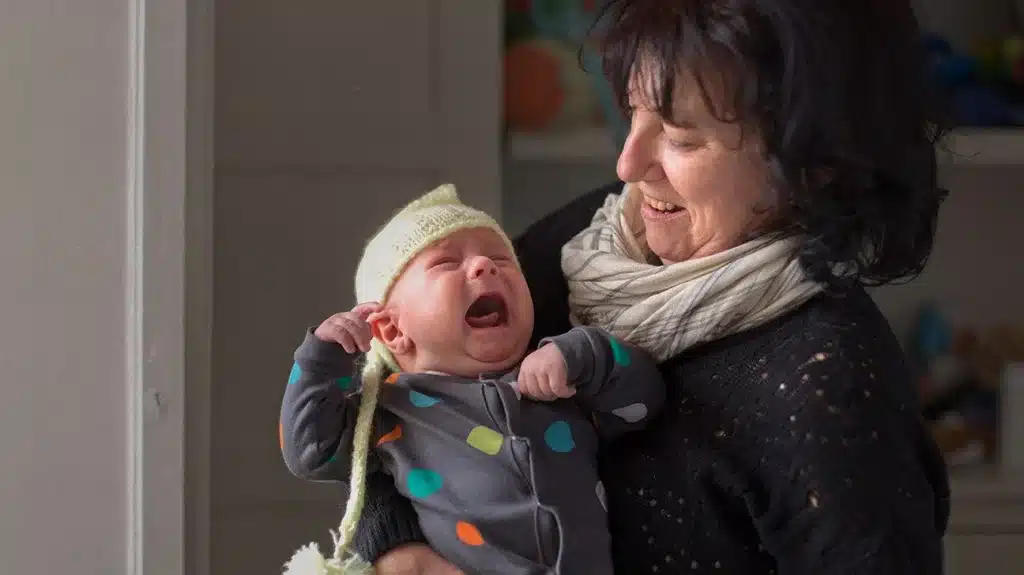 Till this age, toddlers are quite dependent on their mothers. If you have started putting your kid to nap in a crib or away from you, they may find it increasingly difficult to manage on their own. The warmth of a mother's close proximity is a fundamental requirement for every child. However, as the baby grows, it is important for their development to be able to sleep on their own. Separation anxiety is one of the most common causes of 9 months old kids having difficulty falling asleep.
4. Needing More Waketime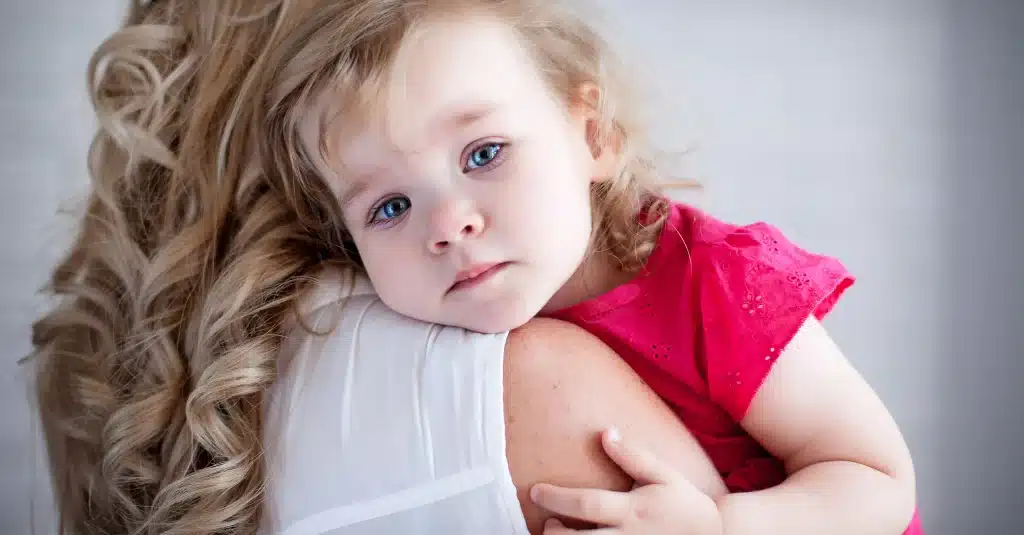 As your baby is in a growth phase, they need more awake time to get tired enough to fall asleep on their own. During this time, they may even discard the third nap of the day. Discarding a third nap results in them being overtired. The most important thing for a baby to fall asleep is that they should be calm. The overtiredness leads to discomfort, which disturbs their sleep schedule.
Actual Sleep Requirement for a 9-Month-Old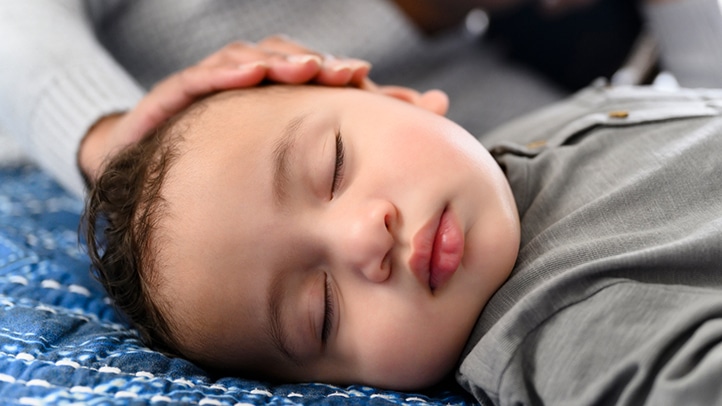 Now that you know your baby hasn't been sleeping well, and even after having a good night's sleep, according to you, he wakes up irritated and cranky. There is a possibility that you do not understand his actual sleep requirement. It's important for parents to understand the sleep requirement for their toddlers, as not getting a night of proper sleep in infants can give rise to various health-related issues.
According to the National Sleep Foundation, newborns should get a sleep duration of at least 14-17 hours. For a 9-month-old baby, at least 14 hours of sleep is mandatory. This time may be broken down into a night sleep time of 11-12 hours and a day nap time of 2-3 hours. Although this is just a defined window, it can also vary. So, if your baby wakes up happy even after 10 hours of sleep, you need not worry. There is also a possibility that your baby sleeps less during the night but requires 4-5 hours of nap during the day, which is also perfectly fine.
You should understand that all babies are different. Their development cycle varies depending on various factors. You need to be persistent and patient to inculcate a healthy sleeping habit in them. A consistent sleep routine can help them adapt to a proper sleep cycle and thereby help you too. You can also sleep train your baby to avoid disruptions in their sleep. Sleep training is nothing but training your baby to sleep without the parent.
Sleep training also helps babies to fall asleep on their own if they are awakened by any disturbance during the night. It helps both babies and their mothers. In sleep training, you have to put down your baby for sleep when he feels a bit drowsy and let him fall asleep by himself without the need to be swayed or rocked. Although sleep training is sometimes seen as cruel on the parent's part, it isn't, and as much as it helps the parents, it helps the babies even more.
9-Month-Old Sleep Schedule sample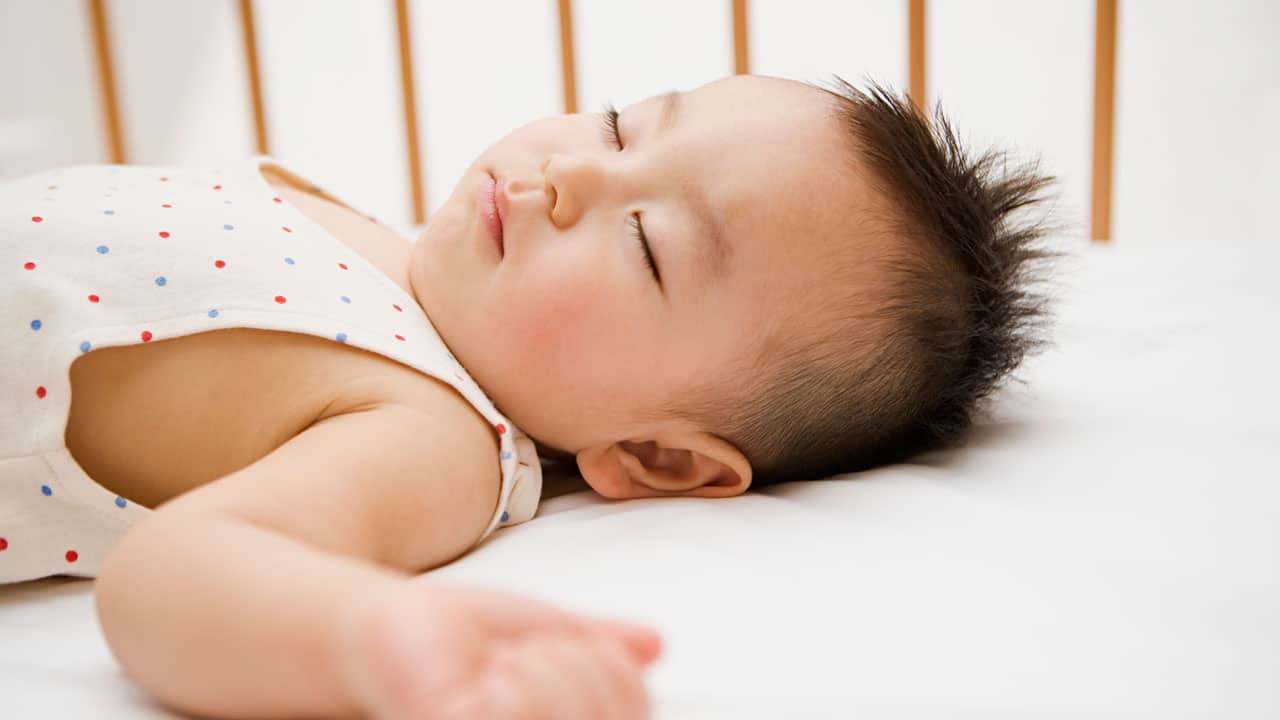 Your 9-month-old needs at least 2 naps, 3-4 hrs of daytime sleep, and 10-12 hours of nighttime sleep. This amounts to a total of 12-16 hours of sleep in a day. You can make a sample sleep schedule for your 9-month-old on the basis of this information and adapt it religiously to help your baby have a proper sleep pattern.
Here's a sample 9-month-old sleep schedule that you can use for your reference:
| | |
| --- | --- |
| Time | Activity |
| 6:30/7:00 AM | Wake Up |
| 9:30 AM | Nap time |
| 11:30 AM | Awake time |
| 2:00 PM | Nap time |
| 3:30 PM | Awake time |
| 7:00 PM | Getting ready for nighttime sleep |
| 7:30 PM | Bedtime |
Please note that this sleep chart is just an ideal way to represent the sleep pattern in a 9-month-old baby. However, sleep requirement is dependent on several other factors. Hence it may vary depending on the development of the baby.
Setting a Proper Bedtime for Your Toddler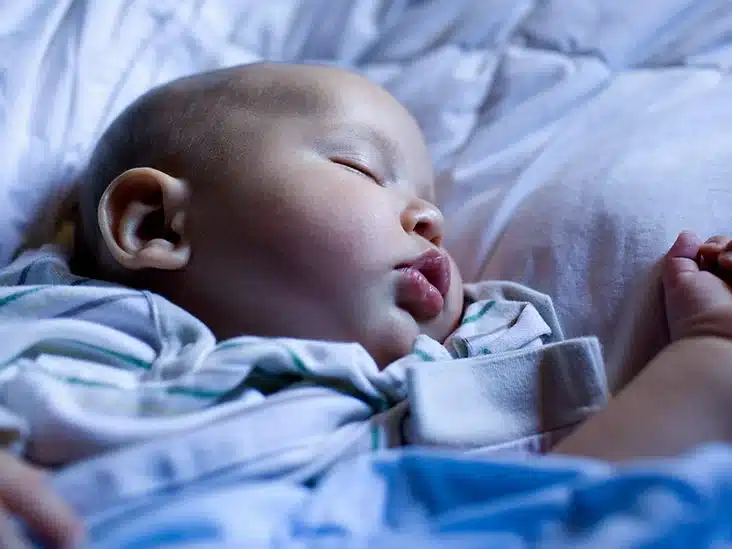 Having a proper bedtime for your baby will help you in avoiding sleep disruptions and getting them on a particular sleep schedule. If you keep changing the bedtime for them, the kids will not be able to adjust to a particular bedtime. An ideal bedtime would be approximately after 10-12 hours of waking up. However, it is advised not to keep the bedtime before 6:00 PM, as in this case, the chances of them waking up at night or early morning increase.
Nap Time Schedule
Naps in the middle of the day are as important for a night's sleep for toddlers. It keeps them healthy and in a good mood. It also helps them have good digestion and promotes their growth. Your 9-month-old needs a nap time of at least 2-3 hours during the day, which can be divided into 2 naps in a day. Sometimes babies need a schedule of 3 naps; you will have to watch out if your kid feels tired even after 2 naps in a day and plan to provide an additional nap in between.
An ideal nap time schedule can be as follows:
| | |
| --- | --- |
| Time | Activity |
| 9:30 to 11:00 AM | Morning Nap (1:30 hrs.) |
| 2:00 to 3:30 PM | After Noon Nap (1:30 hrs.) |
| Total | 3 hours Nap in a day |
This example can be used to make a timeline for your kid. The hours can be extended or reduced depending on your kid's requirement for a nap.
Conclusion
Raising a toddler of 9 months old is not easy. They are going through a lot of changes at this age, and their body is constantly growing. It is the time when they are trying to understand the environment surrounding them and trying to explore their world.
At 9 months, they are also going through a critical phenomenon, the 8-month-old sleep regression, also known as 9-month sleep regression. This sleep regression causes them to wake up during odd hours and become cranky due to not getting enough sleep. Having a proper bedtime schedule can help your baby to fall asleep in a pattern and get a good night's sleep.
So, don't worry if your 9-month-old is having difficulty falling asleep; just understand their 9-month-old sleep schedule and try to make them fall asleep during the mentioned time.
Frequently Asked Questions
What Are Some Tips for a 9-Month-Old Sleep Routine?
Although newborns and their behavior are highly unpredictable, there are certain things that you can do to have a strict sleep routine, such as making a bedtime routine, doing things that signal your toddler that it's time to sleep, being consistent in making the routine, making them sleep in their crib or a bed and getting them accustomed to the sleep schedule.
What Are Some Sleep Cues for a 9-Month-Old?
Babies do certain activities that can tell you that it's their time to get some sleep. These signals are called sleep cues and can involve various activities such as rubbing eyes, yawning, becoming excessively cranky, etc. You can make a sleep schedule keeping these sleep cues in mind.
Does Sleep Training Affect a Kid Badly?
Sleep training is a commonly used activity advised by experts to the moms of newborns to let a child fall asleep on their own. This may also include letting your child cry for a time and learning to pacify themselves. Many people consider this inhuman, although sleep training does not affect a child badly.