When your baby reaches the age and milestone of 6 weeks, the parent feels like celebrating their kid's new milestone. However, many parents wonder how much their little ones have grown over these weeks. Babies grow too fast, and you might wish to catch up with your baby's growth and development over the week to ensure proper growth.
Therefore, it becomes necessary for you to monitor your baby to understand their key milestones and changes throughout their body and mind. In this article, you will explore how a 6-week-old baby grows, such as physical, mental, and social development. You can also explore things related to feeding patterns, sleep patterns, common concerns, parental concerns, and healthy safety.
Physical Development of a Six-Week Baby
It may feel that a whole decade passed since the baby reached the 6-week milestone. Although you might feel like you have everything sorted as a parent, nothing can beat you at kinship. However, as a 6-weeks old baby reaches its milestone, they start changing a lot. Hence, that could be a challenge for our parenting. One of the major things that change fast is their physical development which makes you devastated as a parent.
1. Reflexes and Responses of a 6-Week-Old Baby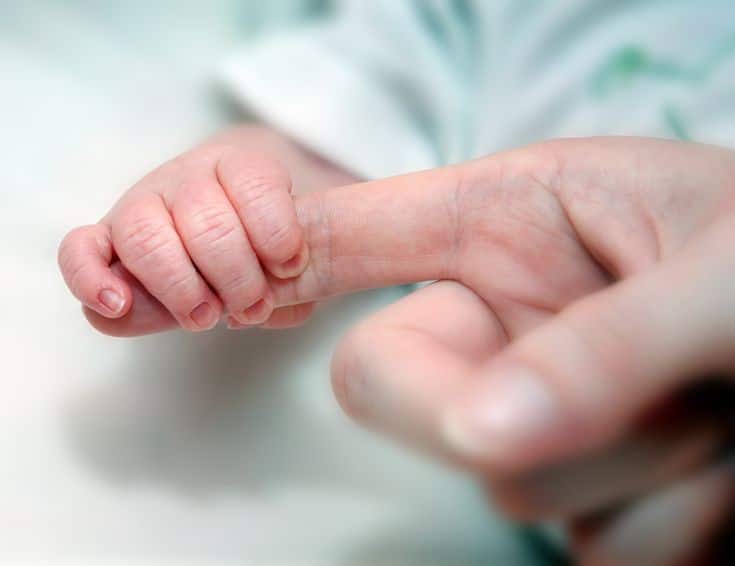 At this age, the child develops reflexes and responses, such as learning to grasp things and holding on to them. Moreover, they may also develop reflexes like getting startled by sudden noises and or touches. A 6-week-old baby may also respond to your constant calls for them with a smile or stare. Hence, as a parent, you shall observe and look at all the responses and reflexes that your baby gives to you.
2. Gain in Weight and Height of a 6-Week-Old Baby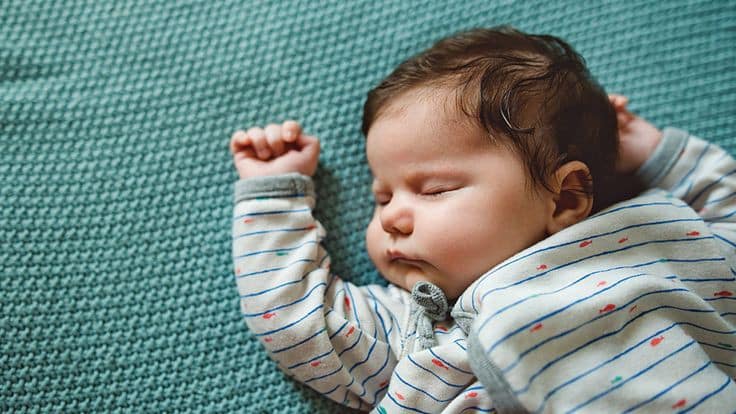 The growth level of a 6-week-old baby during this time is remarkable because the baby is continuously growing their height and weight. On average, the baby weighs about 2.5-3.5 kgs of weight at the time of birth, depending on many factors like gender, nutrition, and genes.
Moreover, your six-week-old baby can grow up to 4.5 kg of weight. Hence, at this time, you need to provide proper nutrition to your 6-week-old baby because they are growing each week. Proper nutrition is essential for the baby as they grow at a rapid pace, and if they do not sustain the nutrition, they may grow weak.
3. Motor Skills for The 6 Week Old Baby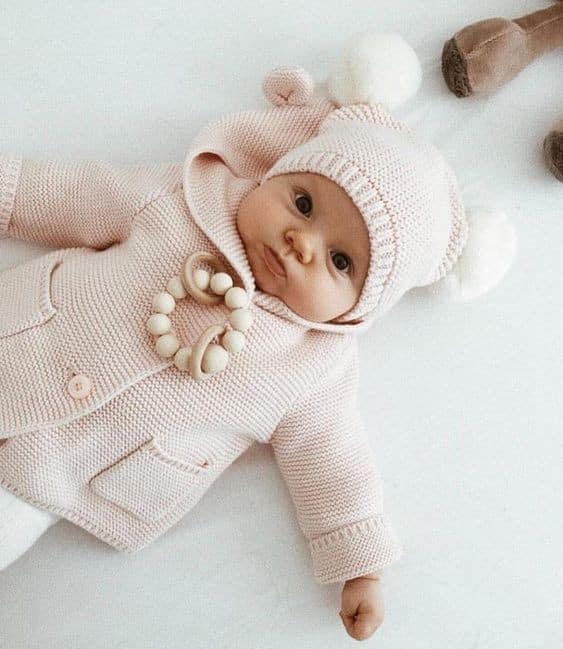 If you observe your 6-week-old baby, you can see that they develop motor skills, such as holding things, moving legs or hands, and lifting their necks. Hence, they start moving their body parts with their newfound mobility. Moreover, if you lay your baby on its belly, it may move their heads to look up, showing their neck strength. They may also start to make vowel or coo sounds to get your attention. As they develop their motor skills, they may start to study their hands and take them near their mouth.
Mental Development of a 6-Week-Old Baby
The mental development of a 6-weeks old baby is as important as their physical development. Your baby's brain develops each minute as they hear, touch, or feel something. Hence, it becomes one of the most amazing things for parents to encounter. Therefore, if you want to monitor how much your baby might have grown over the past few weeks, you can understand what to observe in this article.
1. 6 Week Old Baby Trying to Communicate Through Their Vocalization Technique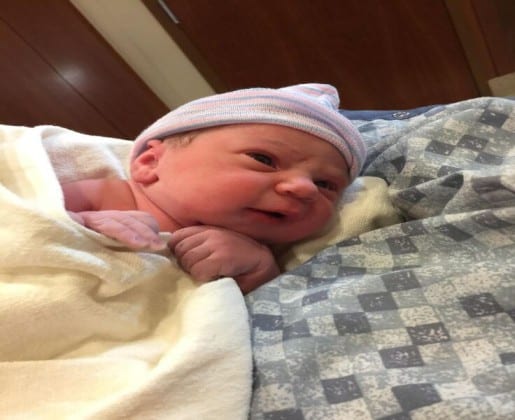 Although at this age, your baby won't start to talk like a grown adult, they will start to make sounds like coos or aah. As they develop their mental state, they make eye contact or move their feet and hand. In this article, you can explore what mental development the 6-week-old baby goes through.
2. You May Observe that They Recognize Faces Now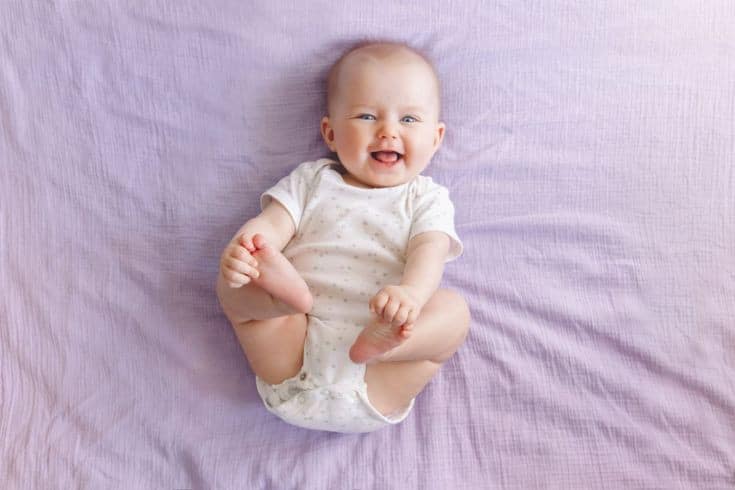 As your baby reaches the milestone of 6 weeks, they start to develop their ability to recognize the faces of their parents or close ones. Therefore, they may also respond to your voices and gestures to them, resulting in growing a deep bond between the parent and the baby.
3. Communication Through Different Sound
Babies use different sounds to communicate with their parents and close ones. And it can be a sign of their proper mental development. However, they may not form any rational words like adults, but they will make sounds to communicate with you in their way.
4. Start to Track Objects as They Reach the Milestone of 6 Weeks Old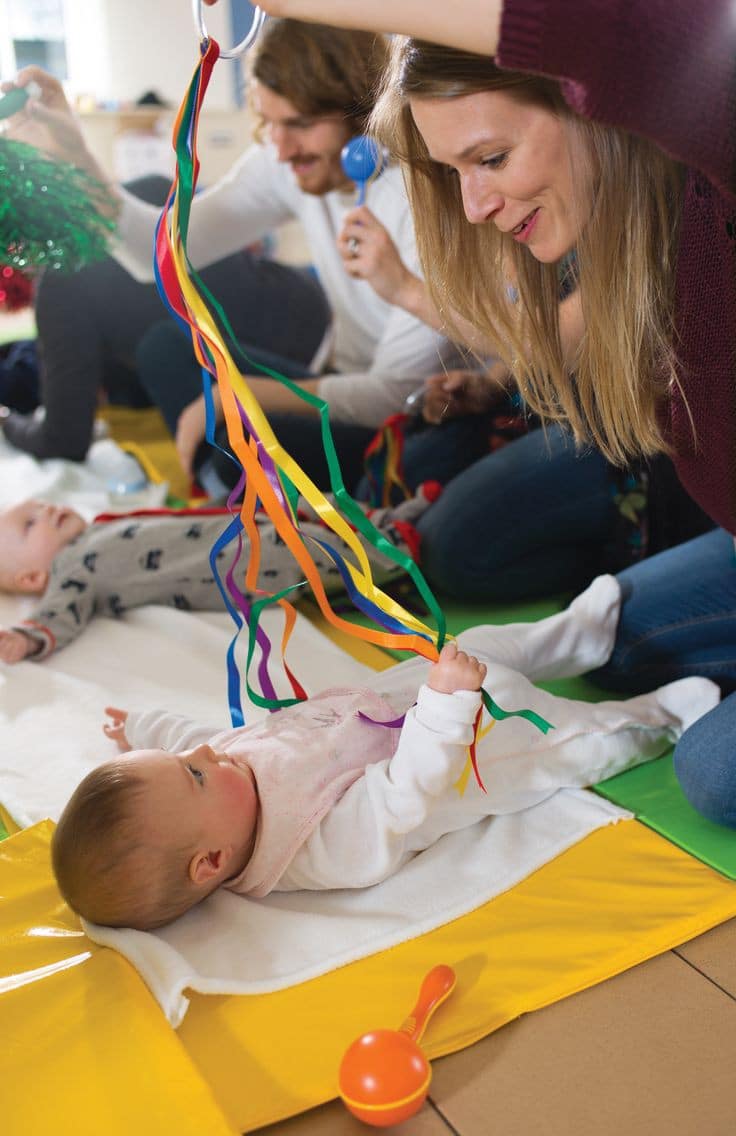 When they reach the age of 6 weeks, the baby will significantly start to improve and develop their vision. Therefore, you may start to notice that your baby follows moving objects. Moreover, they may even try to touch or hold those things with their hand. For instance, you can try to play with them with some toys, and they will respond to its sound by grabbing them or making sounds of joy from their voices.
Social Development of a 6-Week-Old Baby
People are aware of their 6-week-old baby's physical or mental development. However, social development is as important as these two. Hence, you should make some observations of their social advancements. Here are a few things you can observe to understand the social development of your 6-week-old baby. Moreover, you can also improve your baby's development.
1. Your Bond with Your 6-Week-Old Baby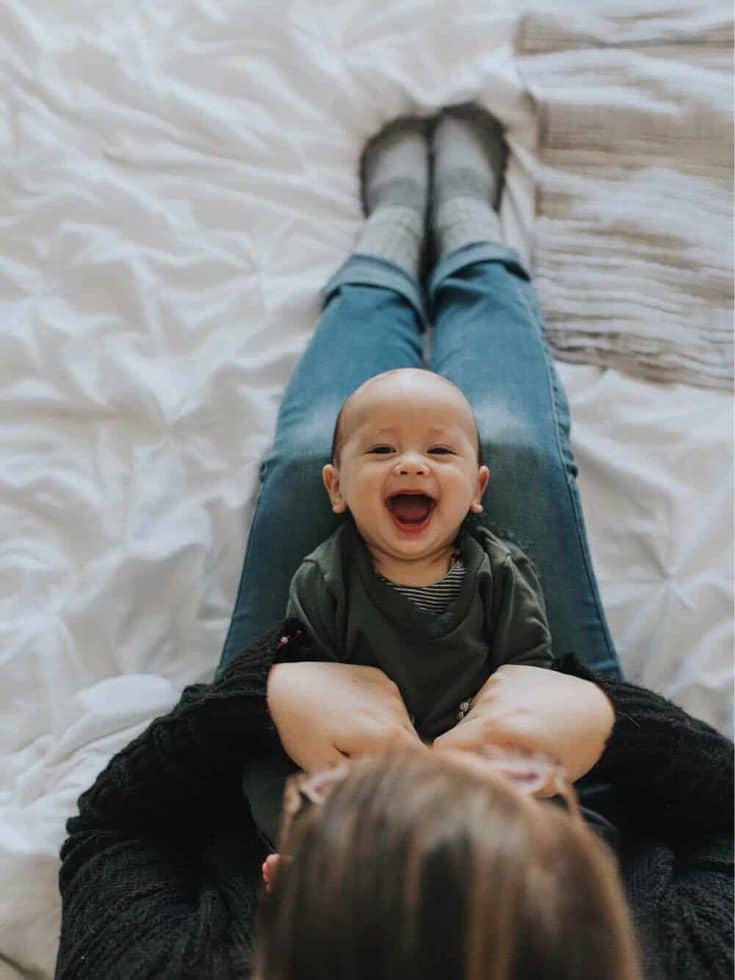 As the caregiver or parents, it becomes vital for them to feel a strong bond and attachment with their babies. As their primary caregiver, attachment between you both is a matter that you cannot ignore. Hence, your care is something that makes your 6-week-old baby feel a sense of security and trust. Therefore, bonding with your baby is a crucial role you need to play with affection and love.
2. Sensory Stimulation of a 6 week old baby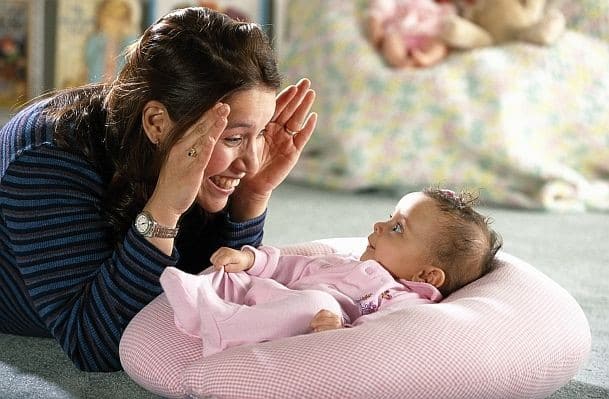 Babies learn and develop themselves with the help of their sensory stimulation. Sensory stimulation is the prime factor that links your baby to develop physical, mental, and emotional aspects of their life. Hence, to improve their sensory stimulation, you can give your baby age-appropriate toys and play with them. Therefore, these activities can help your baby to link their five senses and rapidly learn things.
Develop a Feeding Pattern for Your 6-Week-Old-Baby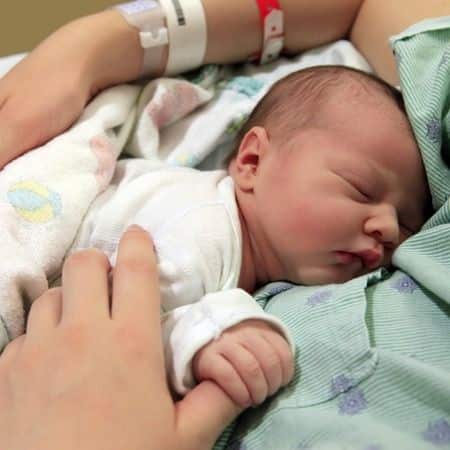 The feeding pattern of a newborn baby is something that you should pay a lot of attention to. You need to feed most newborns around 8 to 12 feedings throughout the day. Therefore, you can look at some early signs of their readiness for feeding. For instance, a day might be moving their hands to their mouths or sucking on their fingers or fists. Here are a few things you can use to develop your feeding patterns for your infant.
As the baby reaches the milestone of a 6-week-old, you are more likely to breastfeed them. And subsequently, they are receiving all the required nutrients. However, at this age, they may hit a growth spurt, which may require a suddenly increased milk intake. Hence, this can make you deal with increased demands. Therefore, it's vital to take care of your nutrition so that you don't feel weak afterward.
Many parents depend on formula feeding for their babies to give them the required nutrition. Formula feeding is a pleasant way to provide your baby with the necessary nutrients for their body as an addition. However, you should always consult your pediatrician before giving your baby any formula feeding, or else you may encounter some concerns related to the feedings.
The fundamental feeding pattern of your newborn should be every 2 to 3 hours. At first, they might only take half an ounce each time their feed. However, by the age of 6 weeks, they may start to take 2 to 3 ounces per feeding.Moreover, if your baby always cries out loud to eat, or doesn't let you off,consider visiting your pediatrician for the same. You can also give your baby a pacifier to help them soothe and feel comfort. Most babies like the comfort and warmth provided to them, and that's why they may crave feeding times.
Do not overfeed your baby, or else they may feel discomfort, stomach pains, gas, vomit, or develop a higher risk of obesity later in their lives. Therefore, giving less food is better than overfeeding, as you can always give more if needed.
Sleep Pattern of Your 6-Week Old Baby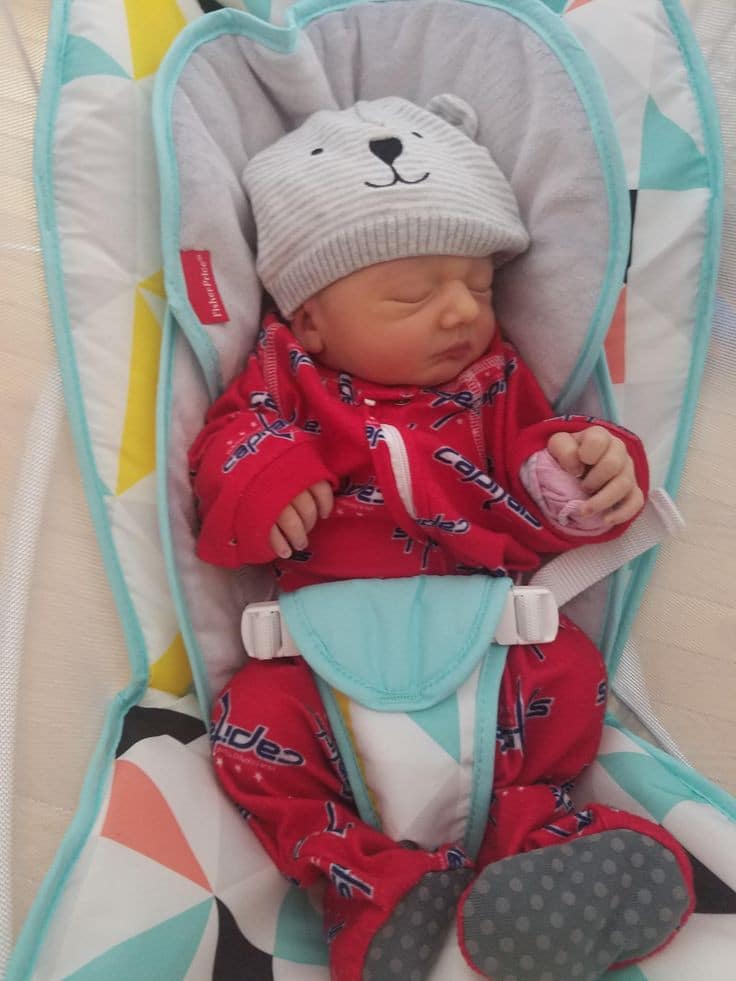 Your baby needs a dedicated sleep routine to grow well at the earliest stage of life. Studies have shown that healthy sleep helps the baby to develop physically and mentally. Hence, you must make a sleep schedule for your infants to provide them with all the rest they need.
Most newborn babies sleep around 14 to 17 hours throughout 24 hours while waking up every 2 to 4 hours in between to eat. You can plan ahead of time and create a schedule for your baby to help them sleep properly. The sleep schedule of a 6-week-old baby may seem irregular and erratic. Therefore, you may find them sleeping almost all the time with irregular sleeping time.
However, you can gradually train them to sleep at a particular time. It always helps to create a soothing and calming environment for your baby to feel relaxed. You can also ensure that they are well-fed before you put them to sleep. Tuning some soft music can also help them feel calm and relaxed to have a healthy sleep. Hence, this way, you can train your baby to have a fruitful sleep pattern.
Conclusion
The mark of 6 weeks old is an essential milestone that your baby reaches in their journey of development. The baby is more likely to develop drastically over this time frame with physical, mental, and social development.
Hence, through this content, you were able to explore more about their developments, food, and sleep patterns. In this blog, we also discussed some tips that you may need to improve your 6-week-old baby's sleep schedule.
Although parents may need to pay extra attention to the initial days of the baby's growth, it is also vital to make advancements for the mother's nutrition. Remember that every baby has their own pace to develop. Hence, don't panic if your baby is slow in something. Consult your pediatrician if it worries you too much.