Parenting is an adventure full of surprise, awe, and the pleasure of seeing our kids develop. If you have toddlers around – you definitely know what we mean! As parents, we get interested in the distinctive characteristics and attributes that create each person's personality when kids journey through life.
The notion of the Day of the Week poem is a beautiful way to examine and comprehend your child's uniqueness in 2023. But how is this useful? This innovative application links particular personality qualities to each day, giving insightful information about the kid's temperament and character. We can learn more about our child's preferences, strengths, and prospective development areas by exploring this idea.
So, let's go on a quest to identify the unique personality traits connected to each poem's day of the week in this blog. By the end of this, you will also be able to understand your child's innermost thoughts and appreciate the wonder of their soul.
"Monday's child is fair of face
Tuesday's child is full of grace
Wednesday's child is full of woe
Thursday's child has far to go
Friday's child is loving and giving
Saturday's child must work hard for a living
But the child that's born on Sabbath day is bonny and blithe & good and gay."
The Day of the Week is a fascinating idea that relates various personality traits to each day of the week. This concept claims that a person's birth date is significant and represents some innate traits that influence their conduct, interests, and personality as a whole. In short, it is a creative activity and an innovative method to learn more about a person's character.
So, how does this activity function? The Day of the Week gives each day a unique characteristic. It provides a framework for comprehending many facets of temperament. By delving into this idea, you may uncover the personality features of yourself and your loved one by tapping into each day's symbolism.
The Day of the Week is not supported by scientific evidence. Still, it serves as a creative tool that encourages curiosity and introspection. Some things cannot be explained! The activity inspired everyone to enjoy the complexity of identities and to accept various human personalities. Well, that is not it! There's even more to the functioning of the Day of the Week activity. Let's investigate the enchanted realm of this beautiful task.
1. Monday: The Perspective And Reflective Soul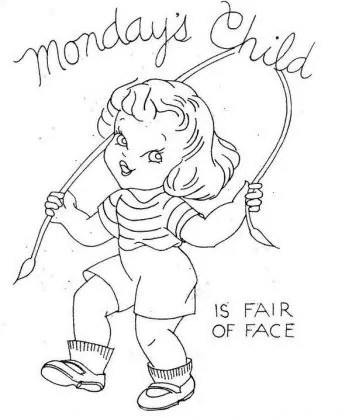 The observant and introspective spirit is frequently connected with Monday. Therefore, those who are born on Monday often have a heightened intuition and a strong ability for empathy. So, let's make Monday an excellent chance for stimulating activity focused around the Day of the Week poem. With this exercise, kids can better understand their emotions, cultivate empathy and express themselves creatively.
But how do you carry out this activity? Collect art supplies like paper, colored pencils, markers, or paints to start. Begin by reading the Day of the Week poem to kids and describe how Monday has specific characteristics and personality traits linked with it.
Encourage the kids to think back on their feelings and experiences. But how would you do that? Give them statements like 'Think about the time when you felt happy or sad' or 'What some things make you feel.' Ask them to close their eyes and visualize the moments that caused certain emotions.
Now, ask the kids to express their emotions via art when they have gotten in touch with them. With this, they can graphically communicate their inner world through colors, forms, and symbols. You can even ask them to experiment with various approaches and materials while letting their instincts lead them through the creative process.
Once the artwork is finished, allow the kids to exhibit their work. Instruct them to describe the feelings they portrayed and how these feelings tie to Monday's observant and thoughtful character. When children listen to each other's experiences and feelings during the sharing session – it fosters empathy and understanding. Also, remind children how their distinct perspectives can benefit the world they live in.
2. Tuesday: The Energetic and Courageous Spirit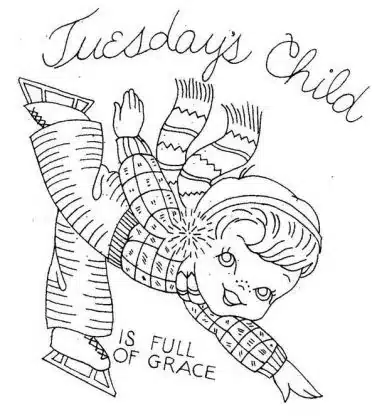 Tuesday is a fantastic chance for a dynamic activity motivated by the Day of the Week poem. A brave and energetic spirit marks this day. To begin with the spirited Tuesday, gather children in a room where they can move freely. Introduce them to the idea that Tuesday's youngsters are brave and active. Describe how Tuesday's kids are renowned for their courage and zest for taking obstacles.
Then, guide the children through entertaining physical exercises that inspire bravery and vigor. For instance, relay races, obstacle courses, or team-building activities can help. You can encourage them to take risks, confront challenges, and support one another.
Once this is done, bring kids together in a circle for a reflective talk. Ask them to describe times when they felt brave or motivated during the activity. Also, encourage them to consider how they overcame difficulties or helped their friends. Children can vent their emotions here, which will indirectly emphasize the value of tenacity and cooperation.
Would you like to add something more to this Tuesday's activity? You can also give out art tools like markers, crayons, and paper. Ask the kids to draw a picture of themselves that embodies their confidence and vitality. They can illustrate themselves taking part in their preferred physical activities from past experiences that made them feel energized and courageous.
Like Monday's task, you can ask the kids to exhibit their finished work. Invite them to discuss their work and feelings. With this exercise, you can help kids discover their sense of adventure, gain self-assurance and get moving.
3. Wednesday: The Full of Woe Child
The Day of the Week poem refers to Wednesday's kids as 'full of woe.' This statement may seem depressing initially, but it represents the depth of feeling and sensitivity that people born today possess. Children born on Wednesday have a reflective personality and high levels of emotional intelligence. They are inherently empathetic people because they have a rare capacity to recognize and understand the sufferings of others.
Additionally, their sensitivity can help them be creative and express themselves artistically. In short, they have a rich inner life!
Parents must foster an atmosphere that values the traits of children born on Wednesday. It is absolutely necessary to nurture their innate curiosity and give them intellectual stimulation.
Encourage children to participate in learning-enhancing activities like museum tours, science experiments, or stimulating discussions. Additionally, it is essential to acknowledge and respect their emotions. Therefore, ask them to express their feelings through creative mediums such as painting, writing, or music. It will give them a healthy way to handle their emotions. In addition, teach them some mindfulness activities, as too much sensitivity can also be harmful sometimes!
4. Thursday: The Compassionate and Optimistic Heart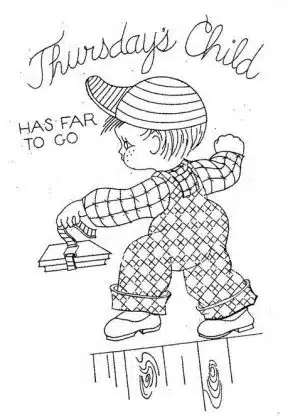 The Day of the Week poem might serve as the inspiration for an enjoyable activity for Thursday. It is the day of a compassionate and upbeat heart. This exercise tries to develop kindness, empathy, and happiness in kids by encouraging a sense of oneness and understanding.
You can start by gathering the kids in a cozy and inviting area. Introduce the idea of Thursday's child and describe how Thursday's kids are known for their warmth, understanding, and capacity for promoting goodwill.
Discuss acts of kindness and compassion with the children after that. You can even ask them to give you some instances where they have demonstrated empathy or been the recipient of service. After this conversation, lead the kids in a task that allows them to show kindness and hope. Making cards or notes of goodwill is one concept. In this, the kids can draw or write about love, compassion, and support for loved ones or those in need.
After the cards are made, ask the children to explain their motivations. Encourage them to show kindness to each other. Believes us; this act will do wonders!
5. Friday: The Harmonious and Creative Soul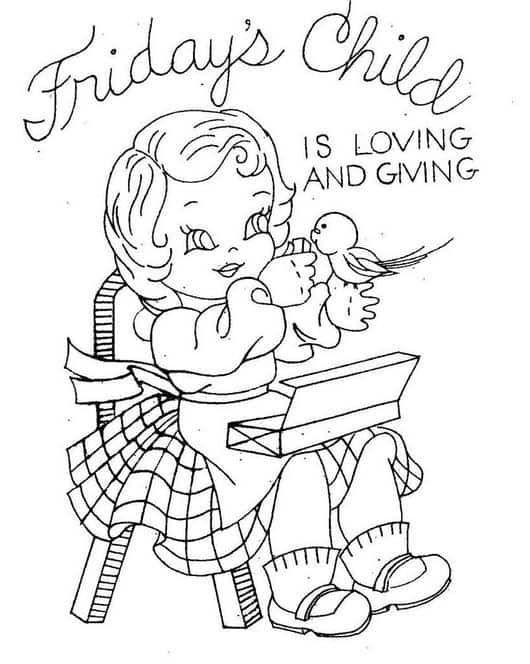 Friday, the day of creative and harmonious soul, offers an excellent chance for a lively and artistic activity inspired by the Day of the Week poetry. Firstly, gather the youngsters in a creative location equipped with art tools such as paints, colored pencils, brushes, and different craft items to begin. Introduce the idea of Friday and highlight the link between artistic expression and inner harmony.
Now, you can lead the kids in an art project that allows them to express their creativity. Ask them to sketch, paint, make collages, or any kind of artistic expression that speaks. Make it clear that there are no right or wrong methods and that the activity is just for fun and joy.
Play peaceful and soothing music in the background for kids as they immerse themselves in this activity. Allow them plenty of time to explore different techniques and materials.
Provide a venue for the children to share their artwork after the art session. Now, you can ask them to express and describe their work in the session. It will indeed promote togetherness! In short, this exercise seeks to honor children's creativity, stimulate self-expression, and create a feeling of peace.
6. Saturday: The Disciplined and Wise Mind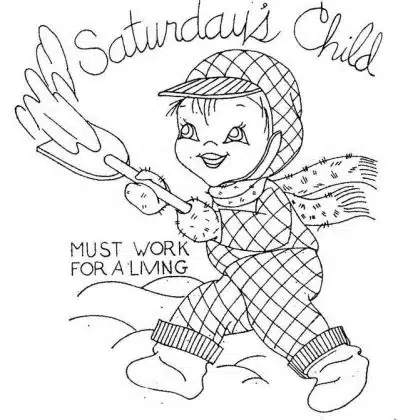 On Saturday, children can participate in a planned job or project that develops attention, organization, and critical thinking. It is the day of discipline and an intelligent mind.
Through this exercise, children can take ownership of the process while developing a feeling of knowledge and responsibility. To begin, create a well-structured work or project focusing on organization, time management, and critical thinking. Ask kids to show restraint and creativity here.
You can also ask kids to approach the activity with seriousness and attention to detail. Assist them as required! Encourage kids to reflect on their methods and lessons learned after completing the exercise. Make sure to emphasize the importance of following rules and making informed decisions when doing so.
Last, but not least, exhort them to apply these skills to other facets of their lives and teach them the value of self-control and sensible decision-making. With this task, children acquire abilities that will benefit them throughout their lives by being encouraged to have discipline and sage brains.
7. Sunday: The Radiant And Charismatic Spirit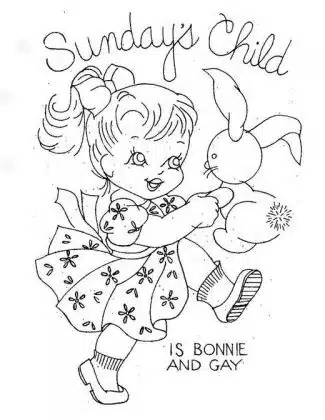 Sunday is marked as the day of radiance and charisma. On this day, children can participate in a craft activity that celebrates their individuality and inspires them to shine brilliantly.
The task entails setting up a stage or other venue where kids can perform. It will emphasize their unique interests and skills. Various forms of assistance and direction are given, including choreography, musical accompaniment, props, and costumes. Following each performance, kids congregate in an applause circle to acknowledge and admire one another's abilities. You can also organize a reflection session to discuss the significance of self-expression.
The game encourages kids to extend their charisma and radiance beyond the activity by sharing their contagious energy with others via deeds of kindness, lending a hand, or generosity. This activity honors children's originality and gives them the confidence to accept their abilities and personalities by giving them a stage to shine.
Bottomline
The Day of the Week poem provides a fun and creative approach to investigating your child's personality features. Although each kid is different and cannot be exclusively defined by their birthdate – this idea offers a framework for comprehending their tendencies, aptitudes, and prospective growth areas.
As parents, you can aid in your child's growth and assist them in becoming the most excellent versions of themselves in 2023. It will help them recognize and foster their innate talents. So, enjoy parenting and embrace the joy of uncovering the lovely tapestry that is your child's individuality.
Frequently Asked Questions
Does Research Support the Day of The Week Poem?
Any scientific data do not support the Day of the Week poem. The idea of matching personality qualities to each day of the week is clever. Although it can be a creative and entertaining approach to explore and debate personality traits, it shouldn't be interpreted as final or perspective.
Can the Day of The Week Poem Predict a Child's Personality?
The poem offers an imaginative framework for examining character attributes related to each day. But it is crucial to remember that personality is complicated and affected by a wide range of things other than the day of the week a person is born.
Can the Personality of The Day of The Week Poem Evolve or Change?
Personality qualities are dynamic and can change over time. The Day of the Week poem highlights specific traits but doesn't provide a complete personality or limit a person's growth. Children learn, mature, and acquire new abilities as they progress through life.