Baby Oatmeal is the quicker and healthier breakfast for your baby right from the beginning of weaning. The nutritional values of oats are well-known facts that make it the first food to be introduced to babies. The fiber-rich oats have the vitamins loaded to boost the immune system while the fibers help in digestion.
Oatmeal can make a nutritious food choice for giving your baby right after the exclusive breastfeeding period. You can start introducing the solids from this wholesome meal. With adding additional fruits and veggies, you can make delicious quick recipes from here.
These recipes are way better than the boxed meals available in the stores. With these delicious home-cooking recipes, you can easily avoid the expensive packaged baby oatmeal. Come, let's learn some perfect first bites to give your baby a nutritious finger-licking meal!
Why is the Oatmeal Favorite for Babies and Mommies?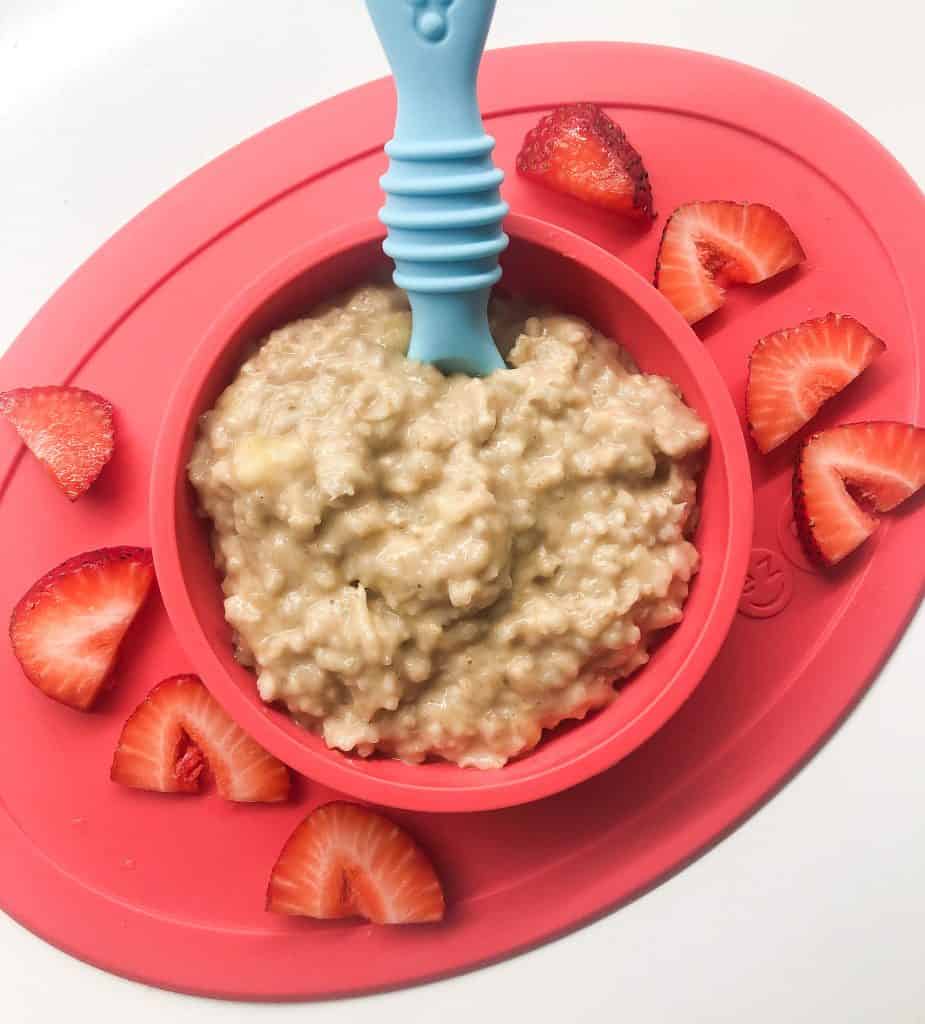 The reasons for being the first choice for the babies are tremendous. Such as,
They can be given to 4-6 months babies.
The best option for baby-led weaning.
This won't bite your pocket with big expenses
The texture is creamy and smooth for the babies to swallow.
This homemade meal can be stored frozen.
You can make the easy flavors and combinations of healthy ingredients into it.
Know the Types of Oats
Knowing the oats type is the first important step in making baby oatmeal. The difference is created by the process that the oat grout is undergoing. The three major types are,
Steel-cut oats – These are the least processed and have the same fiber quantity as rolled oats and instant oats. The thickness of these oats makes them a great option for making smooth purees for babies. If you are not blending the oats, it is declared only to give 11+ months babies.
Rolled oats – These traditional whole oats take less cooking time as they are precooked and then dried to store. This also has the same fiber quantity, which makes it the best for toddlers. You can blend the oats into puree to give to babies.
Instant or Quick Oats – These oats are the most processed of all types, which makes them the quickest-cooking oats. But the fiber quantity is comparatively less in these instant oats. Baby cereal can be made with them.
Now, let's jump into the flavorsome recipes!
1. Traditional Baby Oatmeal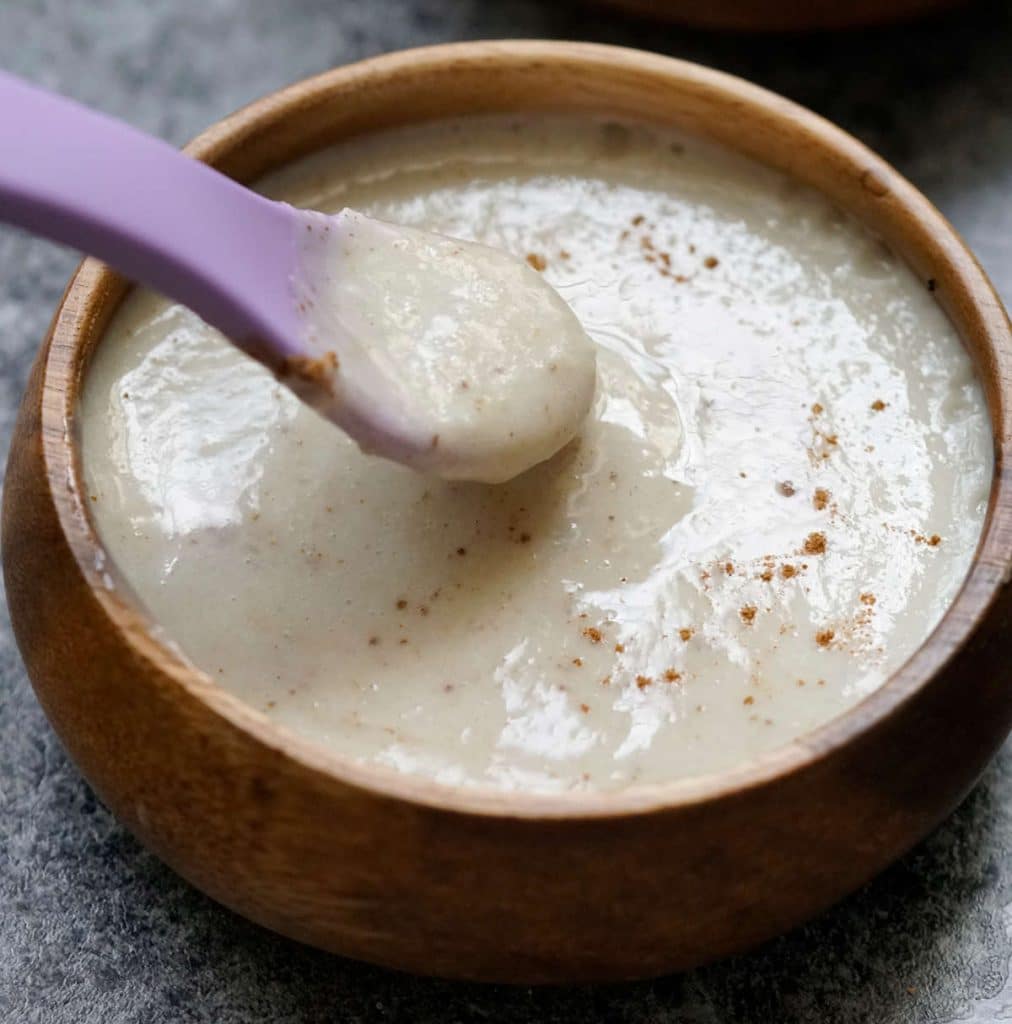 Finely grind the old-fashioned oats with a high-powered blender or food processor until they become like flour. Now, the base flour for the cereal is ready. You can grind in larger portions for your daily usage.
Then boil ½ cup of water and add 1 ½ spoons of oat flour. Continuously whisk for about a minute and cook for about 3-5 minutes with occasional stirring until it becomes a creamy, thick cereal. Remove it from the pan, and after cooling, add some formula or breast milk to get thinner because the new solid eaters can only eat the thinner cereal.
2. Instant Oatmeal for Babies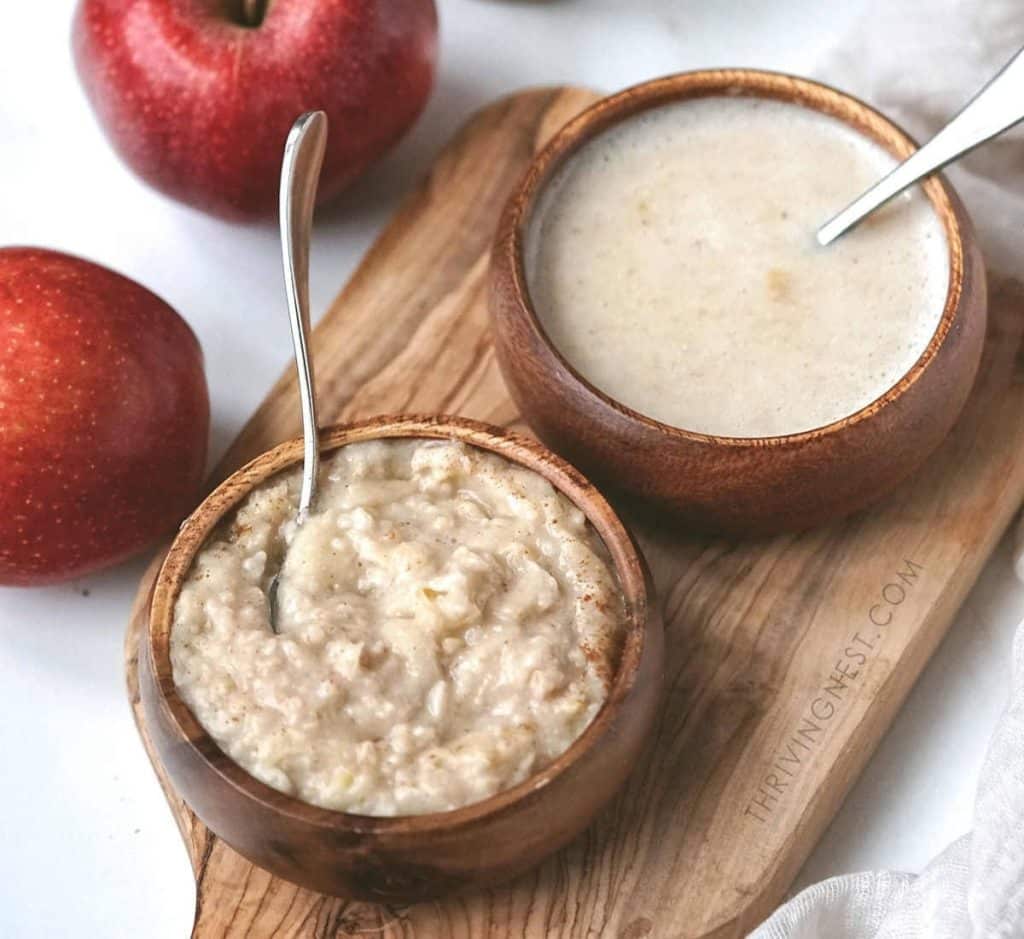 The Instant oats are quite faster to prepare, as they are already precooked and, pressed, thinned. This oatmeal can be mushy when cooked because of the texture loss in that previous processing.
Add ½ cup of water to the pan and boil it, then add 2 spoons of instant oats and mix it well. You can cook this in low flame for about 1 minute.
After removing it from the pan, add breast milk, water, or formula to make it to the desired thickness.
3. Steel Cut Oatmeal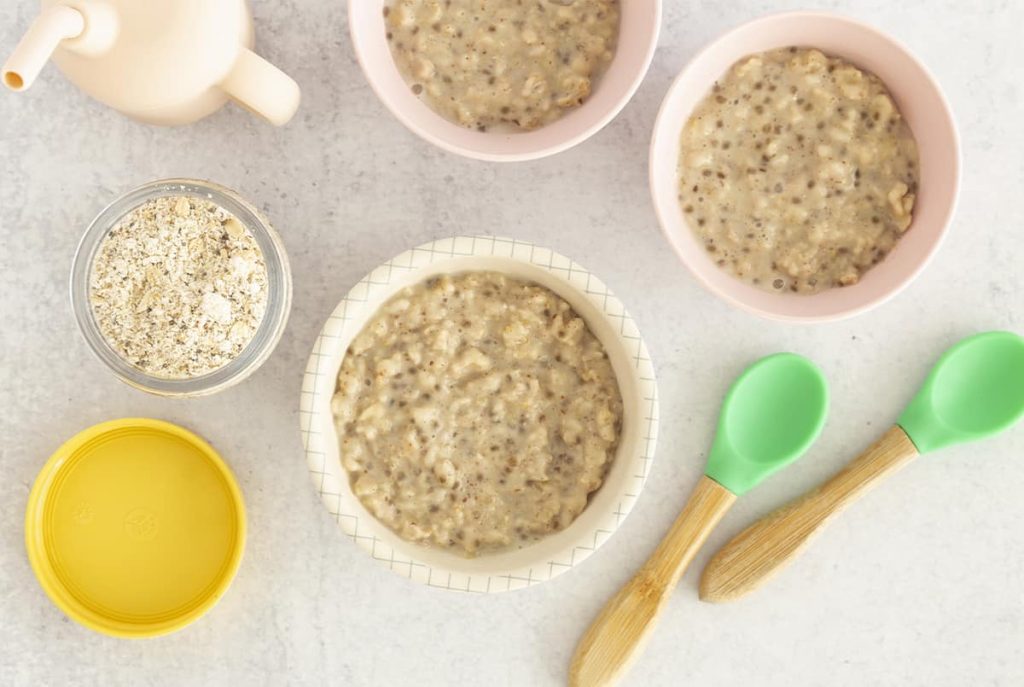 The least processed steel-cut oats are kind of thicker in form as the oat grain is cut into three pieces. This chewy oatmeal is generally good for older babies, which you can consider 24+ months.
The ratio of water and the steel-cut oats is 3:1; you can add the oats to the boiling water and stir well to get combined. After mixing, the cooking takes a bit longer, which is usually 25- 30 minutes. You need to give occasional stirring in between the cooking. After removing from heat and cooling, add breast milk or formula, the water you choose.
4. Oatmeal Puree with Sweet Apple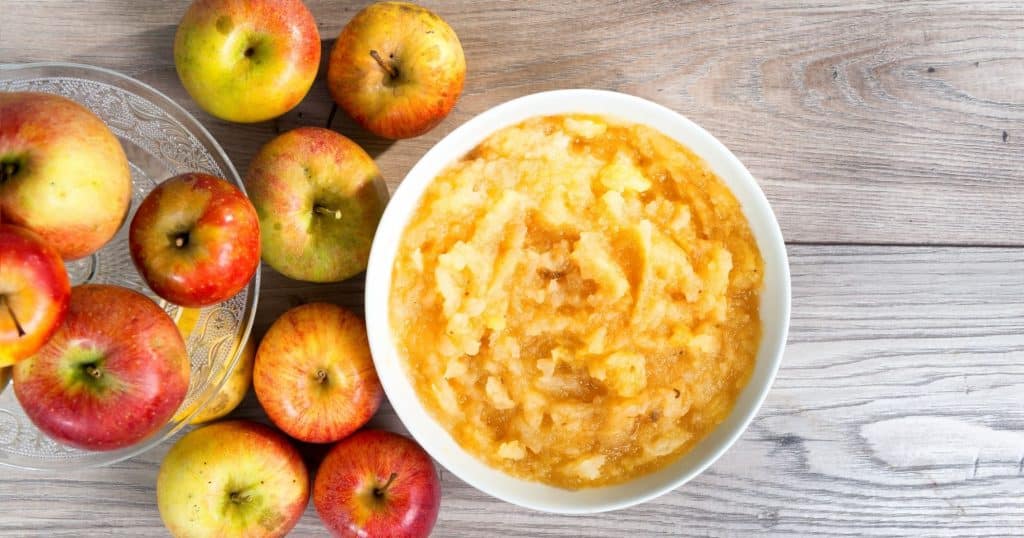 Boil peeled sweet apple pieces into soft and add a pinch of cinnamon. You can mash the puree into a smooth sauce. Add a tablespoon full of applesauce in the formula or breast milk along with the prepared oatmeal. The yummy, sweet oatmeal is ready to eat.
5. Mango Oatmeal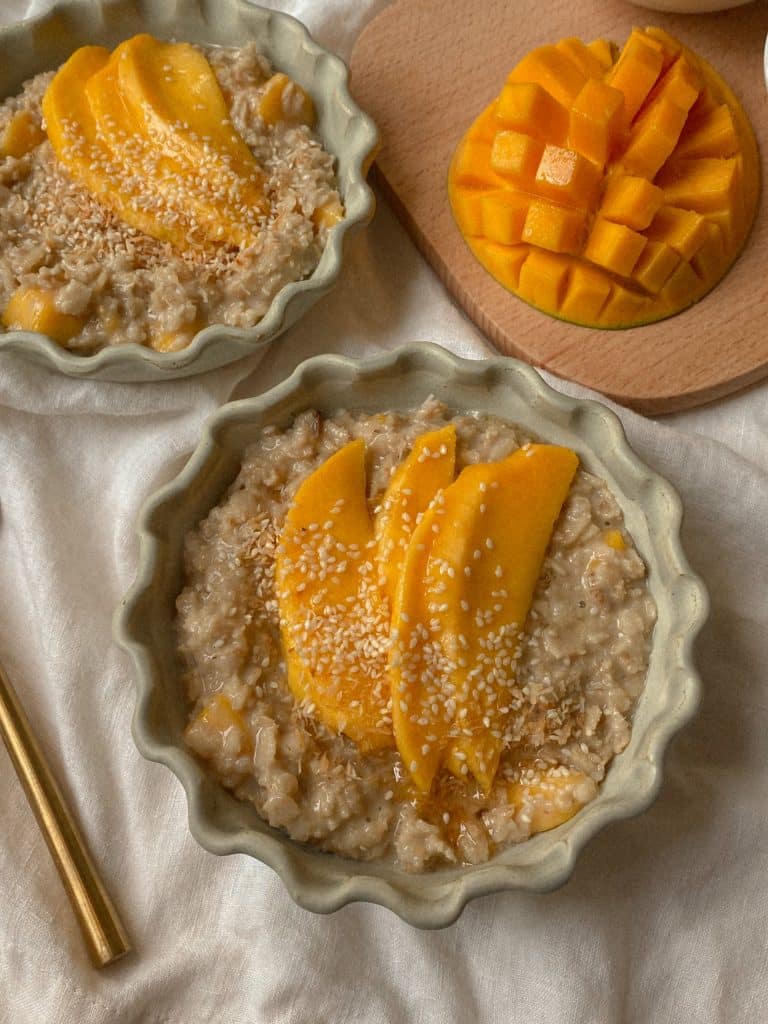 Take a ripe mango and remove the skin. Collect the mango pulp in a bowl, add a pinch of cinnamon powder, and mash it to a puree. Now, you can directly add this mango puree to the cooked oatmeal and serve this delicious mango baby oatmeal.
6. Banana Baby Oatmeal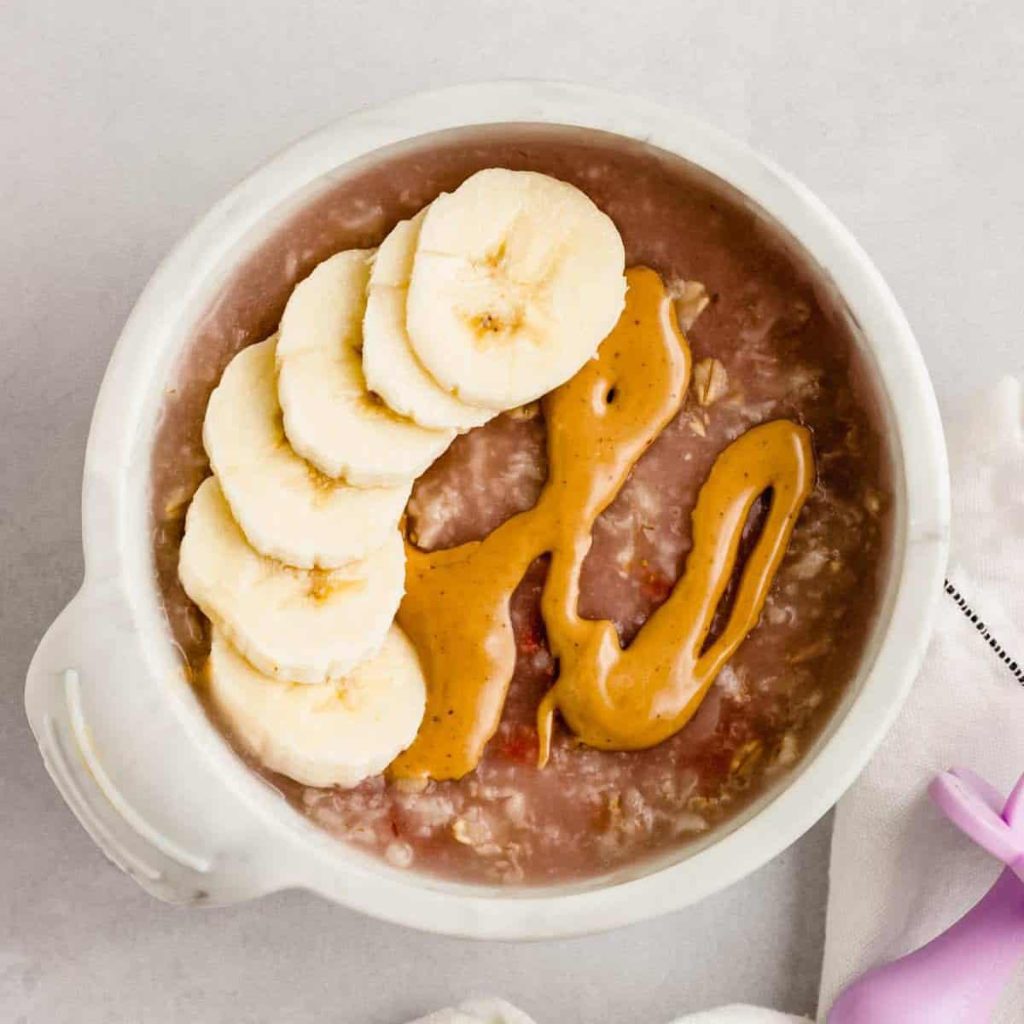 Prepare the basic oatmeal porridge with your preferred oats and mix it into an edible consistency with water formula and breast milk. Now peel off a banana and mash it to make a banana smoothie. Add two spoons of banana smoothie to the cooked oatmeal and feed the little tummy with fruit and meal together.
7. Oatmeal Finger Food for 8+ Months Babies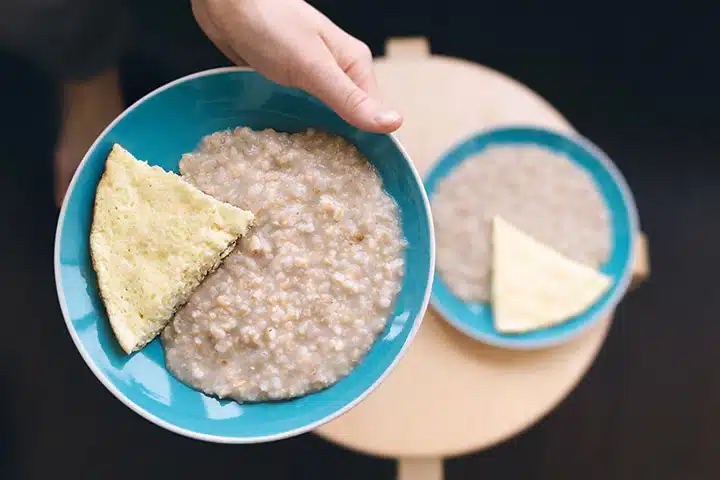 This oatmeal recipe is the best option to introduce your baby to finger food. The base of this recipe is egg yolk.
Heat a pan on medium flame; add olive oil with cooked oatmeal, slices of banana, and two egg yolks one by one. Fry the ingredients gently until the egg is cooked. After cooking, cut the oatmeal into slices and give it to the baby to try finger food. This recipe is wholesome and nutritious for the growing cutie pie.
8. Oatmeal with Peanut Butter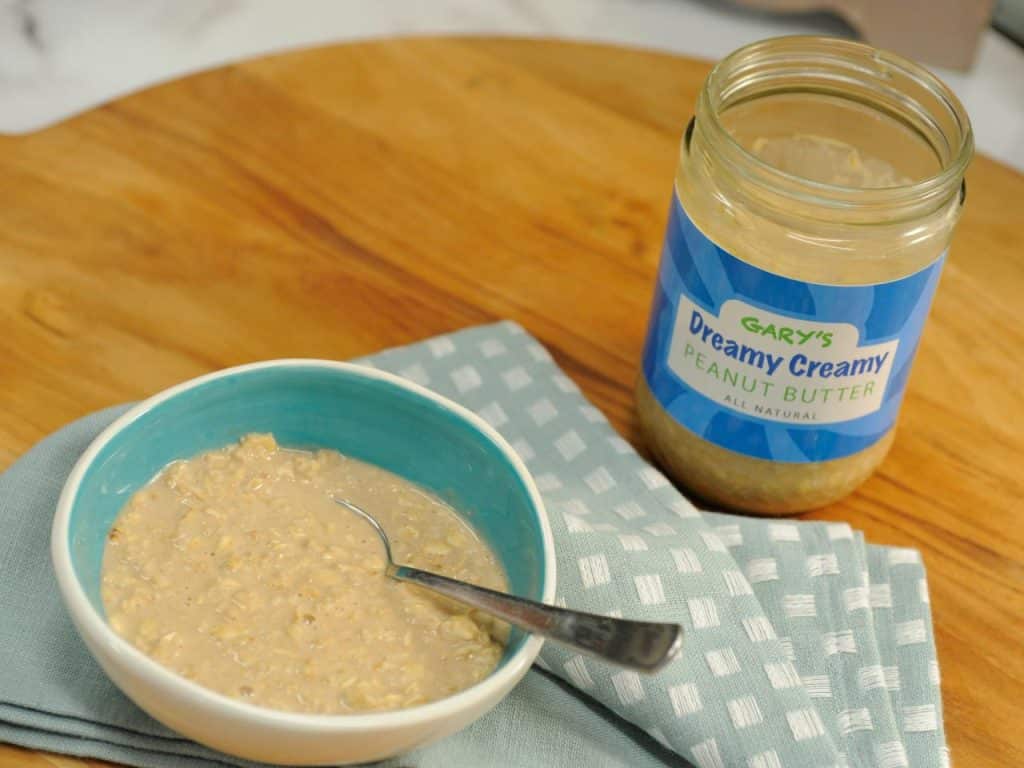 The combination of healthy fat and protein is a delicious recipe your baby will love to eat. Adding peanuts to your oatmeal needs some precautions. You may have to check with your pediatrician to ask about peanut allergies, confirm your baby's peanut allergies, and ensure tolerance. The peanut butter is the best recipe to go with no sugar, oil, or salt for taste.
Add 2 spoons of peanut butter paste to the cooked oatmeal and some water to thin it. Similarly, you can try this recipe with almonds, sunflower seeds, and cashews with butter.
9. Apple Pear and Apricot Oatmeal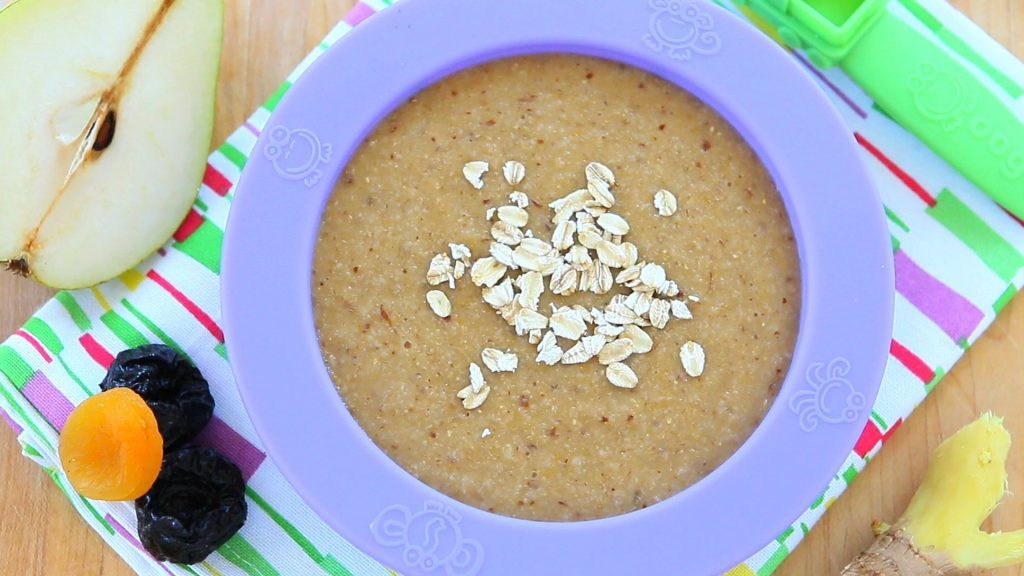 Peel and chop the apple, ripe pear, and dried apricots. Add 4 tablespoons of water to a pan and cover it after adding the fruits. Cook the fruit mixture until it becomes tender.
Then, cook the oatmeal with breast milk or formula in another pan. Finally, let the preparations cook, mix them in a bowl, and blend everything. Feed this delicious fruit mixture baby oatmealto your baby.
10. Pear Oatmeal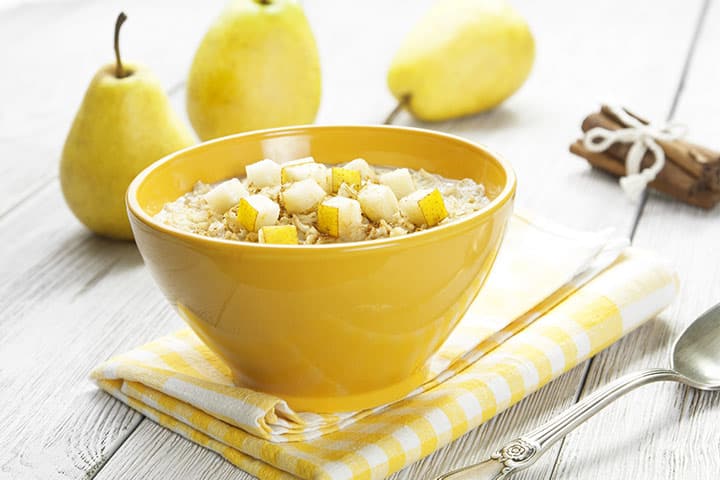 The pear Oatmeal is prepared simultaneously with cooking the oatmeal. Peel the ripe pear and cut it into small pieces after peeling off the skin. Add the oats, and cut the pear together in the boiling water. Now, stir it occasionally until the oats get cooked and the pear becomes tender. Usually, it may take around seven minutes. Pour it into a bowl and blend it into a smooth cereal.
11. Oatmeal Berry Smoothie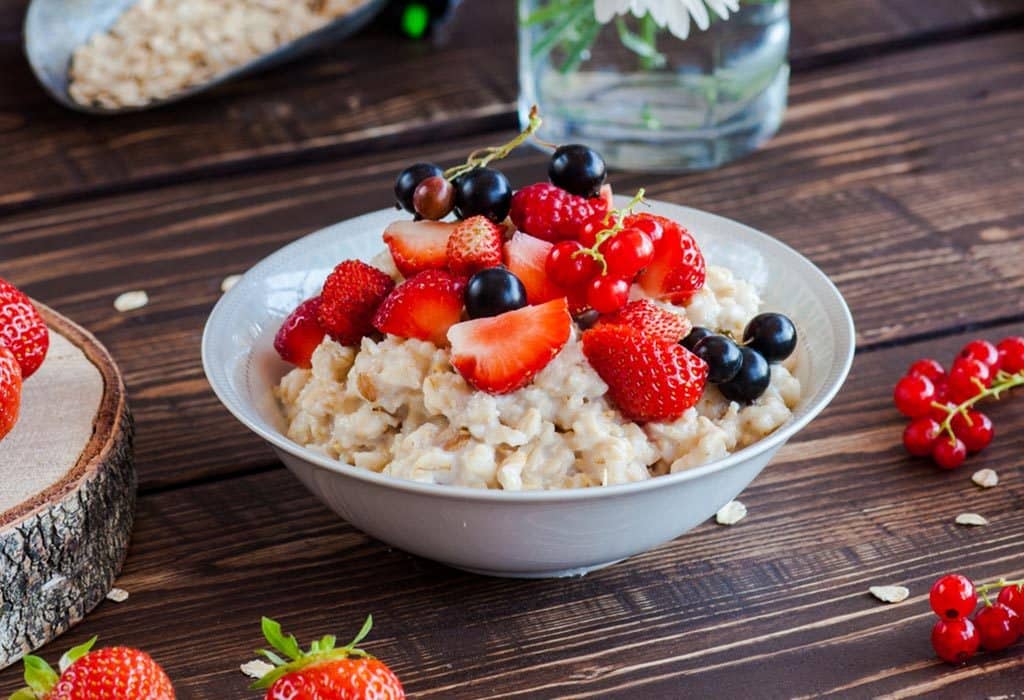 This smoothie can become your favorite meal even when you age because of the berries. After cooking the oatmeal with initial preparation, add a few spoons of apple juice and the berries of your choice. You can try different berries on different days. Blend the mixture of cooked oatmeal, apple juice, and berry to make it smooth and creamy. The berries are always a great success.
12. Pineapple Oatmeal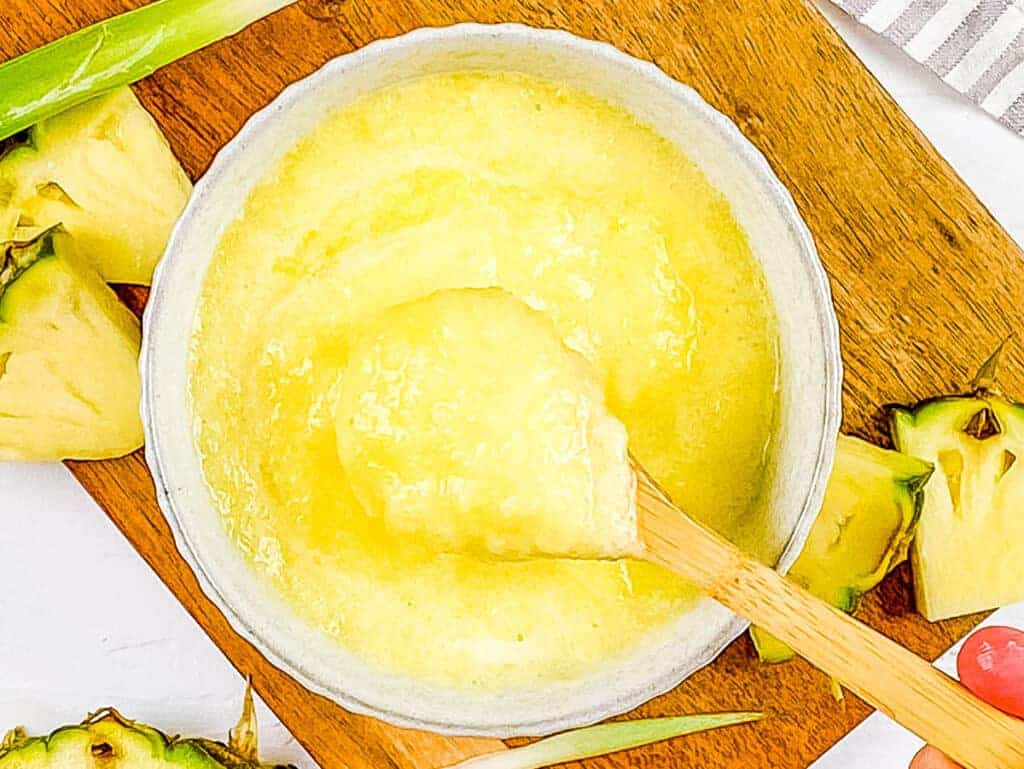 The delicious pineapple oatmeal can be served with a yummy recipe. There is some controversy about giving pineapple to babies because of the mild acidic nature of this fruit. But this tropical fruit is considered to be safe for babies, and you can give it by the age of six months. The main thing to look for is the acidic nature may cause skin rashes sometimes; you need to look for those. If it happens, you need to wait for your baby to grow a little bit to try again.
Now, with the recipe, add the oats and pineapple puree together to the boiling water and cook it until the oatmeal is fully cooked. Transfer it to a bowl after cooking and mash it smoothly after cooling. This pineapple baby oatmeal is loaded with fibers, which makes a natural laxative to regulate bowel movements and solve all of the tummy issues.
13. Oatmeal Veggie Soup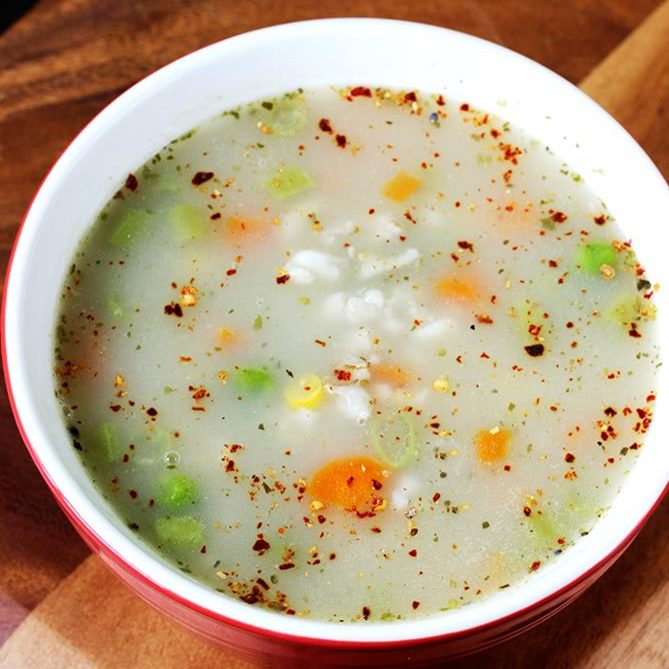 The best way to feed your baby healthy vegetables is by adding them to their oatmeal. This recipe is for babies of 8+ months. Add some oil to a pan and add the freshly cut veggies of your choice, like carrot, beans, and cabbage; fry them well, and now add the cooked oatmeal and the vegetable stock. Let the mixture boil and cook it on low flame for 10 mins. You can add a pinch of salt with pepper to enhance the taste. This aromatic veg soup is filling for the little tummy with grand nutrition.
14. Dates Oatmeal Smoothie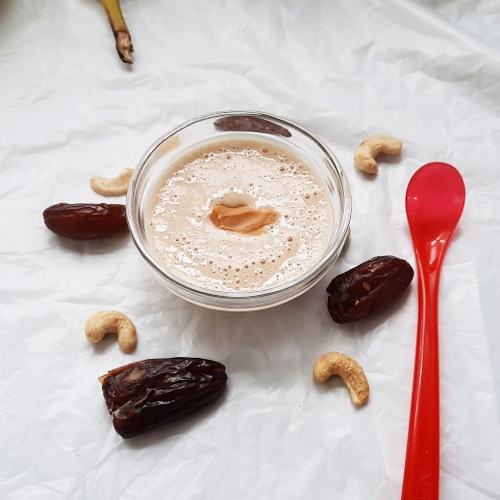 Dates are known for their benefits already. They are very helpful in muscle development, a crucial remedy for anemia, and they will improve memory power. Now, we are going to add the date puree to the baby oatmeal. Soak two dates in warm water for 2 hours. After soaking it well, blend it well with half a cup of cooked oatmeal, cinnamon, a pinch of nutmeg, and 2 spoons of yogurt. Blend everything like a smoothie and feed your child the flavorsome datesOatmeal Smoothie. This smoothie also helps in weight gain for underweight babies.
Benefits of Oatmeal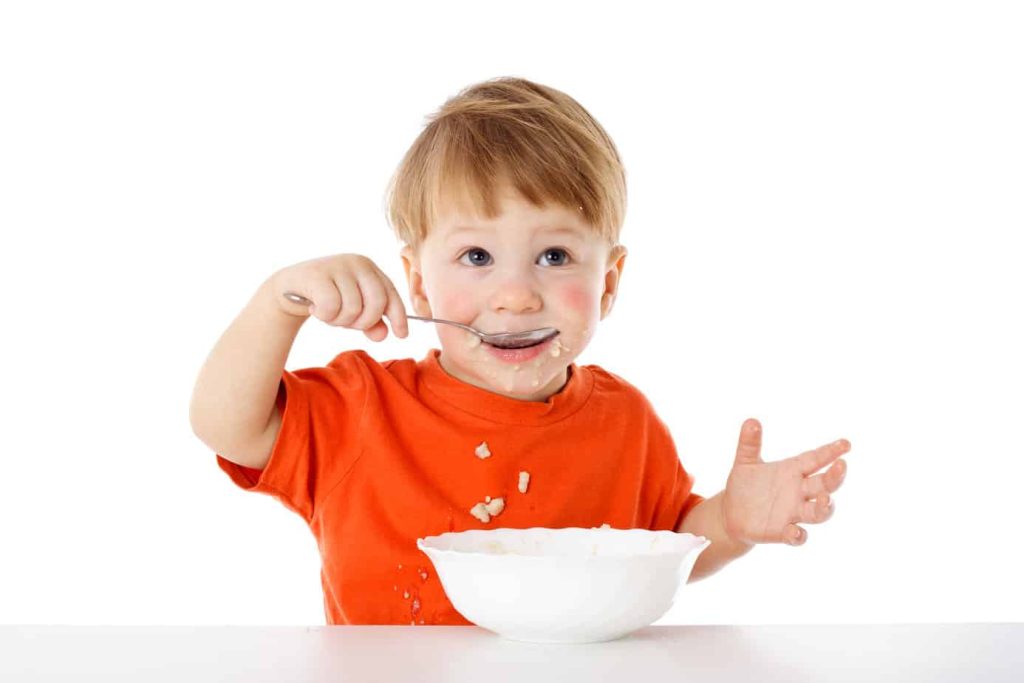 This first food for babies is a wonderful gift for your baby's health. The loaded nutrients, such as iron, zinc, calcium, and fiber, help in the growth of your baby. This is a rich source of omega-3 Fatty acids, which is an awesome nutrient for the brain, eyes, and other organ development. The antioxidants in the oats can easily eliminate the hazard of free radicals.
To increase the acceptance of the food, you can add some other healthy eatables like fruits, veggies, nuts, eggs, seeds, cheese, yogurt, etc… The options are endless. Likewise, the benefits are endless with baby oatmeal.
Storing the Leftover Oatmeal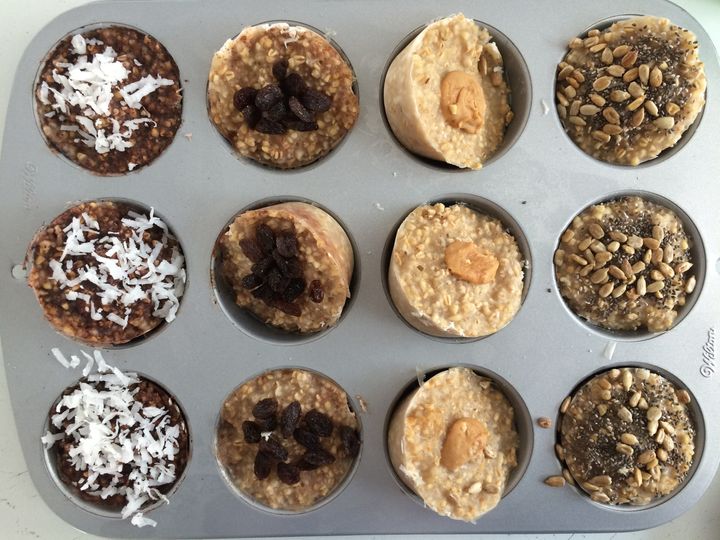 Try to make the required quantity always, but we can't predict the eating portion with the babies. If any leftover oatmeal is there, you can store it in the refrigerator in an airtight container. This can be stored for a maximum of four days, but you have to look for the breast milk or formula mixed oatmeal carefully, as the frozen breast milk stays for only 24 hours.
This store oatmeal can get thicker in consistency because of the setting. You may need to thin it with breast milk or formula; otherwise, if you want, you can try it as a finger food for your baby. But it is always advised to prepare every meal freshly for the babies; don't make excess quantity in the hope of freezing. It won't be good every time.
Conclusion
The fiber-rich Oatmeal cereal has always been an important partner in baby food. The mothers preferred this wonderful meal to try and give various nutrient-rich ingredients as this is the most versatile food to prepare.
The three types of oats differ in texture and nature of cooking. The basic oatmeal cereal is common with almost all recipes.
The experience of eating a different meal every day is easy when you make oatmeal with flavors like sweet apple, banana, mango, vegetables, peanut butter, pineapple, etc. Definitely, you might have decided on your first oatmeal recipe for your baby from the above list, right?
We are thrilled as much as you to know about your baby's reaction for every variety. So, never forget to share your experiences in the comment section below!