Are you planning a birthday party for your 4-year-old kid? Well, that would be a delightful and memorable experience! But what sort of birthday party are you planning? Talking to your child first and knowing what they want is an excellent idea. However, having a birthday party in an outdoor area is the best! The clean air, warm sun, and lots of space to play!
And guess what? We have compiled a list of birthday party themes or ideas to assist you in planning the finest and most memorable day for your little munchkin. Surely, it will not only amaze your child but will also keep their friends occupied and amused. You can turn your backyard into a whole new world full of games, crafts, and other theme-based activities. Isn't it fun?
So, let's look at some interesting party ideas to make your child's special day full of laughter and happiness.
4-Year-Old Birthday Party Ideas to Inspire You
Looking for fun and good 4-year-old birthday party ideas? Look nowhere else! Here's a list of creative suggestions that will spark your imagination and make your child's birthday absolutely special. Prepare to make priceless memories with the wonderful kid's party themes in this blog.
1. Safari Adventure Party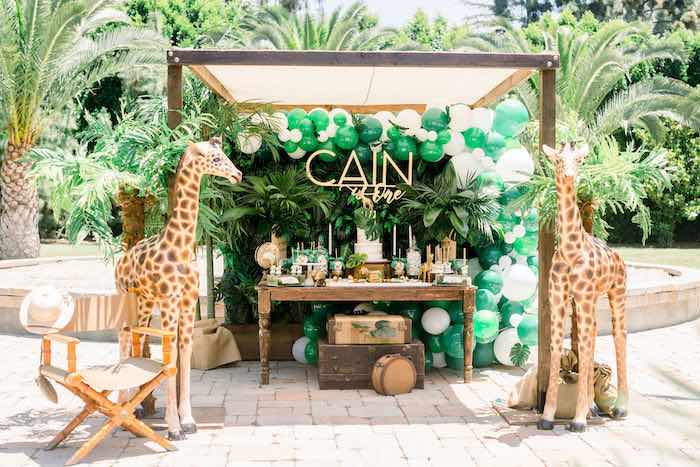 How about creating a wild safari or a daring safari adventure party in your backyard? Believe us; this idea will do wonders! Your little explorers will have a memorable time at a jungle theme party. Remember the entire decor with a jungle theme. Young fellows should feel like entering into a jungle.
You can add face painting and an exciting treasure hunt to excite the kids even more. Additionally, create a craft game station with animal themes such as 'Pin the Tail on the Elephant' or 'Feed the Hippo.' This safari-themed party will pique their interest and creativity. It will definitely be a smashing success!
2. Garden Tea Party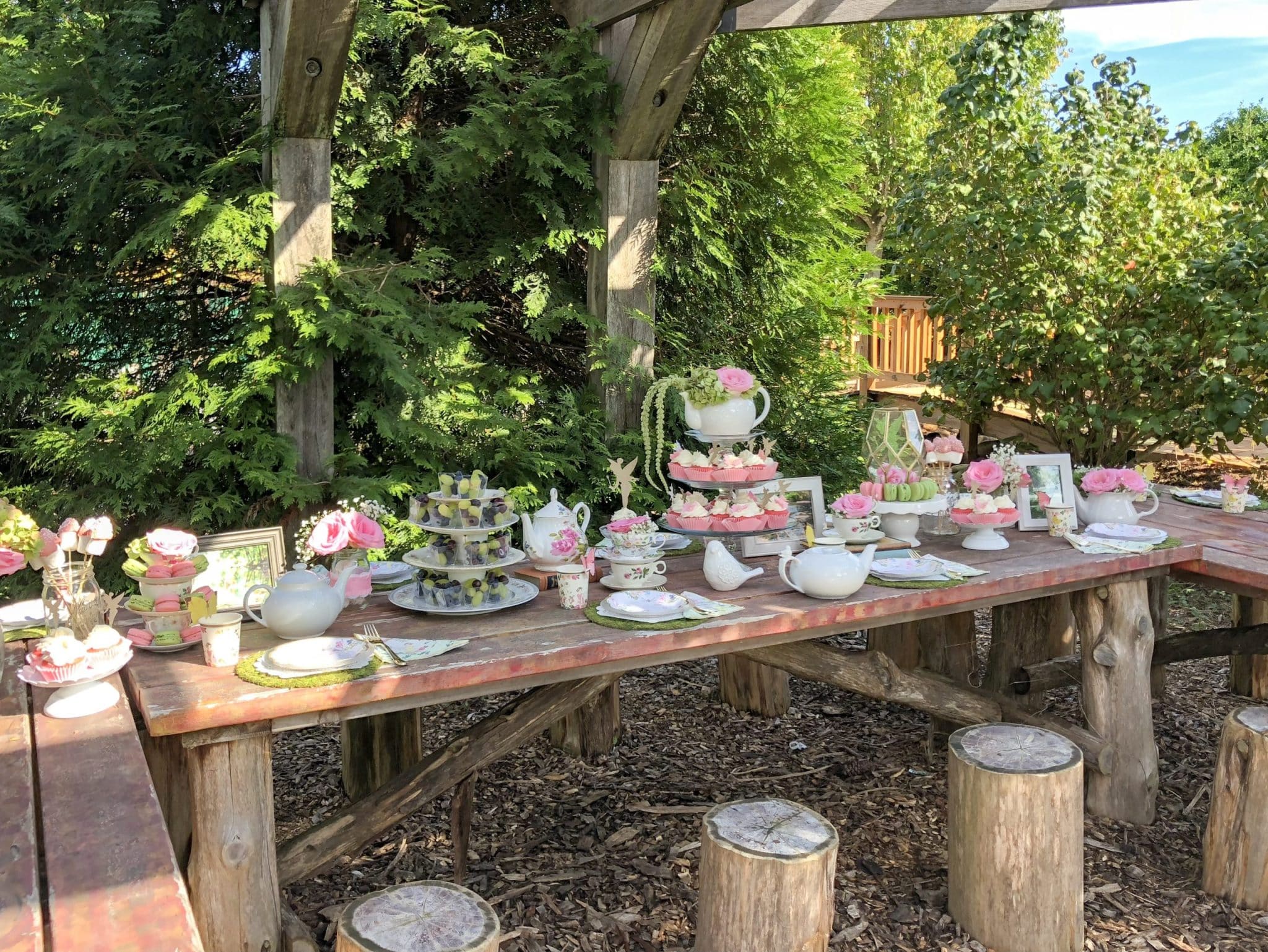 Finalizing a theme for a birthday party can get really overwhelming sometimes. After all, there are so many things to take care of! When things seem confusing to you – it is best to go with a simple garden tea party idea. You can begin by creating a charming tea party setting in your garden by arranging a few small tables and chairs. How about adding some flair to the event by adding flower arrangements and lace tablecloths? Well, that would look lovely!
Coming to food – remember, everything on the menu should be a kid's favorite. Sandwiches, pastries, and scones will work the best. And yes, don't forget the main – a cup of fruit punch tea! Following this, you can even add some basic treasure hunt activities for excitement.
3. Superhero Theme Party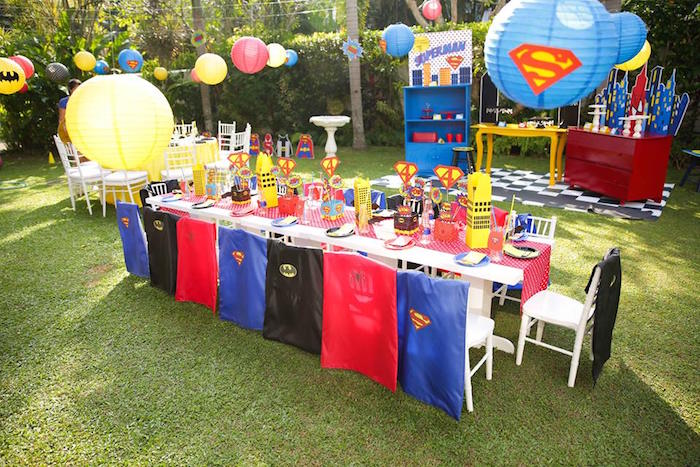 Be it a girl or a boy – every child loves superheroes! If your child is also a superhero fan, you should definitely go with this party theme. For instance, you can arrange a superhero fancy dress, face painting activities, or even create a training camp for kids to stay connected. Use hula hoops, tunnels, and cones to create an obstacle course where children can play to the peak.
Serve snacks and cake with superhero-themed titles or logos and decorate the party space with similar decor. Children will love this action-packed party that is full of adventure!
4. Pirate Island Theme Party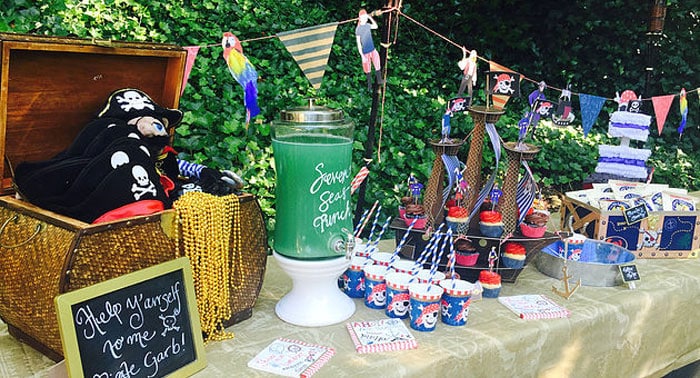 Let's take a daring journey with your lil one by celebrating a pirate island party.This classic birthday party idea is a terrific choice! With pirate flags, treasure chests, and a play area like a pirate ship, you can turn your outdoor area into a pirate's paradise.
You can give the kids eye patches, bandanas, and foam swords to help them dress up like a pirate. Imagine how cute little pirates would look. Plan a treasure hunt where participants can use a map and search for hidden riches. Additionally, you can also arrange for fish-shaped snacks to give the pirate feel.
5. Construction Zone Party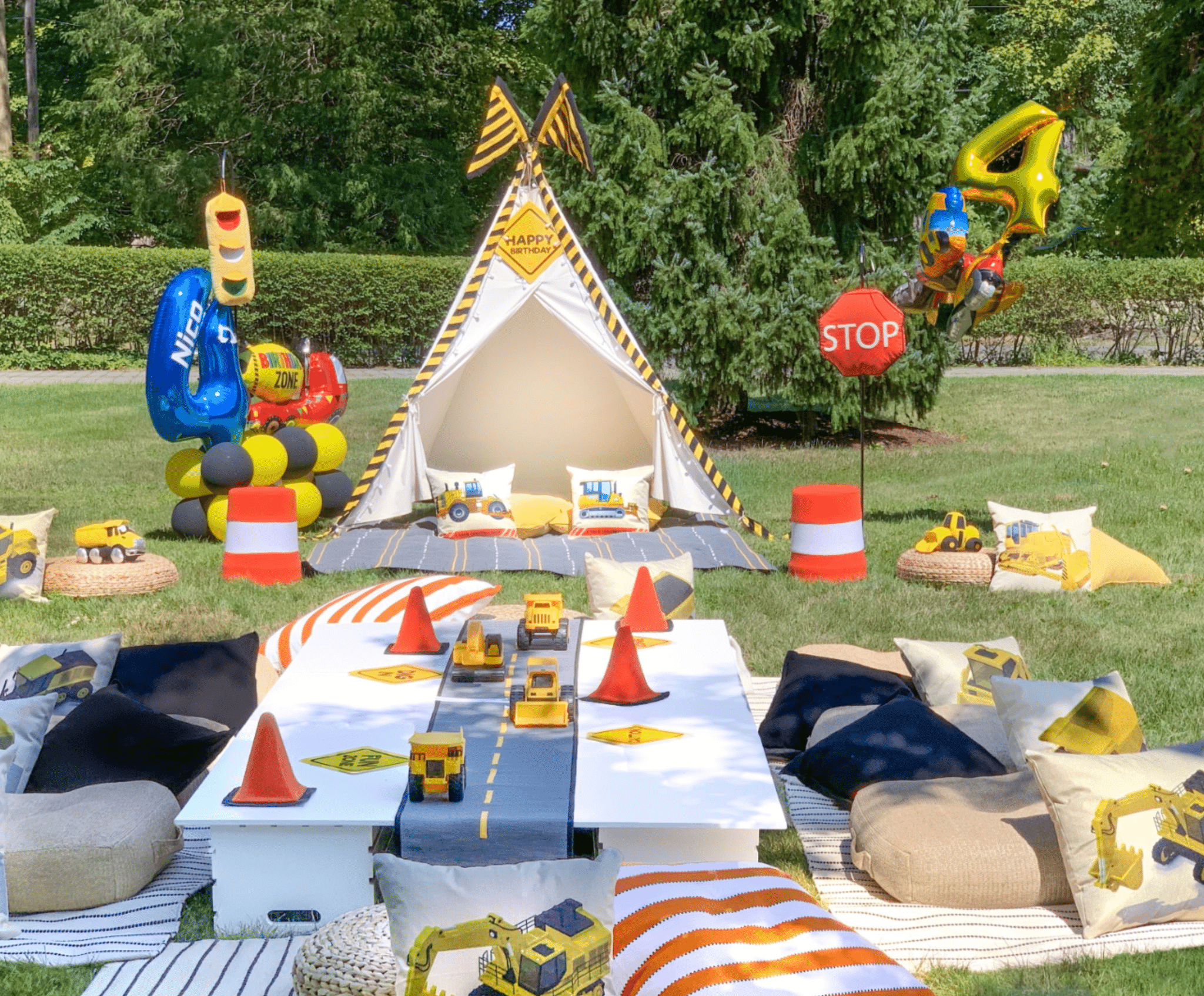 A construction party idea is a popular choice, especially among boys. Begin by creating a play area with toy trucks, building blocks, and miniature shovels with a construction theme. In addition to this, use warning tape, construction cones, and yellow helmets to stimulate a work site environment.
How about planning a 'digging for treasure' activity? Children will be very excited to engage in this activity for little rewards. Instead of keeping a snack buffet, prepare mini mealboxes to give that vibe. All of this will keep them occupied for a longer time!
6. Sports Extravaganza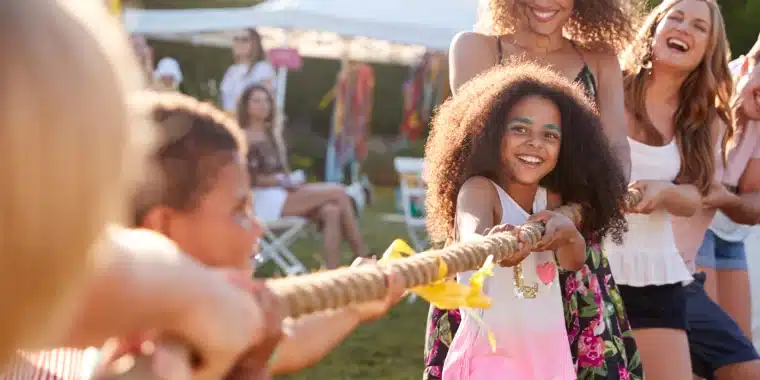 A sports extravaganza party is the ideal option if your child is a sports enthusiast and has endless energy. This 4-year-old birthday party idea requires a massive backyard. Remember, children should get ample space to run and play games. You can include relay races, obstacle courses, and basketball mini-tournaments. Encourage children by giving them medals as well.
Make a scoreboard to keep track of points. After this power-packed fun, don't forget to give the kids some nutritious energy drinks and snacks.
7. Artwork Party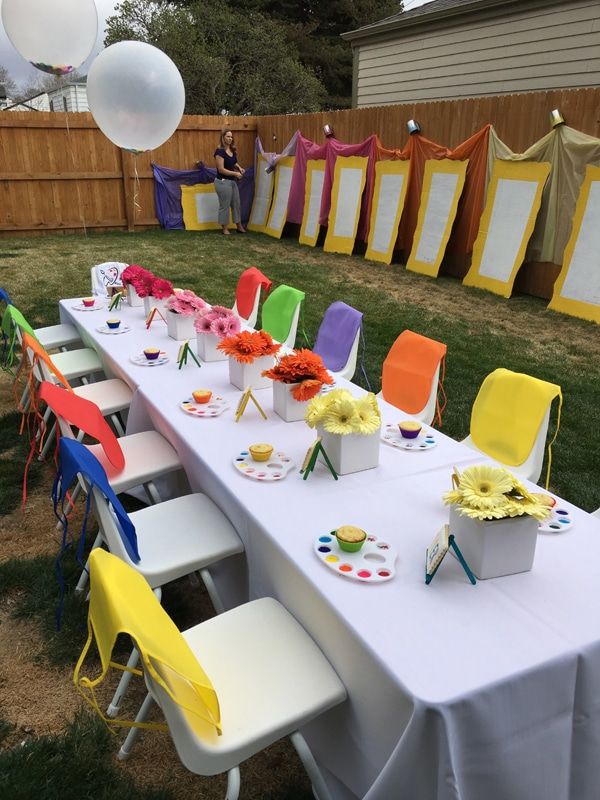 Hosting an art party for 4-year-olds is an exciting idea! Kids are exploring many things at this age. Therefore, engaging them in an art activity is the best way to keep them occupied. In your garden area, set up a long table and provide a set of portraits, paints, and brushes for each child.
Ask children to paint their imagination or hire a painter who can teach a unique painting skill to these youngsters. You can even keep plain white t-shirts instead of portraits and allow kids to paint on them. Give these t-shirts to them as a return gift and see them flaunting an outfit they curated.
8. Stuffed Toy Picnic Party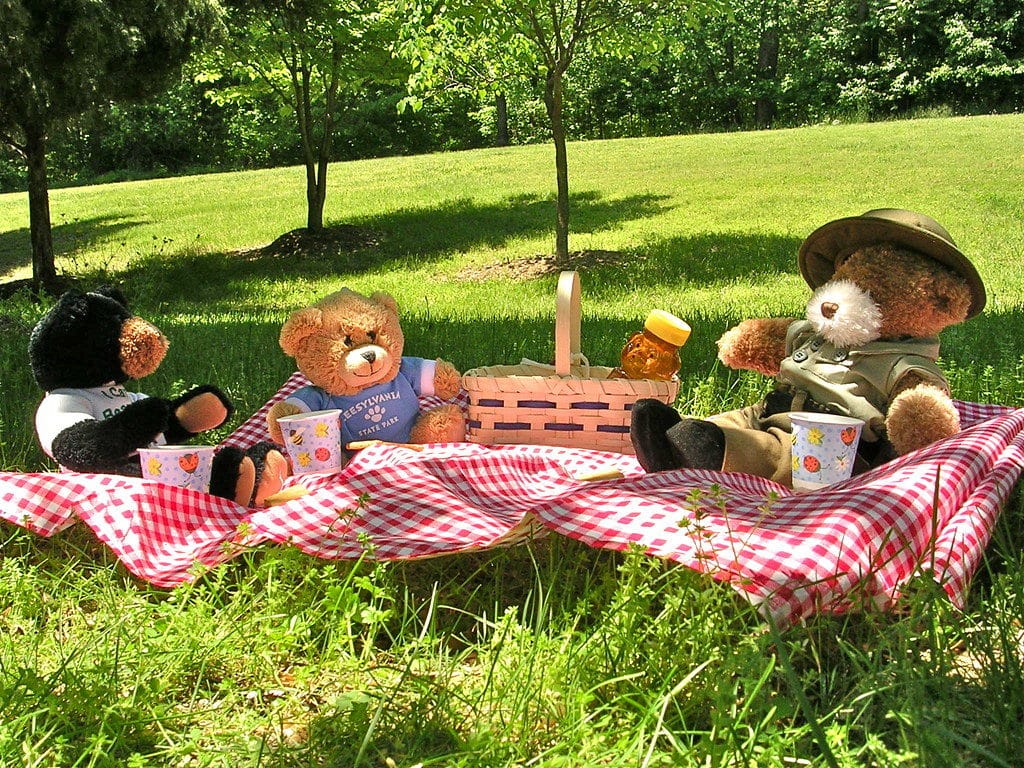 No kid on this planet hates stuffed toys! They are cute, warm, and lovely! So, how about inviting stuffed toys to your child's birthday party? Invite the kids to bring their favorite stuffed animal and set up blankets and cushions in your garden. Arrange for mouthwatering picnic fare like sandwiches, fruit skewers, and mini cupcakes.
Allow children to play on your lawn for some time as well. You can also set up storytimes, sing-alongs, and accessible games like 'Passing the Teddy,' ' Role play with toys,' and so on. Getting stuffed toys along will give children a sense of security and create a cozy mood.
9. Bubble Bonanza Party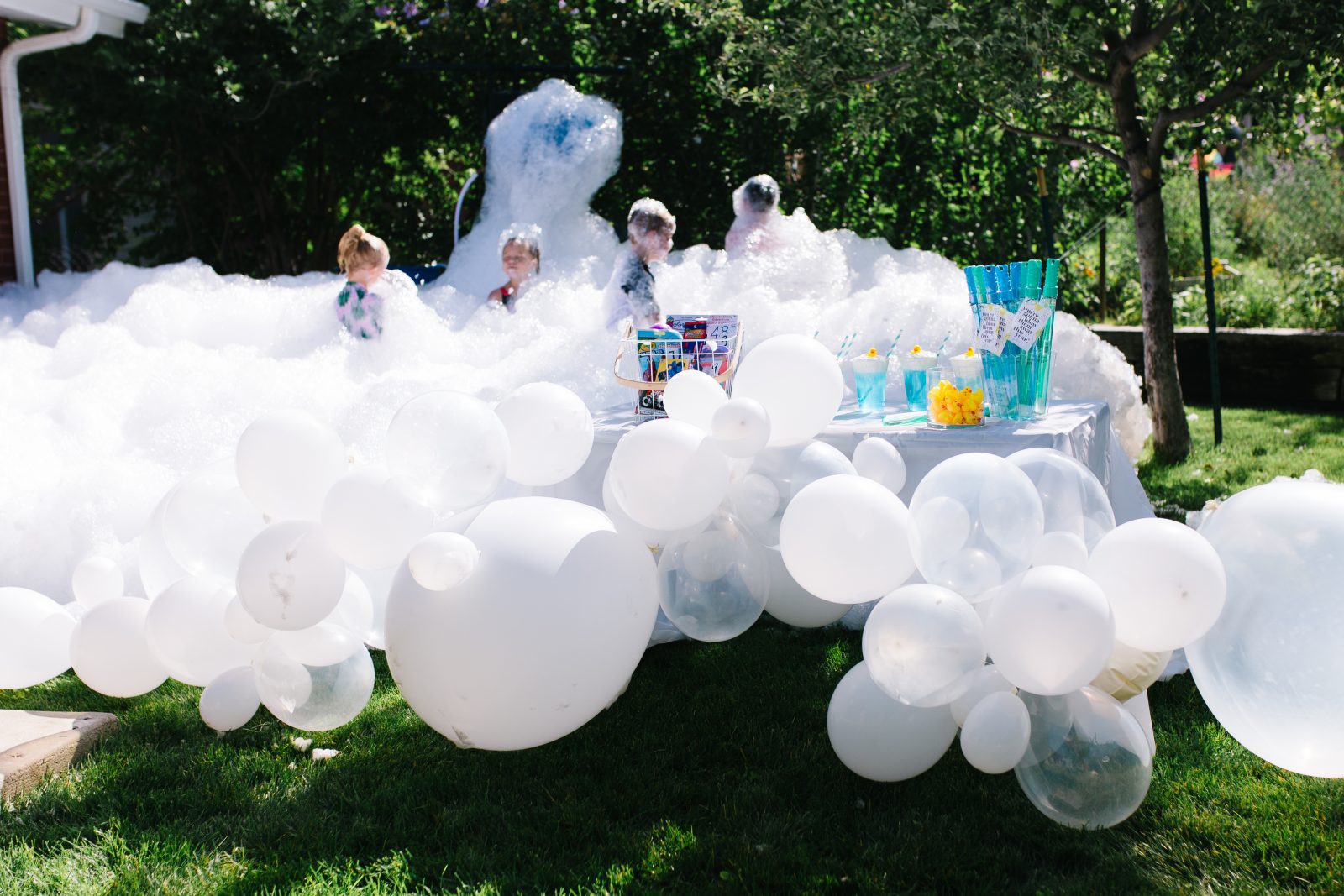 If you have a massive backyard and a hefty budget for a birthday party, go with a bubble bonanza theme! It will add enhancement to the celebration. Set up bubble machines for hours of bubble-filled entertainment and give each youngster a bubble wand. Prepare for a bubble art station where kids can use colorful bubbles and paper to make paintings. What if you host a bubble-blowing competition? That's going to be a whole new excitement!
Provide refreshments with a bubble theme. For example, bubblegum flavor ice cream and bubble-designed cookies would do. You can even adorn the party space with balloons or streamers with a bubble motif.
10. Dinosaur Dig Party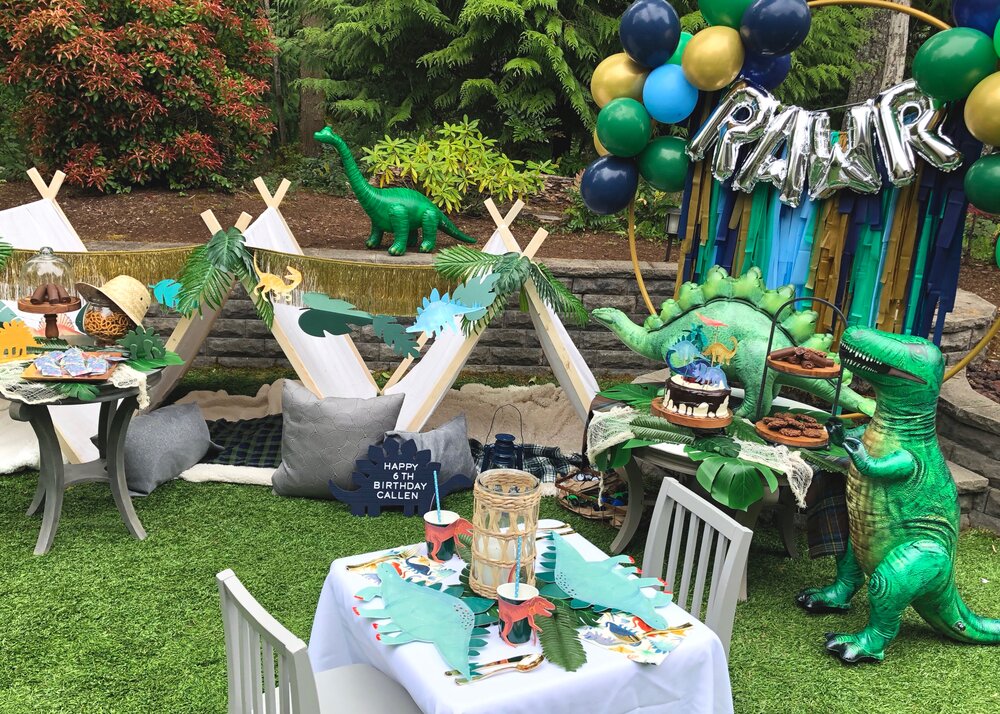 Children are often interested in trying something new. In this case, hosting a dinosaur theme party would be amazing! It will allow young paleontologists to go on an exciting past journey. But how to do that? Begin by setting aside a lawn spot and burying dinosaur toys to create an excavation site.
You can hand them brushes, shovels, and magnifying glasses when kids come to the party. Ask them to explore and find dinos. For an added effect, create dino masks or keep dino eggs as decor. Dinosaur cutouts will also enhance the entire aura of the part.
11. Beach Birthday Bash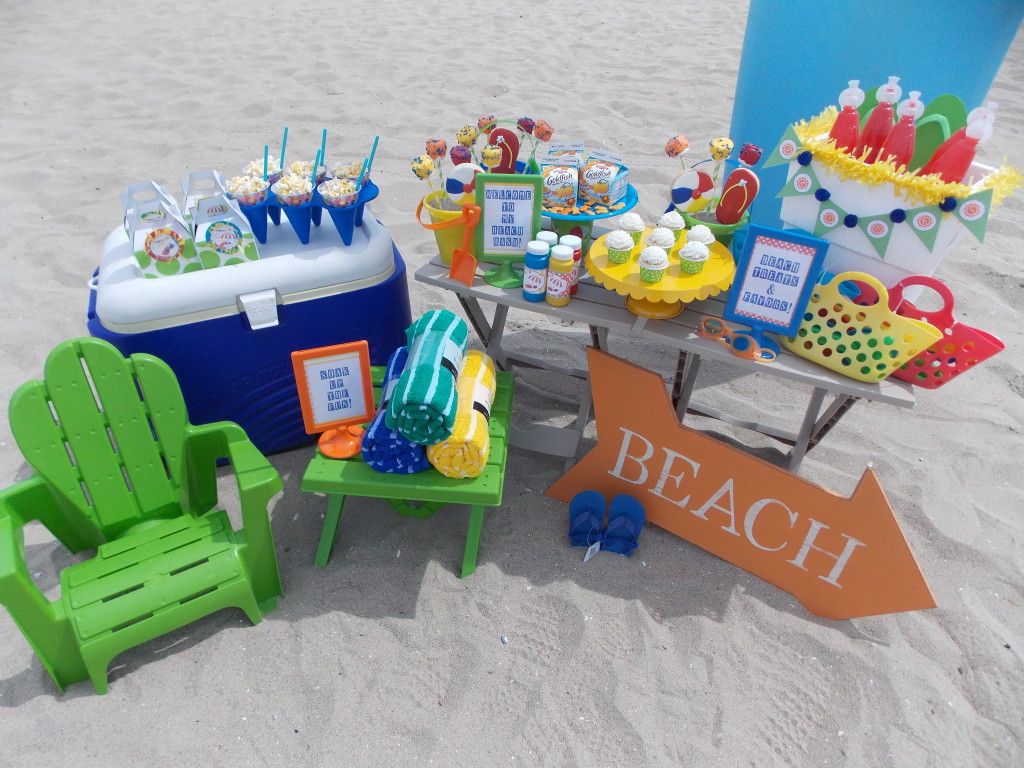 Does your child's birthday come in the summer? Then, what is better than hosting a beach-themed birthday party? Children will enjoy the sun while chilling in the pool. You can turn your backyard into a beach by setting up sandboxes, inflatable pools, and water activities. How about using beach-themed decor? Bright beach balls, tropical banners, beach toys, buckets, and shovels will all contribute to the beach vibe.
Beach fun is empty without tropical food. So, you can keep fruit skewers, mocktails, and fish-shaped snacks to remind the kids of the beach. You and your child will love this coastal paradise as it would be a great time for all to relax, enjoy, and unwind.
12. Camping Adventure Party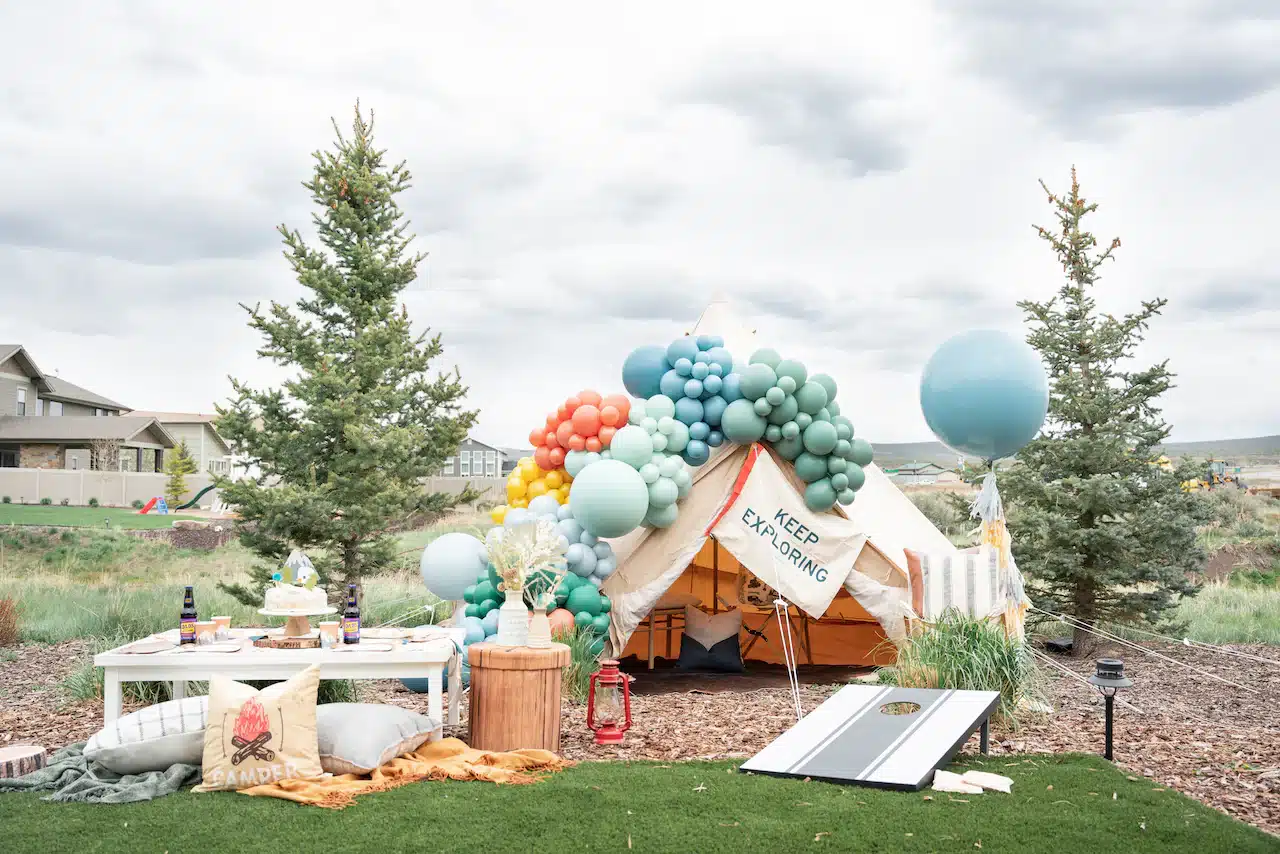 Camping and kids are a big no-no! But what if we say that you can have kids camping in your outdoors? Yes, it's indeed possible! For a nice camping atmosphere, start by erecting tents, making a bonfire area, and installing string lights. Since this party can be hosted at night, lights will play an important role. Provide sleeping bags, torches, and chairs for the young campers.
To sum it all, plan activities like scavenger hunts and campfire storytelling. And yes, don't forget the smokey hotdogs and grills. This adventurous camping-style birthday party idea will spark a sense of adventure among children and will make lasting memories too!
13. Rock And Roll Themed Party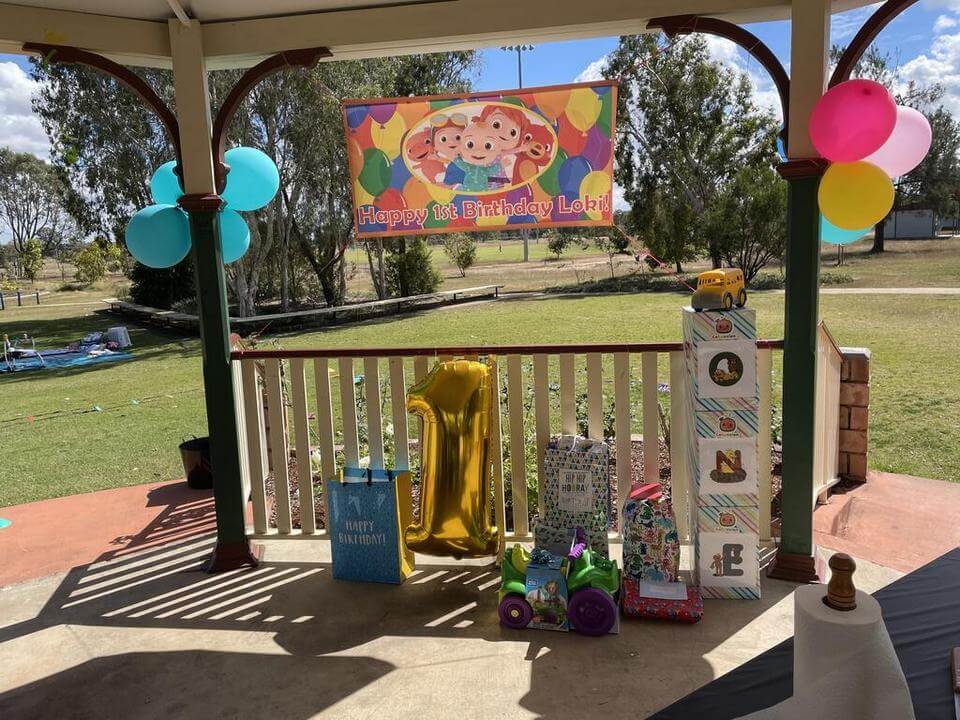 A musical extravaganza will have you ready to rock and roll! And so it will do to your child and his pals. Children love music, especially when it is from their favorite movie or cartoon character. So let's have a musical presentation in your backyard. Create a dance floor or set up a karaoke station for a fun dancing party.
Play games such as 'musical chairs' or 'name the tune' contests. You can also ask fellow kids to dress up like musicians or pop stars. This musical event will spark imagination and provide an amazing day of performances and fun.
14. Movie Night Fun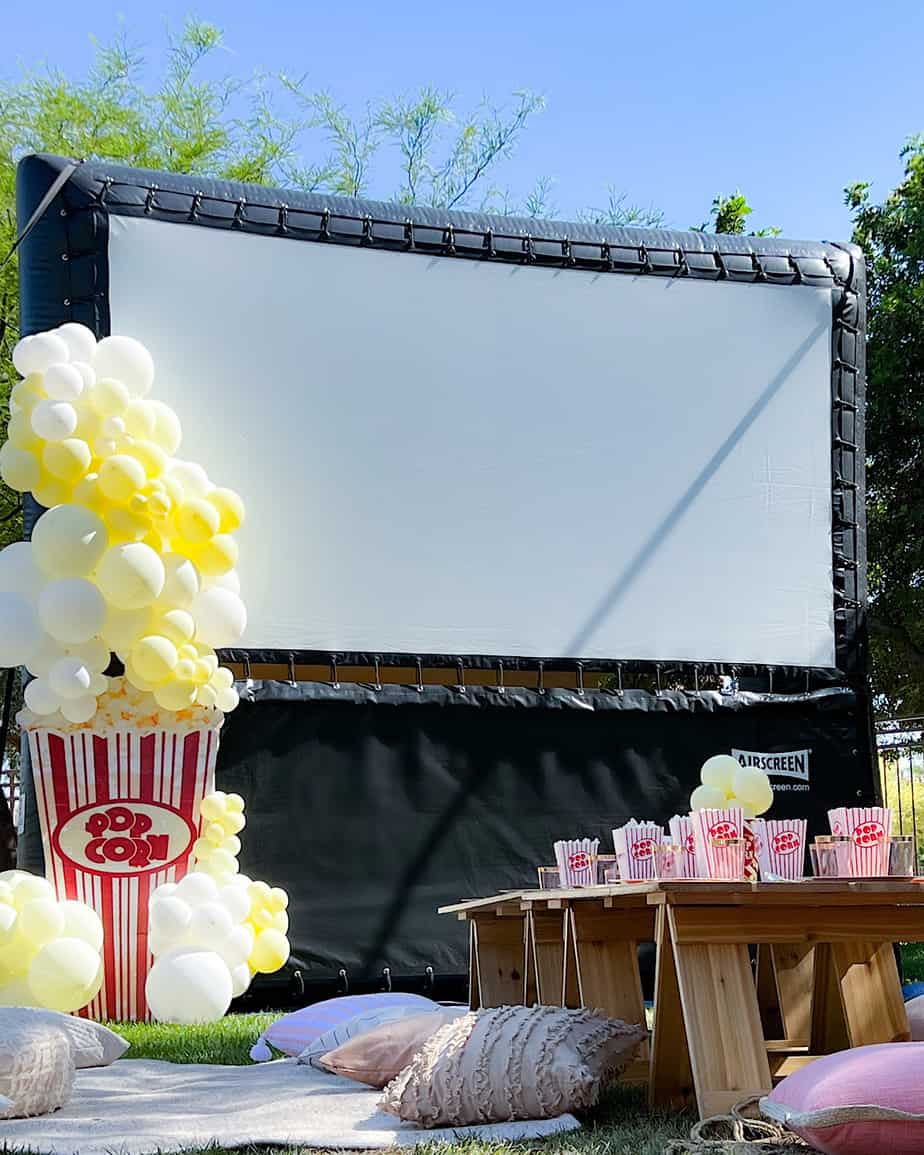 Frozen, Dumbo, The Lion King, Finding Nemo, and many more Disney movies are some common and loved movies by children. No matter how many times they might have watched it earlier – they will still love watching it every time. Therefore, create a comfortable seating area in your garden with a huge screen. Arrange for blankets, pillows, and bean bags as well.
For a genuine theater experience, provide popcorn, snacks, and beverages. Use lanterns and string lights to create a cozy atmosphere. Now how would you choose the movie? Let the kids vote for their preferred one. It is a great way to enhance their social skills too!
15. Farmyard Fun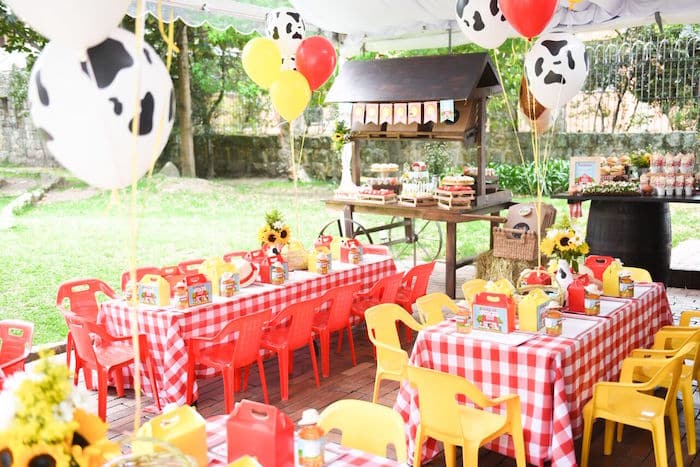 'Old McDonald had a farm' is a rhyme we all remember from our childhood. Do you remember how exciting it was to make the sounds of different animals in tune? The tradition continues, and kids today also love the rhyme and sing it with the same enthusiasm. You can bring this rhyme to reality by organizing a farmyard fun party. Begin by decorating the cutouts of farm animals, hay bales, and other rustic farm-themed items.
If possible, get some pet animals so that kids remain engaged with them. Offer pony rides, set up a petting zoo with amiable farm animals, and host activities. This informative yet enjoyable party will surely result in a day of happiness and fun along with animals.
16. Fairy Tale Party
A fairy tale party is a sure-shot way to take your small ones into a magical world. If your 4-year-old is a girl – she would just adore this theme party! Decorate your entire garden with fairy lights and whimsy to create a serene atmosphere. Encourage kids to dress up as their preferred fairy tale character. If not, you can give them wands and crowns to maintain the theme.
Plan narrative readings, treasure hunts, and art activities. Prepare your child's birthday cake and other snacks with the same theme. Kids love something this fascinating, and your child's birthday party will be the talk of the town!
17. Carnival Funfair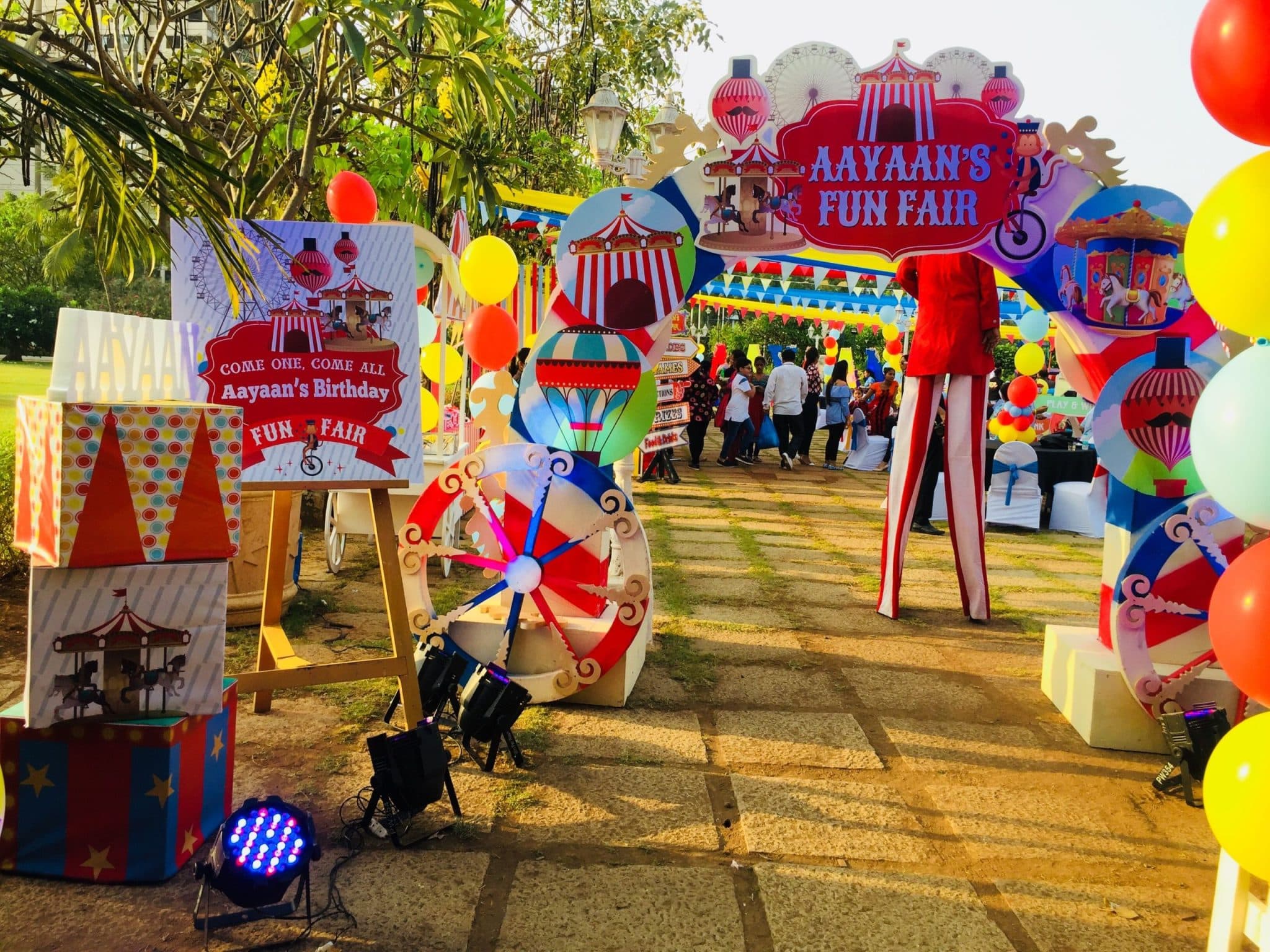 Want your child's birthday to look just like a festival? You can do so by arranging a carnival funfair theme birthday party. Turn your backyard into a vivid carnival by using bright banners, balloons, and carnival games like a duck pond, ring toss, and bean bag tossing. Additionally, create booths where people can get balloon animals, temporary tattoos, and face painting.
Remember what you eat at the carnival? Popcorn, cotton candy, and snow cones are a must to keep at your child's party. Also, add a photo booth to record all memories. This carnival-themed celebration will bring fun and excitement to your backyard. Surely, it shall guarantee a day filled with smiles and laughter.
18. Water Park Party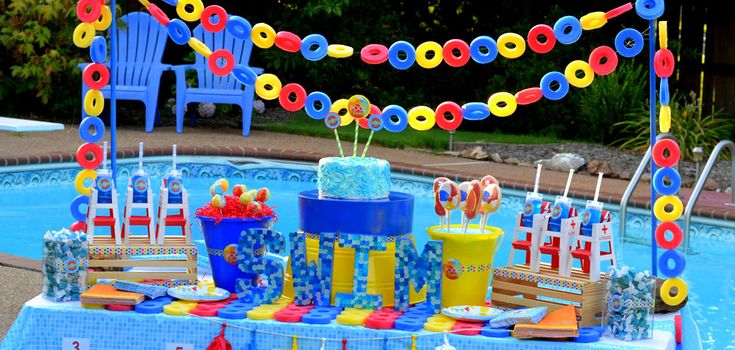 Splash, Splash, Splash! Kids and water have a different connection. Therefore, hosting a water park-themed party is an excellent idea! This 4-year-old birthday party idea will keep the kids entertained for hours. However, keep in mind that preparing for this theme is a bit tedious.
You will have to set up inflatable water slides, splash pads, sprinklers, inflated water tubes, water-filled tunnels, and so on. Also, don't forget to construct a little lazy river. Along with this, serve chilled beverages, popsicles, and watermelon slices to keep everyone hydrated.
19. Science-Themed Party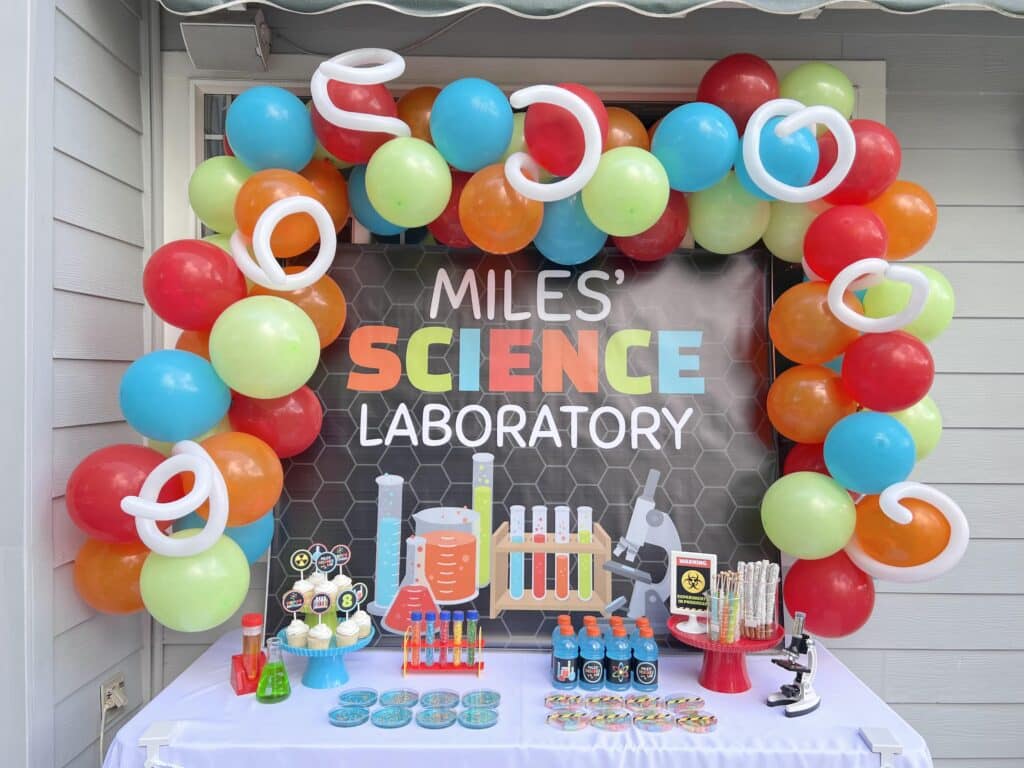 Children of 4 years old barely understand science. But they do understand how slime is made, how volcanos erupt, etc. They are full of questions. Therefore, it's time to answer all of them. A science-themed birthday party will be a great way for them to learn. Additionally, it will keep them interested throughout.
First, create your outdoor area into a lab and place scientific marvels everywhere. For example, you can set up interactive experiments or games like balloon rocket races, DIY slime-making, and so forth. Let them also try their hands at it. Give them goggles and lab coats to maintain the theme. And yes, serve snacks that match the theme too!
20. Magic-Themed Party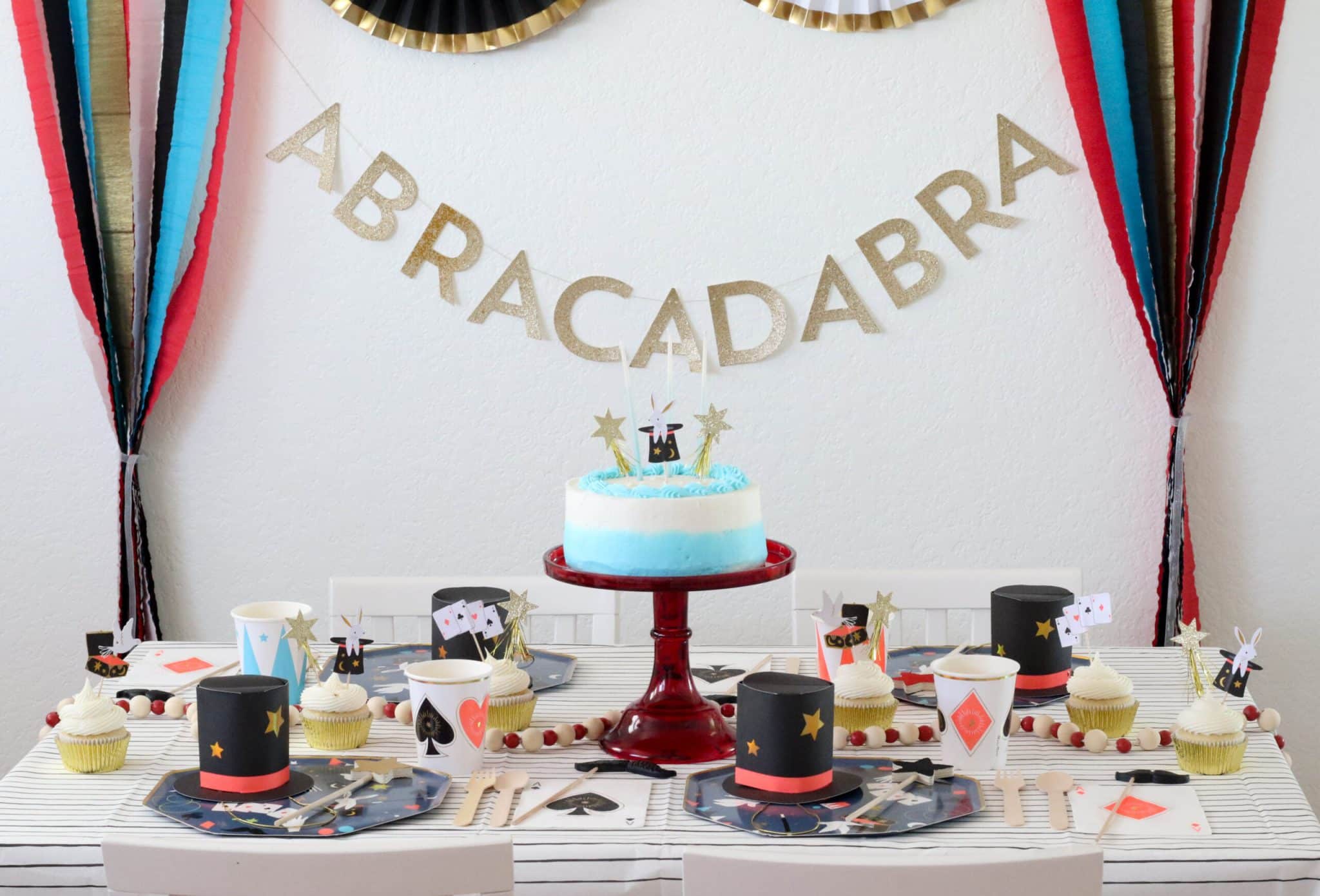 Both adults and children love magic! So, let's enter this spectacular world by arranging a magic-themed birthday party. Dancing fairy lights, floating candles, and magician-themed accessories will turn your backyard into a magical place. Hire a professional magician who can show magic tricks to the children.
Some basic magic tricks can even be taught to children by the magician. You can also hand the kids a mini magic kit as a return gift. To add even more charm, encourage the kids to dress up as fairies or wizards.
21. Butterfly Garden Party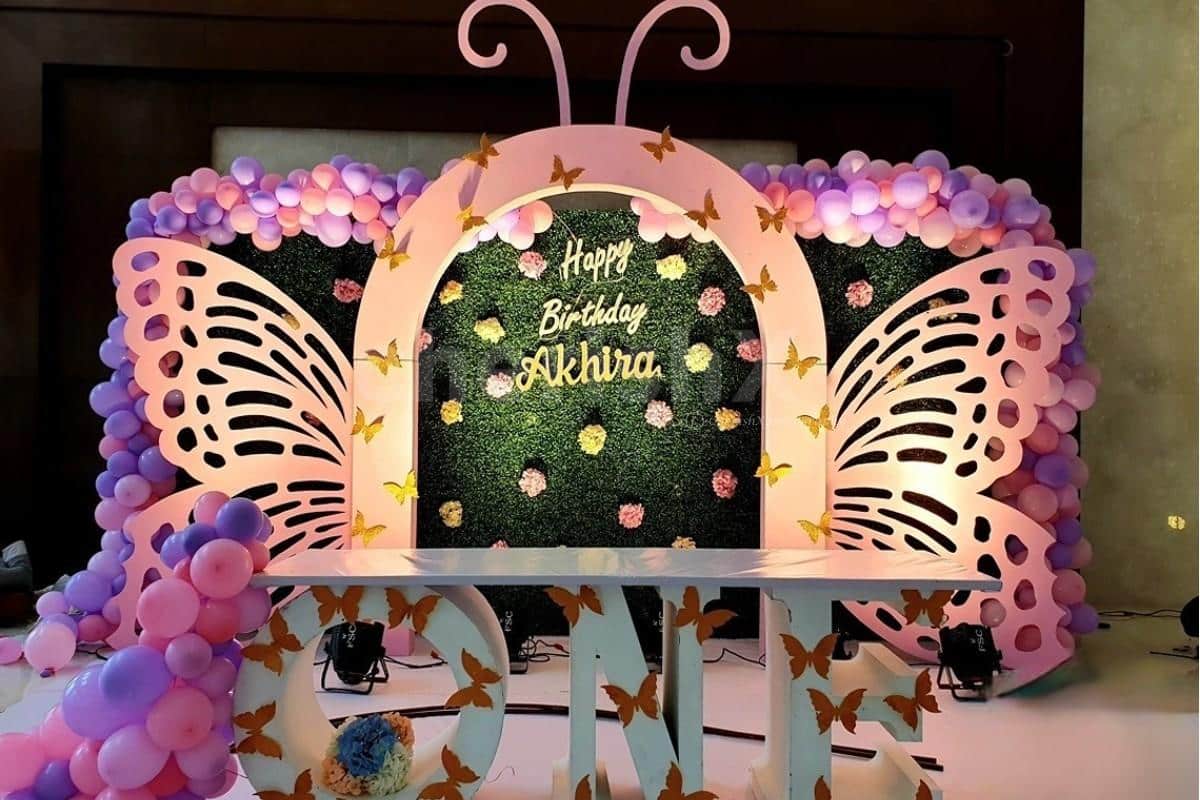 Experience the wonder of nature by arranging a beautiful butterfly garden party in your backyard. By using vibrant flowers, butterfly decorations, and fluttering ribbons, you can turn your garden into a mystical butterfly paradise. But for this theme, you will have to work for days. Creating a butterfly habitat is the most difficult job!
Apart from this, face painting and various other activities will be great. Serve fruit skewers, butterfly-shaped cookies, and sandwiches as well. This beautiful themed birthday party will spark the magical thinking of children and will give them a sense of amazement.
22. Space Exploration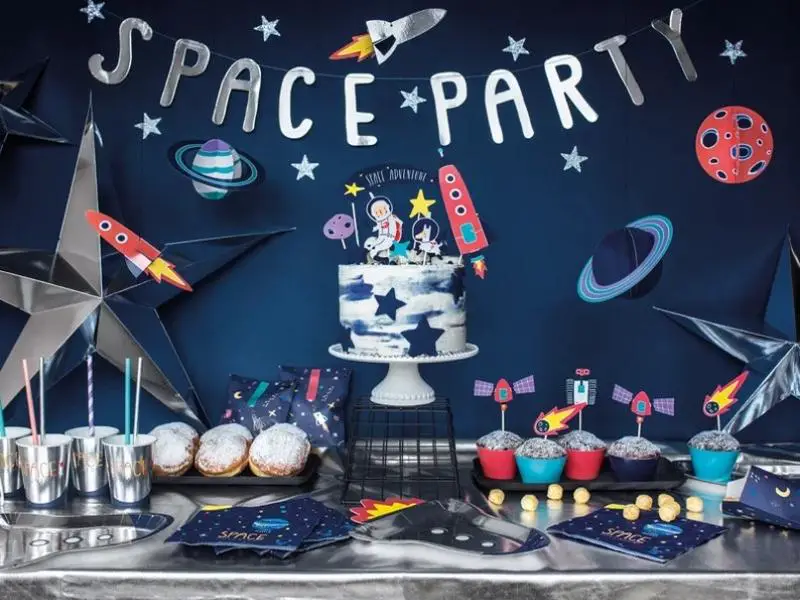 Kids understand the sun, moon, and stars really well. And why not? They are so well-versed with the 'Twinkle Twinkle Little Star' poem! Bring these things to reality by arranging a Space themed birthday party. You can add cutouts or balloons of star shapes to your garden. It will improve the overall ambiance of the space. Create a space station for kids and give them astronaut clothes to make them feel excited.
How about arranging a space-themed food menu? That would be a great idea! With this theme, the creativity of the children will enhance, which in turn will result in enthusiasm.
23. Nature Photography Theme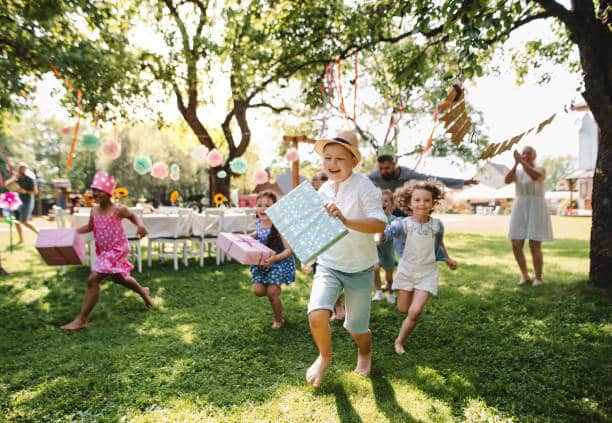 Planning a nature photography theme birthday party is another excellent idea for 4-year-old kids. But how to initiate this party? Each kid should be given a disposable digital camera. Take the lead and ask the kids to click photos of beautiful things near them, such as insects, plants, birds, the sky, and so on.
Set up a little photographic exhibition and display their images as well. You can even invite their parents in the end to have a look. Give a prize to the best photo!
24. Pokemon Themed Bash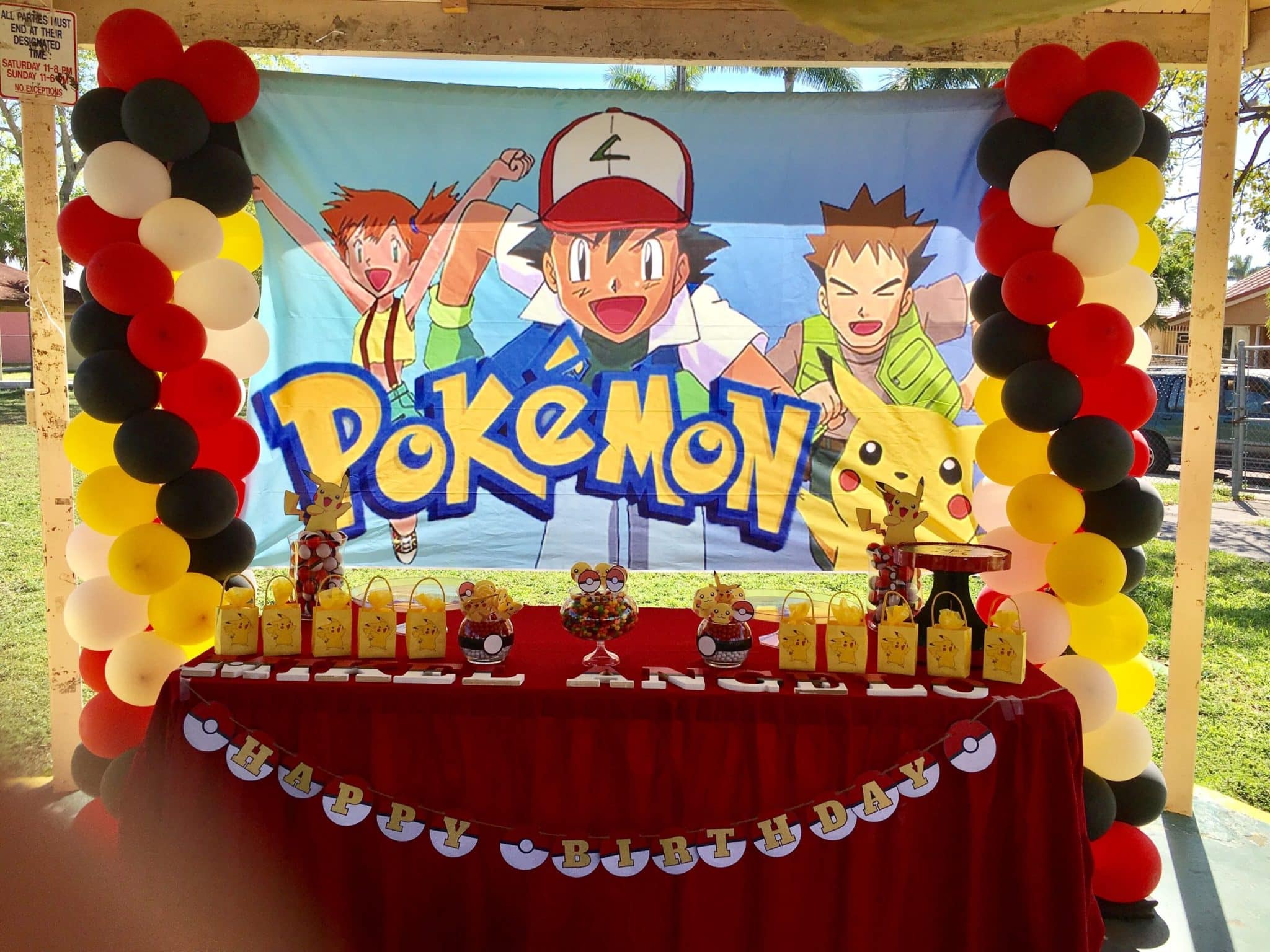 Pokemon is a famous cartoon among many children. A fun birthday party with a Pokemon theme will transport the kids into the Pokemon universe. With Pikachu and buddies, turn your lawn into a Pokemon adventure zone. For instance, you can use Pokemon posters, balloons, and banners to decorate your backyard. Even a cake of a similar theme would be excellent!
Set up a Pokemon Scavenger hunt so that youngsters can look for items or cards that have been concealed. Don't miss out on keeping the Pickachu-shaped cookies! All young Pokemon fans will enjoy an exciting and memorable time at this gathering.
25. Cocomelon Party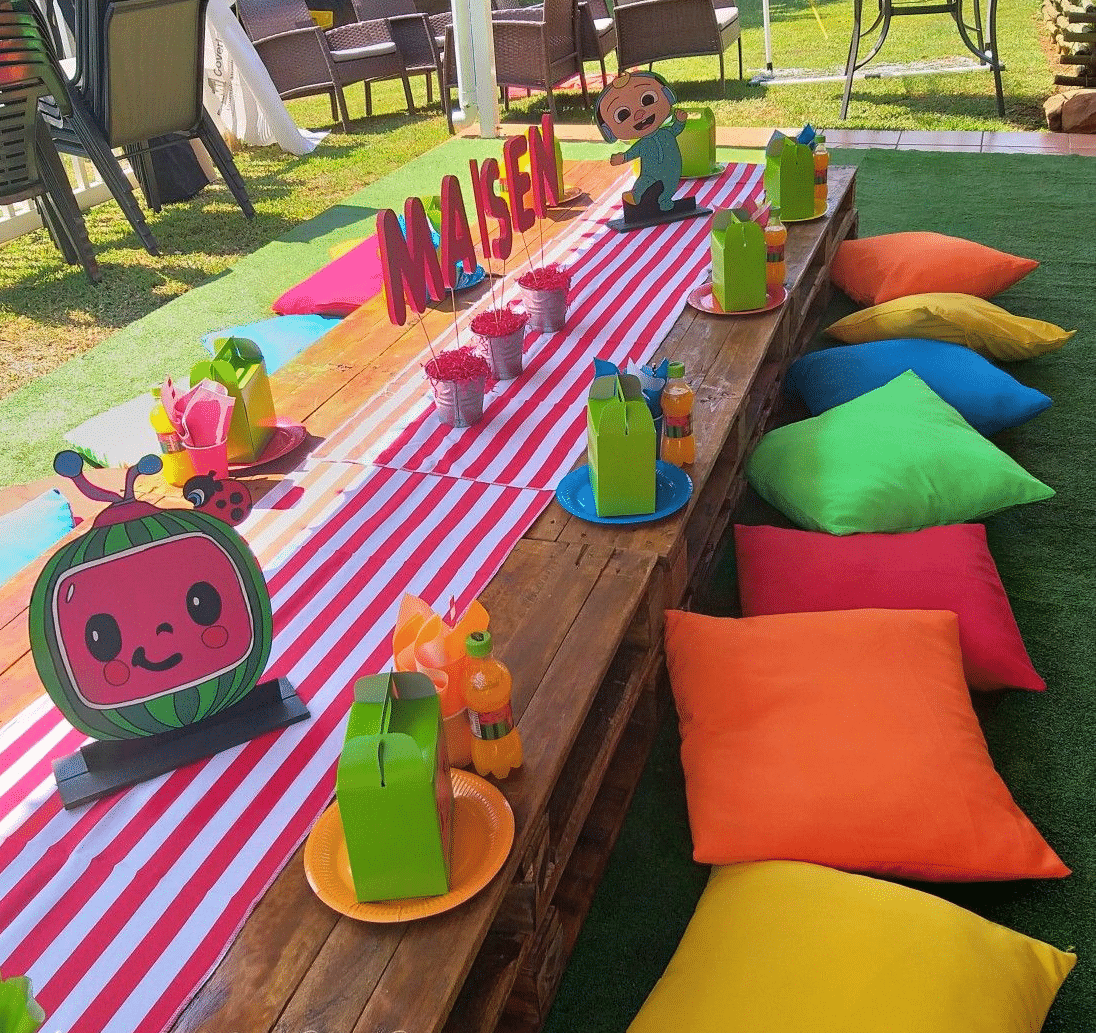 Cocomelon tunes are famous worldwide. Kids love dancing and singing to Cocomelon videos. It's something they feel connected to! Decorate your lawn with images of the lovable Cocomelon characters. Set the mood with dinnerware, balloons, and banners with Cocomelon motifs.
Now, make a dance and sing playlist to keep children occupied. Serve food inspired by the Cocomelon theme, such as popsicles, buns, and fruits. Believes us; this 4-year-old birthday party theme is one the best because toddlers can connect to it easily.
Bottomline
With these unique outdoor birthday party ideas for 4-year-olds – you have a plethora of options available to you now. But before you choose one, talk to your kids and prefer a theme they love the most. Above all, ensure that all children are safe. Remember to keep activities that fit their interests and skills.
Provide your child and their pals an opportunity to explore, engage and get creative in imaginative play by organizing an amazing party outdoors. Use your imagination to the fullest to make the best out of it!
Frequently Asked Questions
What Are Some Crucial Elements to Consider While Organizing a 4-Year-Old Outdoor Birthday Party?
Security comes first! Ensure that the outdoor area is safe and free from risks. Think about weather conditions. Intense heat and heavy rain are a big no!
How Long Should a 4-Year-Old Outdoor Birthday Celebration Generally Last?
Remember, the attention span and energy levels of small children are lower. Therefore, the duration of the party should be about 2 to 3 hours. Balance food and activities wisely so that it doesn't overburden the child.